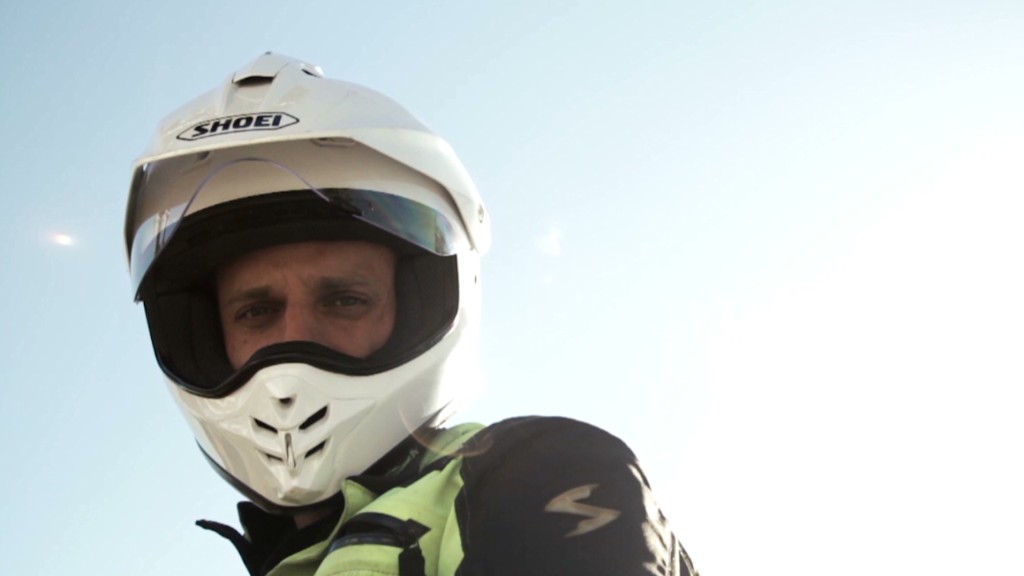 It can be just what's needed when you're burnt out, disenchanted with work or have just been laid off.
While not a commonly offered perk, many of the Fortune 100 Best Companies to Work For do offer extended breaks to their top performers. Those who take advantage say the experience gives them new motivation, more creativity and a healthier lifestyle - complete with a smaller waistline. That was also the takeaway from folks who created their own sabbaticals between jobs.
Here are just a few lessons CNNMoney readers learned from their time off:
1. You come back with a new outlook: Monty Liss of Winters, Calif., works for Genentech as a senior strategic business analyst. The company offers employees a fully paid six-week sabbatical every six years. Liss said he has taken two so far.
He spent his time at NASCAR races, in the Montana wilderness, visiting Yellowstone and the Grand Teton national parks, and "locating the next microbrewery or hot springs location" along the way.
And when he came back, he felt "enthusiastic and recharged."
"I can't even explain how different it is when you get back to work. It is like starting a new job," Liss said.
2. A sabbatical won't solve all your problems: In 2007, Richard Enos was working at a software consulting company. He was tired of all the management changes there and dissatisfied with his personal life.
So he decided to take a seven-month sabbatical in Peru, during which he taught English and traveled.
For awhile, he said, the experience was "magical." But it didn't magically erase the concerns that prompted his trip in the first place.
"Whatever problems you have travel with you. A location is not going to change that. You need to find out how to fix them with or without a change of scenery," Enos said.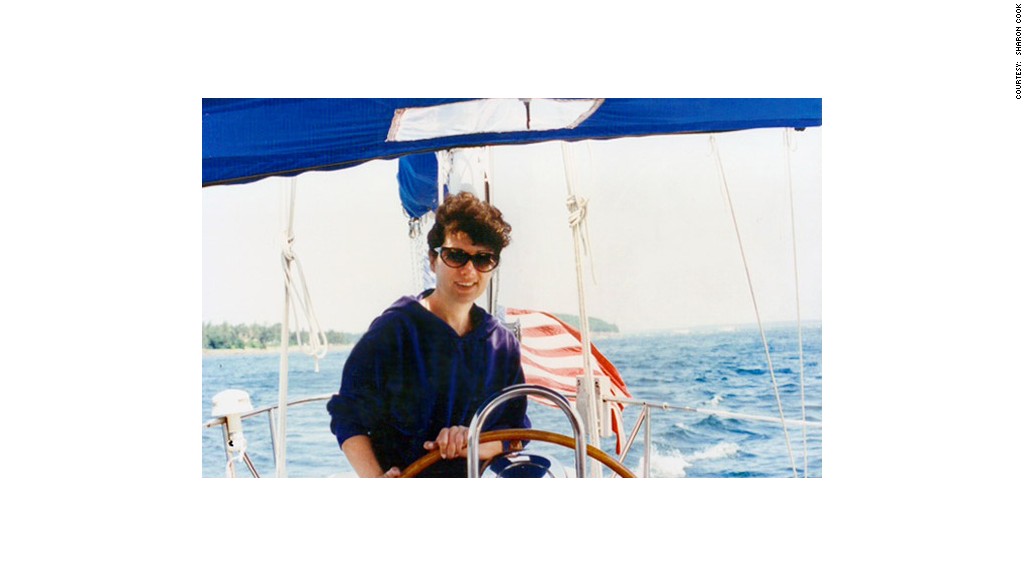 3. Time matters more than money: Allan Fawcett, a computer consultant in Burbank, Calif., has taken a few sabbaticals, two of which he used to travel the world.
Those travels opened his eyes to how people in other cultures live with less, but still find happiness.
"Had I kept working I might be wealthier. But after this last recession, I know many people who worked without a break and are poorer today. I now value time over money, and feel I am far richer because of these experiences," Fawcett wrote.
Technical writer Sharon Cook of Florida agrees. Yes, her 401(k) would be fatter if she'd stuck to the grindstone instead of sailing the Caribbean for two years. But the memorable, confidence-building adventures she had made it worth the tradeoff, Cook said.
4. Now is the time: A growing sense of mortality is a big motivator to do what you want sooner rather than later.
After more than 41 years in the construction industry, John Schroer of Ohio took six weeks off to sail up the East Coast in a 35-foot catamaran with his wife.
He had no sailing experience but took a two-day course before leaving.
"Too many of my friends have passed, and I decided that as long as my arms, legs and brain worked I needed to do this," Schroer said. "I gained self-confidence, additional appreciation for the water and was able to step away from work and breathe."
He's back at work now but planning his next adventure.
5. Time off can give you the push you need: Sustainability engineer Amy Mussen of Baltimore, Md., suddenly found herself with time on her hands after being laid off. Subsidized by a good severance package, she decided to shift gears.
"After the initial shock wore off, I realized that this was a golden opportunity to make the career change that I'd been inching toward, but had been too afraid to make on my own," Mussen said.
After an informational interview with the headmaster of a private school, she got what she describes as her "dream job": teaching high school math.
6. It's hard to give up control: With the blessing of her employer, a national environmental non-profit, Serena McClain of Virginia took some time to finish writing her novel.
Though happy for the opportunity, she was uneasy about leaving her job behind.
"It was a challenge to cede control of my projects, disconnect and trust others to not screw up," McClain said.
But she did it. As a result, she noted, "I gained perspective, as well as relaxation."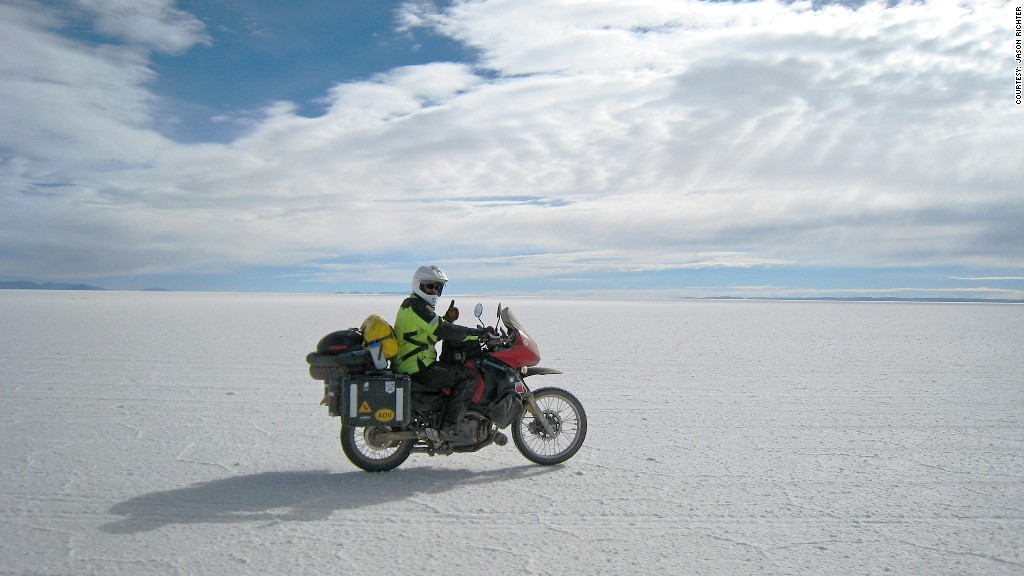 7. Coming home may be tough. Municipal financial adviser Jason Richter of Los Angeles took a nearly seven-month unpaid sabbatical to ride his motorcycle from Argentina to California. It was a peak experience, but going back to his day job was a little weird.
"I went from being my own international adventure hero to a normal office worker in about three days," Richter said. "It took awhile to adjust and I still wonder if I really should be spending so much time in an office."
8. Lose stress, lose weight: After logging 30 years in high-stress software engineering and IT management positions, Chuck Greeson resigned from his job at age 56.
"I was 25 pounds overweight, had high blood pressure, was emotionally drained, and could barely walk 100 yards due to back and feet pain," Greeson wrote.
Greeson and his wife moved to New York wine country to renovate "a rundown 200-year old cobblestone house" with "overgrown" farmland that had once been a vineyard.
A year and a half later, they had a restored home, and a working vineyard.
"I was 25 pounds lighter, fit, my back and foot pain was gone, my blood pressure was back to normal, and I felt 10 years younger," Greeson said.
He has since taken a lower stress job as a senior IT project manager.