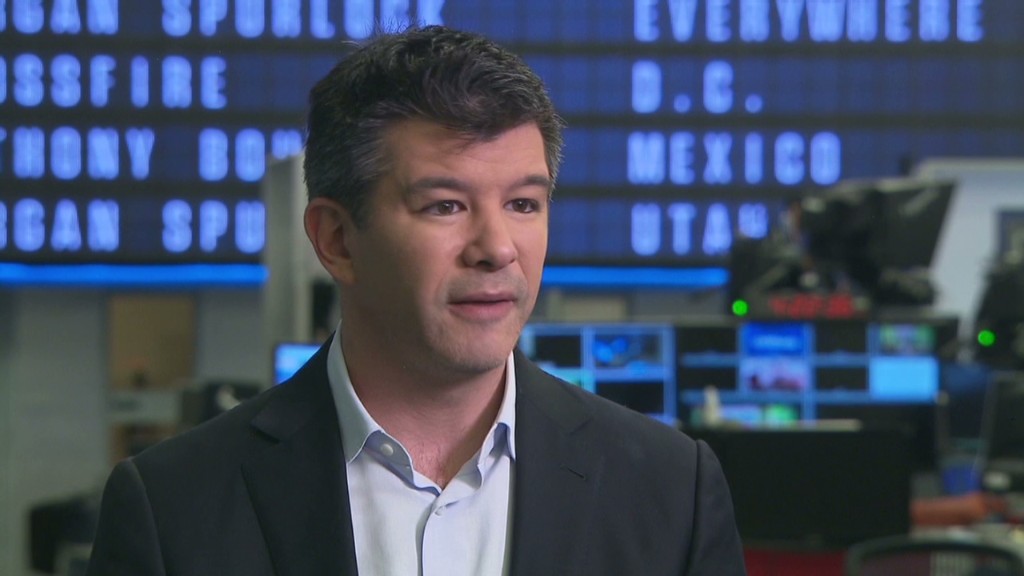 Uber drivers in New York are protesting for the second time in a month, fuming over the company's low fares. Fans of the cheap uberX service might want to take notice.
The drivers already have one win against the company: After forcing its higher-end Black and SUV lines earlier this month to begin taking fares for the cheaper uberX line, drivers showed up at the Queens offices on September 8 in protest.
Uber reversed the policy just ahead of a planned strike Friday.
Related: Is Uber CEO 'Darth Vader'?
Following a meeting that organizers say drew hundreds, the drivers staged a second protest Monday that drew much smaller numbers. But the angry drivers still sense they can win more concessions.
Their most common complaint concerned uberX fares, which the online car service cut by 20% in July, in order to undercut prices offered by the ubiquitous Yellow Cabs of New York City.
But the drivers are also upset that a built-in 20% tip prevents Uber customers from giving more, as well as the way the service calculates driver pay and other things.
Abdul Diallo, one of the protest's organizers, said he and others are protesting because they're tired of dealing with the company on an individual basis, when they felt they weren't being heard.
"Talking to them didn't work," he said.
He said drivers aren't getting a fair shake.
"When you offer cheap fares, you are pleasing the client," he said. "But that's only half the equation."
Cars, gas and other costs don't change when the company lowers fares.
Josh Mohrer, the New York office's general manager, said drivers were making more per hour with the lower uberX fares, though they're driving more at the same time. If any of them are upset about it, he'd talk to them one-on-one, not as a group. That's the way he said he handled the earlier controversy.
Diallo said the group is still gathering members and hasn't reached out to lawyers or unions in order to help formalize their collective.
Should Diallo and other protesters not get their way, he said using their growing numbers to follow through on strike threats isn't out of the question.
"If that's what we need to, then we'll do it," he said.
The New York drivers aren't the first to raise the issue. Their west coast counterparts in Los Angeles, San Francisco and Seattle have made similar complaints about low uberX fares and other perceived slights.
Related: Uber hires former Obama campaign manager to work on policy
Competition among companies like Lyft, Gett, Uber and others that offer car services, is becoming more heated. Each is offering special deals to undercut the other's prices.
With that in mind, Uber isn't planning to hike the low uberX low fares in New York anytime soon, said Mohrer.
"I don't see a reason to do it, as the drivers are making more money than ever," he said.
But in other markets, the service has raised fares after previously lowering them. In June, it cut uberX prices by a quarter in Indianapolis, Indiana and San Antonio, Texas as part of a promotion. A company spokesman said fares in those cities are now back to normal.
Josh Rajkumar, a JetBlue worker who checked out the scene Monday after grabbing lunch, said he's been taking Uber trips for a year, preferring the service's cordial drivers over brusque cabbies. When the company made uberX fares cheaper than cabs earlier this summer, he started using the service even more.
But despite driver friendliness, for Rajkumar, price is the deciding factor of whether or not to take an Uber.
"If it was still lower than a cab, I would still take it," he said.