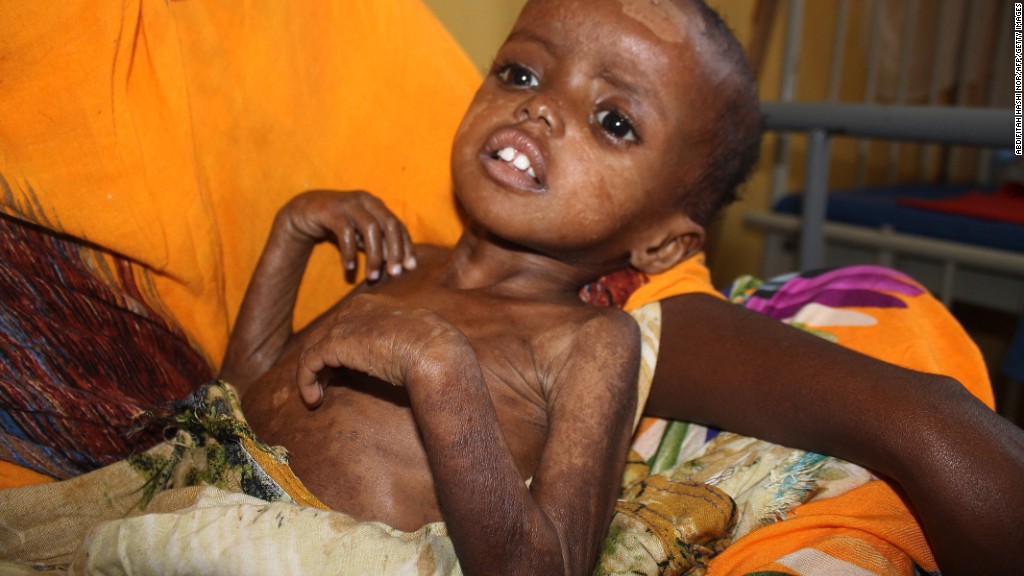 One out of every nine people in the world does not have enough food to eat.
An annual report from the United Nations released Tuesday estimates that 805 million people suffer from "chronic undernourishment."
The UN's Food and Agriculture Organization warned that "food-insecurity" remains "unacceptably high" in certain developing economies.
For example, more than one in four people in Sub-Saharan Africa do not have enough to eat. In Malawi, half of all children under five years of age are significantly underweight.
The situation is particularly acute in Yemen, where political and economic instability, as well as violent conflict, have made the Arab nation one of the most food insecure countries in the world.
The report says 526 million people in Asia, the world's most populous region, don't have enough to eat.
Related: Where the middle class is most unequal
Still overall, there has been improvement from last year, when the report showed that about 842 million people went hungry. Since 1990, the number of undernourished people in the world has decreased by more than 200 million.
Access to food has improved in certain parts of East Asia and South Asia, as well as Latin America and the Caribbean.
Indonesia has reduced the share of its population living in hunger by more than half since 1990, the report states. The report singles out Brazil, Bolivia and Haiti as "case studies" for improving food security.
Developing nations are close to achieving their goal of halving the number of hungry people by 2015, the report suggests, but only if world leaders stick to their commitments.
"This is proof that we can win the war against hunger and should inspire countries to move forward, with the assistance of the international community as needed," the report states.
The report comes ahead of a key summit on food security next month in Rome.