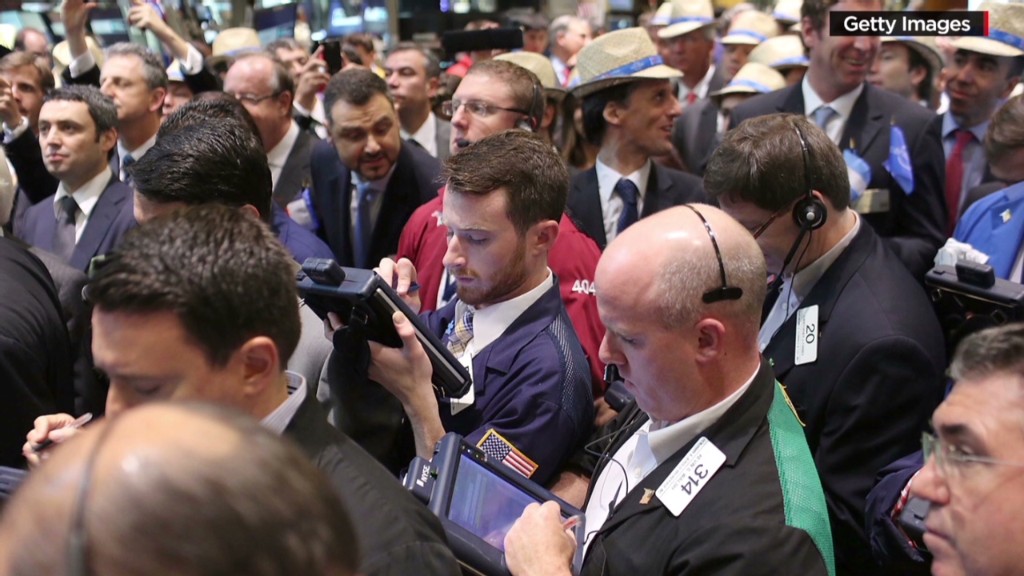 Alibaba, the biggest IPO to ever hit Wall Street, made a huge splash when it started trading Friday.
Shares of the Chinese e-commerce giant closed at $93.89, marking a 38% pop from the $68 price of its record-shattering initial public offering.
The bounce signals optimism among investors about Alibaba's (BABA) ability to continue its rapid growth trajectory as China's middle class grows and and the company expands to other parts of the world.
Moments after the stock started trading, the co-founder and CEO of the company, Jack Ma, told CNNMoney he's "honored" and "humbled."
Ma told CNBC that years from now he wants Alibaba to be compared with American icons like Wal-Mart (WMT), Microsoft (MSFT) and IBM (IBM). People will say Alibaba "changed the world," he said.
Related: Everything you need to know about Alibaba
Alibaba opened at $92.70 and then raced to nearly $100 before sinking back below the IPO price for a few hours. The initial trading day for any stock is almost always volatile, but Alibaba's will be seen as a win.
Unlike the disastrous 2012 Facebook (FB)IPO on Nasdaq, Alibaba's first few hours as a public company went smoothly. That's good news for the New York Stock Exchange, where Alibaba chose to list its high-profile IPO under the ticker symbol "BABA."
Alibaba raised $21.8 billion late Thursday. That's the largest ever IPO for a company listed on an American exchange.
It might turn out to be the biggest IPO in the world. Goldman Sach (GS)and the other investment banks that made the IPO happen have the option to purchase additional shares. If those options are exercised as expected, the Alibaba deal would raise $25 billion -- a global record.
Alibaba is cashing in on a very bullish overall atmosphere for stocks. The Dow and S&P 500 set new all-time records this week.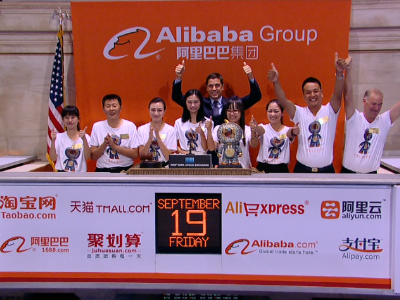 Don't worry if you've never heard of Alibaba. You haven't been living under a rock.
The Chinese company, which was founded in 1999 by former English teacher Ma, has yet to make its presence felt in the U.S. But the truckload of new cash raised by the IPO should change that.
Alibaba has largely focused on the exploding Chinese Internet market, which has already made the company a dominant player in e-commerce.
Related: Alibaba IPO means a big payday for Jack Ma
Investors are so excited about the company becasue roughly $248 billion of merchandise exchanged hands on Alibaba's platforms in 2013, according to IDC. That trumps the gross merchandise volume of Amazon.com (AMZN), eBay (EBAY), JD.com (JD) and Japan's Rakuten (RKUNF) -- combined.
Thanks to those impressive figures, Alibaba starts life with some elite company you've definitely heard of. At the $68 IPO price, Alibaba was valued at $168 billion. That's more than Amazon.com.
After the first day of trading, Alibaba now has an even more impressive valuation of $231 billion, which is greater than Facebook and more than halfway to catching Google (GOOGL).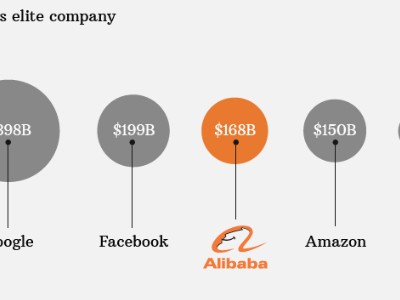 Many investors like to consider the price-to-earnings ratio as a way to gauge how expensive a stock is. Based on its earnings for the year ended March 31, Alibaba is trading at a very lofty price-to-earnings multiple of 61.
Analysts at Cantor Fitzgerald launched coverage of Alibaba on Friday with a "buy" rating, although they have a price target of $90, which has already been surpassed.
"We believe that a differentiated pricing model, strong brand and unmatched scale give Alibaba an unfair competitive advantage," Cantor analyst Youssef Squali wrote in a note.
Retail investors are showing some serious interest in Alibaba. TD Ameritrade (AMTD) said Alibaba orders were on track to represent 15% of daily average revenue trades at the brokerage. By comparison, Facebook represented 22% of trades on its IPO day and Twitter (TWTR) was about 5%.
Yahoo (YHOO) investors are also cheering because the U.S. Internet company is cashing in a chunk of its investment in Alibaba. After taxes, Yahoo is poised to make around $5.1 billion by selling about 122 million Alibaba shares. Yahoo is holding onto a major stake that translates to billions more in value.