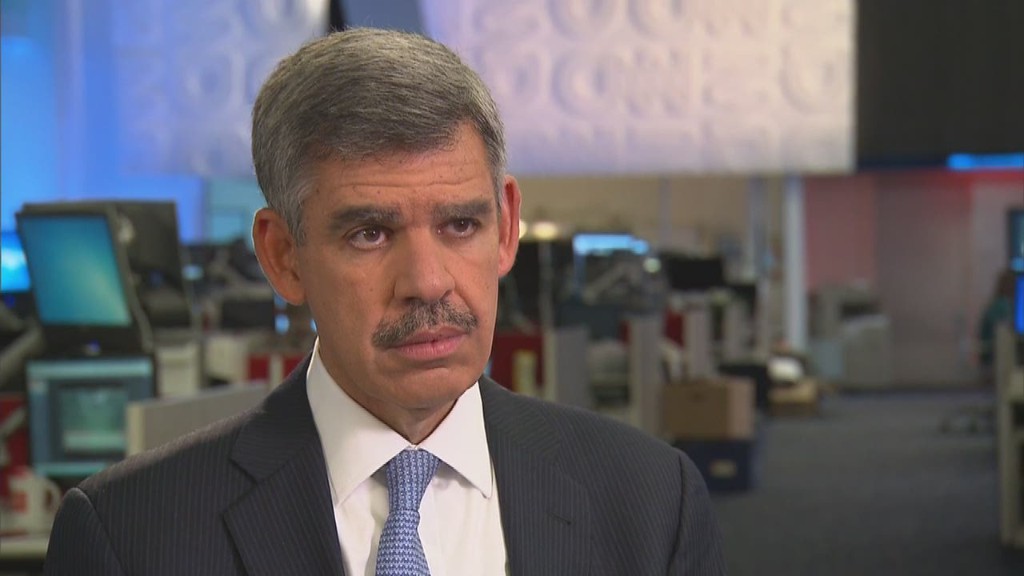 It's a scary world out there, but the stock market is "exuberant."
That's the message from Mohamed El-Erian, Chief Economic Adviser of Allianz and a leading voice on all things investing.
"We've had one record after another on the Dow and the S&P and yet the underlying economic and geopolitical fundamentals are still worrisome." he told CNN's Maggie Lake Monday.
El-Erian recommends taking some money off the table at this point. He admitted that investors could risk losing out on more market gains, but at the same time they'd be protecting themselves from potential losses.
"Take some money off, keep the ammunition, you will have the opportunity to come back in," he said.
Related: Is the economic recovery real? 3 stats to watch
El-Erian claims that central banks, including the Federal Reserve, are at fault for the market euphoria.
"Central banks have goosed up all asset prices, not because they like being investors' best friends, they don't, but because that's the only way they can hope to stimulate the economy," he asserted.
We're living in a "strange world," declared El-Erian, since the Fed is stepping out of the market right when the European Central Bank is getting in.
Last week the Fed announced it is pulling back on its bond buying program, one of its key stimulus measures since the recession. El-Erian predicts that the ECB will take further action to juice the feeble European economy in October, but that their efforts won't be sufficient.
Related: Who's getting rich off the stock market?
"Central banks don't have the tools to fundamentally alter the growth dynamics, so all they can do is buy time, but they buy time at the risk of financial instability down the road," he maintained.
Politicians in Washington also shoulder blame, according to El-Erian, since easy money from central banks allows them to get away with not fixing broken economic policies.
And then there's the geopolitics. El-Erian noted that investors who ignored geopolitical risk in recent years have made money, but that doesn't mean they're immune to future trouble.
Related: Defense stocks soar as U.S. strikes ISIS
He believes that if the situation between Russia and the West over Ukraine worsens and sanctions intensify, Europe cold tip into a recession. "If that happens, it's a different world for markets," he said.
But beyond the doom and gloom, El-Erian pointed out that it's a good sign that investors have enough confidence in the economy to be in the market in the first place.
"For a long time after the global financial crisis, both companies and individuals holding onto their purse strings. What we're seeing now is money coming back in," he said, pointing to the recent Alibaba IPO as an example.