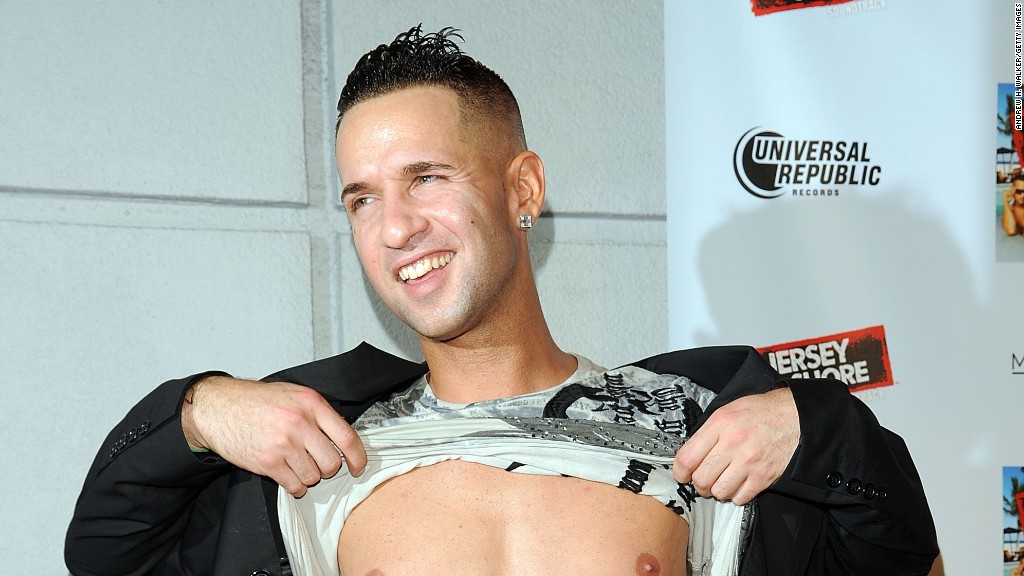 Michael "The Situation" Sorrentino, one of the stars of MTV's "The Jersey Shore," was indicted for failing to pay taxes on $8.9 million in income.
The U.S. Attorney in New Jersey on Wednesday charged Sorrentino and his brother Marc Sorrentino with falsifying their business and personal tax returns between 2010 and 2012.
According to the indictment, the brothers among other things claimed expensive cars, fancy clothes and "personal grooming expenses," as legitimate business costs.
"Michael and Marc Sorrentino filed false tax returns that incorrectly reported millions made from promotions and appearances," said U.S. Attorney Paul Fishman. "The brothers allegedly also claimed costly clothes and cars as business expenses and funneled company money into personal accounts."
Related: The business of being Snooki
Prosecutors said the brothers avoided paying taxes on income from two businesses they controlled, MPS Entertainment and Situation Nation. They also made illegal transfers from the business accounts to their personal accounts.
Allegedly, they didn't pay pay personal income tax, either. Michael Sorrentino did not pay any income tax in 2011, despite earning nearly $2 million, according to the indictment.
The indictment said the brothers made millions through appearance fees for Michael and other side businesses, including the publication of The Situation's autobiography and a comic book featuring him as a superhero. Michael Sorrentino also had endorsement deals for various products, including vitamins, tuxedos and sunglasses.
Richard Sapinski, the Newark lawyer representing Michael Sorrentino, said his client had surrendered and was expected to be released on a bond later Wednesday.
"We ... believe there is no basis to conclude that Michael did anything criminally wrong," said Sapinski.
Sorrentino was one of the stars of "The Jersey Shore" reality show that ran from 2009 to 2012 on MTV.
The show chronicled the misadventures of a group of housemates spending the summer on the beach. Their daily routine consisted of GTL, short form for going to the gym, the tanning salon and doing laundry. They spent the nights drinking, fighting and hooking up.
The show was criticized for, among other things, perpetuating negative stereotypes of Italian-Americans.
Several cast members, including Nicole "Snooki" Polizzi, were able to parlay their time in the spotlight into lucrative, if short-lived, careers.