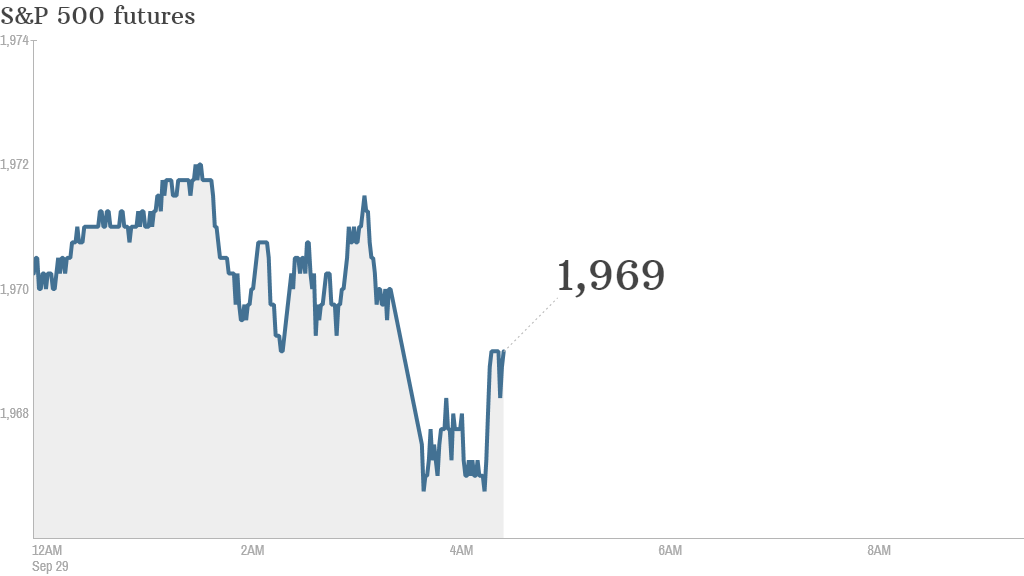 U.S. stock markets are poised for further declines Monday after posting losses last week. Most global markets are also heading lower.
Here are the five things you need to know before the opening bell rings in New York:
1. Protests in Hong Kong: Pro-democracy protests in Hong Kong have rattled investors, pushing the Hang Seng index down by nearly 2%. The index is now at its lowest point since July.
The protesters -- who are facing a forceful crackdown by police -- are calling for free and open elections in the Chinese territory. Beijing wants to screen candidates for the city's top office. Some protesters say they also want to draw attention to rising inequality in one of the world's most expensive cities.
HSBC (HSBC) shares were down about 1.5% in London.
2. Another dip?: U.S. stock futures were broadly negative and a few key companies were dipping lower premarket.
Both Apple (AAPL) and Starbucks (SBUX) were among the main decliners ahead of the open. The European Union is reported to be close to revealing the first results of an investigation into both companies' tax affairs, and could force them to repay billions of dollars.
U.S. stocks moved up on Friday, but were still in the red for the week. The Dow, Nasdaq and S&P 500 all fell by between 1% to 1.5% over the week.
3. Am I dreaming?: Japan's Softbank (SFTBF) is reported to be considering a bid for Dreamworks Animation (DWA), the studio behind 'Shrek' and 'How to Train Your Dragon.' Keep an eye on the shares when they open.
4. Flying high: Shares in Air France-KLM (AFLYY) were rising by about 1.7% in Paris after its pilots returned to work after a lengthy strike. However, negotiations between the airline and the pilots' union will continue over issues related to the airline's plans for a low-cost European air carrier.
5. Economics: The U.S. Bureau of Economic Analysis will report monthly personal income and spending numbers, as well as its price index, at 8:30 a.m. ET.