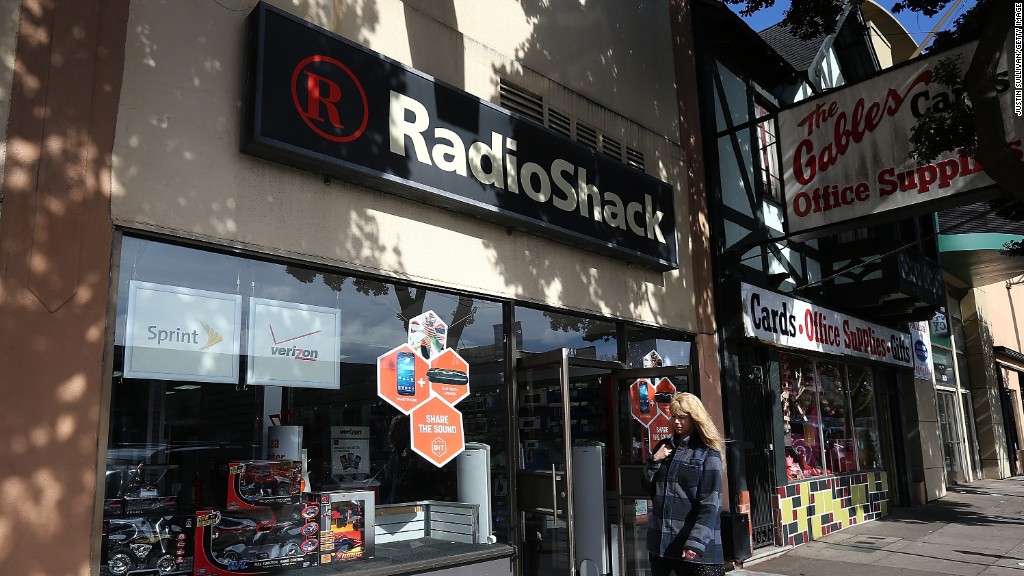 Radio Shack has taken a step back from the brink.
The electronics store said Friday it has reached an agreement with a group of lenders led by New York hedge fund Standard General and Litespeed Management, who will provide the company with immediate access $120 million and restructure its existing debt.
The agreement is designed to give RadioShack enough cash to get through the all-important holiday season, when retailers generate the bulk of their profits.
Standard General and certain other investors are replacing GE Capital as RadioShack's lead lenders.
Related: RadioShack price target cut to ... $0
Standard General is RadioShack's largest shareholder, and owns 10% of the company. With this new round of funding, it will own a higher stake in RadioShack.
The move should help RadioShack stave off bankruptcy as it continues to execute a turnaround plan.
Trading in RadioShack (RSH) shares was halted Friday. The stock, which trades for less than $1 per share, is down more than 60% so far this year.
RadioShack executives have been in talks with creditors, investors and landlords to buy time for their turnaround plan. But the clock is ticking. Credit rating agency Moody's has said it expects the company to run out of cash by the fall of 2015.
While the refinancing deal provides some relief, it remains to be seen if RadioShack can pull itself out of a prolonged slump in sales. The company is widely seen as outdated and is struggling to compete with larger rivals and online retailers such as Amazon (AMZN).
RadioShack now depends on smartphones and tablets for more than half its sales. Those are competitive, low-margin products.
Smartphones are also cutting into the sales of higher-margin products, such as digital cameras and GPS systems.
Related: RadioShack's days are numbered
The new credit arrangement could also mean that the RadioShack location near you will close. Part of the reason it needs cash is to close money-losing stores. Closing stores takes cash -- to pay severance, to get out of leases and to dispose of inventory.
In March, the company announced it needed to close 1,100 stores, or about 20% of its total. But three months later, it was forced to scale back to only 200 store closings when lenders balked at providing the cash needed to close more stores.
-- CNNMoney's Chris Isidore and Aaron Smith contributed to this report.