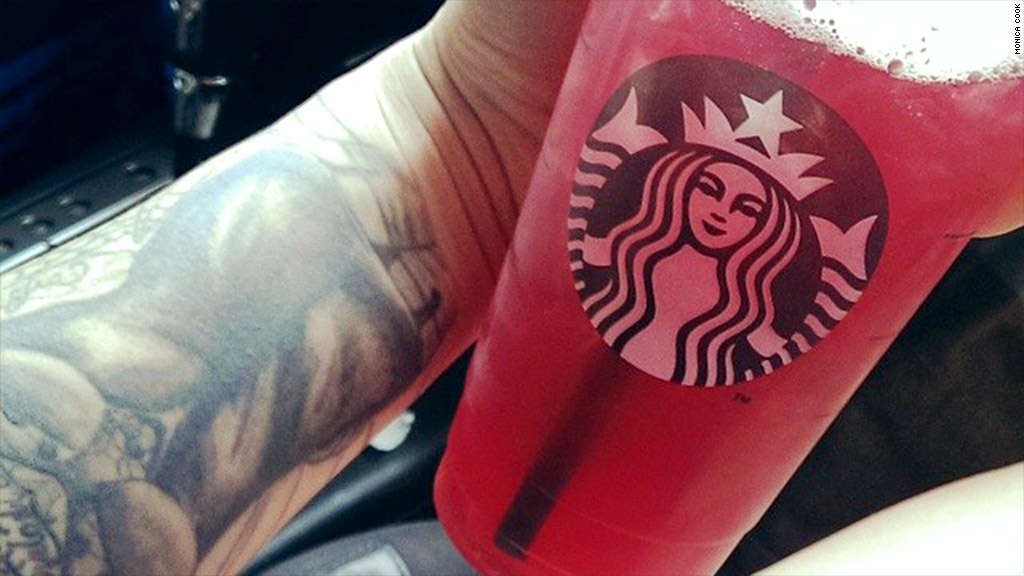 Monica Cook works at a
Starbucks

(SBUX) in Sparks, Nevada, and she has tattoos on her chest, arms and neck. Not that you would know if you order from her.

As many coffee chains become more lenient on visible tats, Starbucks still prohibits them.

When Cook shows up for work, she wears a long-sleeve dress shirt and buttons it all the way to the top, per her manager's orders.

"He makes me cover every inch of me to make sure my tattoos don't show," she said. Hiding her ink stifles her self-expression, she said, but she obeys because she wants to be managing her own Starbucks store in a few years.

"I kind of do what I'm told," she said.

Starbucks hinted last month on an employee-focused Facebook (FB) page that changes are coming, though it kept mum when CNNMoney requested comment.

An online petition requesting changes amassed more than 20,000 signatures, though Starbucks downplayed the petition's role in its decision.

Related: Starbucks baristas get schedule improvements after outcry

Tim Hortons (THI), the Canadian coffee and doughnut chain Burger King (BKW) acquired in August, announced its own policy change late last month during a hiring push in which it was looking to attract high-quality workers. Workers there no longer have to hide their ink.

The uniform, a black visor, black shirt and black pants, remains the same.

Like most other industries, practices vary from company to company. But Starbucks might be one of the more conservative holdouts when it comes to ink in the coffee workplace. For most other chains, showing non-offensive body art is fine.

Related: Motorola's Moto X tattoo is one of 13 WTF gadgets

Dunkin Donuts (DNKN) only asks that employees cover up tattoos that depict things like nudity or bad language, though the company didn't elaborate on what kinds of tattoos were allowed or its dress code.

Peet's Coffee, which got its start in famously freaky Berkeley, California, in 1966, lets its baristas wear whatever feels comfortable, within reason. It's the same with tattoos, provided they're not offensive.

"It needs to be clean and safe and its needs to be respectful," said Jane Marvin, who heads human resources for Peet's.

Up until last year, they couldn't wear jeans and shorts, but even that policy has loosened up.

"It's about the pursuit of better coffee," she said.

Gloria Jean's, the mall staple, had a no-tattoo policy a decade ago — or at least "way back," said its HR head Tommy Falls.

Then they found that their recruiting began to suffer.

"You end up turning away good, quality people," he said. So he and others at the company, looking for a solution, ended up looking to the U.S. Army, a place considerably stricter than the average coffee house.

Soldiers in that branch of the military can have visible, inoffensive tattoos below the neck and above the wrist (though it announced in March that it had tightened the policy a bit).

That was enough for Falls and the other HR folks. Baristas still have to wear company-branded crewnecks or polo shirts tucked into black pants but now they can show off their ink.

"If the U.S. Army can wear them, we figure we can too," he said.

Baristas! Tell us all about your coffee shop's tattoo policy and better yet, show us your tattoos! Post a tattoo selfie to Instagram using #baristaink, then share your experience with us. Contact Melvin Backman at melvin.backman@turner.com. You could be included in an upcoming CNNMoney story.