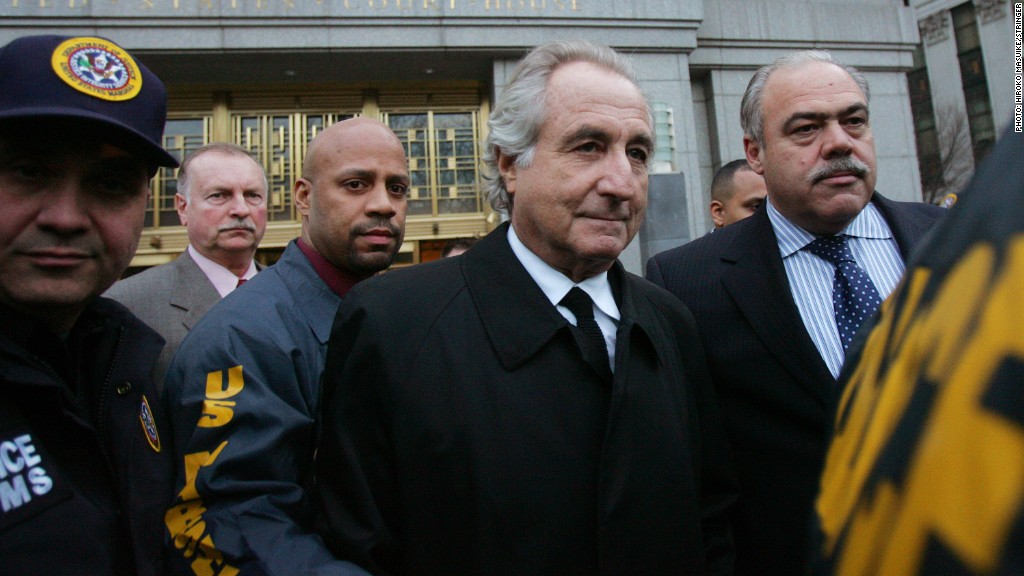 Bernard Madoff sent an email earlier this week from prison to try and win leniency for two of his former employees, who face sentencing next month.
George Perez and Jerome O'Hara, along with three other Madoff employees, were convicted in March for helping him orchestrate the largest Ponzi scheme in history that defrauded investors of billions.
In the email to defense lawyer Larry Krantz, Madoff took the blame for falsified reports prepared by Perez and O'Hara, both of whom worked as computer programmers at his firm.
Madoff said in his email that both the programmers had expressed discomfort with preparing the reports in 2006, but he had misled them by assuring them the trades were legitimate.
Madoff was arrested two years later and charged with running the $20 billion Ponzi scheme. He pleaded guilty in March of 2009, saying he was solely to blame for the scheme, where he falsified millions of trades that never happened. He is serving a 150-year sentence in federal prison in North Carolina.
Perez and O'Hara were also convicted earlier this year of multiple charges, including securities fraud and falsifying records of an investment adviser.
Related: Meet the five guilty of helping Madoff
Madofff's email is in line with the defense lawyers' arguments in court, where they said that both Perez and O'Hara did not know that they were doing anything wrong.
On Tuesday, Krantz submitted to the U.S. District Court in Manhattan the e-mail from Madoff, which he had received earlier that day.
In the e-mail, Madoff said he knew that Perez and O'Hara "were uncomfortable creating some of the reports."
Both of them asked Madoff "if I was buying the securities that they showed on the reports." Madoff says that he answered "of course."
In the email Madoff said he also assured both of them that his firm had passed various regulatory and due diligence examinations and that he had traders who "executed hundreds of thousands of trades daily."
Related: Prison exclusive with Bernie, the king of thieves
Perez is scheduled to be sentenced on Nov. 13. O'Hara, and former colleague Joann Crupi, are to be sentenced on Nov. 12. Their former colleagues Annette Bongiorno and Dan Bonventre face sentencing on Nov. 10.
All five of the defendants had argued that they thought they were working for a legitimate finance firm, and that they had no idea it was a Ponzi scheme.
The sentencing for all the defendants was originally scheduled for July but has been postponed twice.
It's unclear if an email from Madoff is going to make a difference, especially since he was convicted of a crime where he lied to thousands of investors.
Madoff eventually admitted in federal court that he never used the money from investors to make any trades. He just used the money to feed his pyramid-style scheme, which collapsed when he was arrested on Dec. 11, 2008.