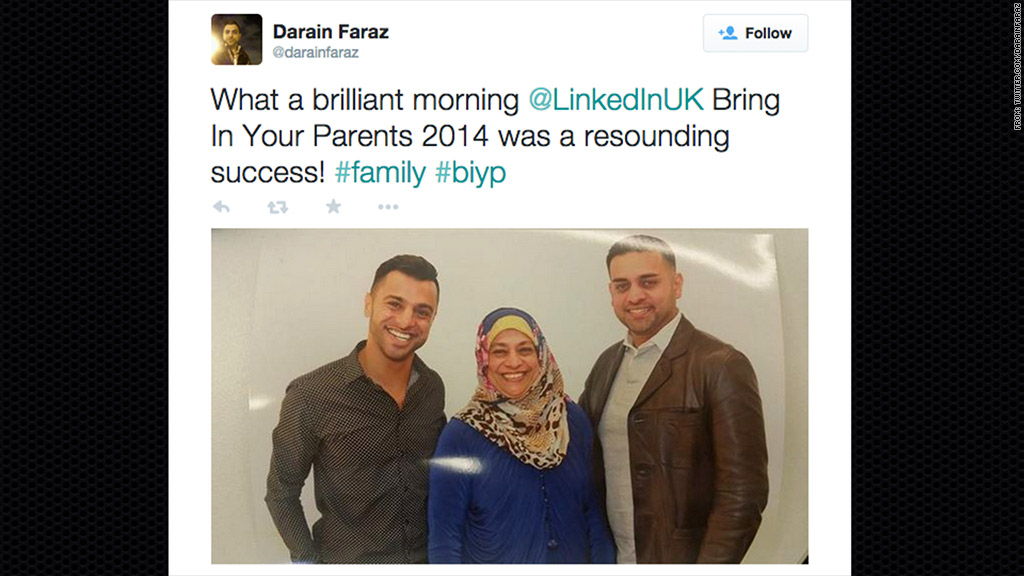 Remember that time your parents brought you to work and you finally learned what mom and dad did all day?
It's time to return the favor.
Thursday is Bring In Your Parents day, a campaign sponsored by the professional networking site LinkedIn.
The idea is to give parents a chance to see what their children do for a living.
Apparently, it's a mystery to them too.
"I didn't know what he did. I thought he was in sales," said visiting mom Joan Douglass of her son Chris Douglass, an enterprise relationship manager at LinkedIn.
She's not alone in feeling that way.
LinkedIn (LNKD) said one out of three parents don't have any idea what their kids do at work.
Related: Facebook launches Ebola fundraising campaign
Dad Joe Douglass said the working environment at LinkedIn is "radically different" from the atmosphere he experienced as a long-time employee at Xerox (XRX).
But he said seeing first-hand what his son's work life is like will help him "be a better coach and counselor."
That's certainly LinkedIn's intent. A survey from the company found that many parents have held back advice that could be helpful for their children at work because they feel out of touch with current trends in the workplace.
"We created LinkedIn Bring In Your Parents Day to help bridge the gap between professionals and their parents," said LinkedIn spokeswoman Catherine Fisher.
Related: What makes a recruiter reject your resume in seconds?
LinkedIn expects about 20,000 people in 16 countries to take part in this year's event. Some of the companies that are participating include British Airways, Logitech (LOGI), Virgin (VA), SAP (SAP) and Wrigley.
The campaign makes heavy use of social media, another area where parents and children do not always connect.
There were dozens of photos of smiling parents and children posted on Twitter (TWTR) under #BIYP and on Instagram.
Holly Branson, the daughter of Virgin (VA) CEO Richard Branson, posted an essay on the five things she learned from her father.
Despite the potential for awkward moments, there were no reports of children being mortified by their parents yet.