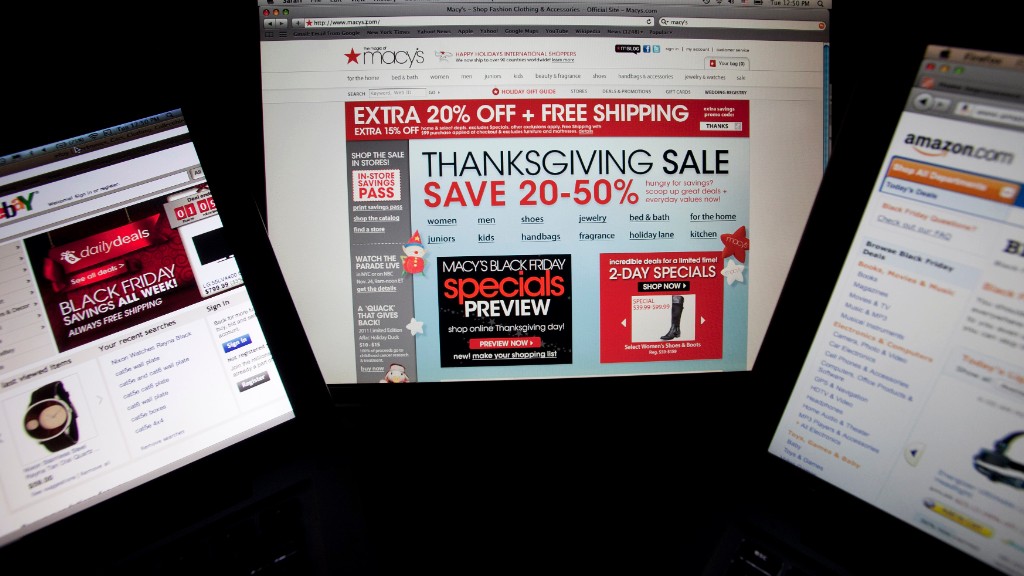 You may be one of the faithful Black Friday shoppers lining up outside malls and department stores across America.
But at many stores there's no need to wait.
Black Friday doorbusters begin as early as 6 a.m. the morning of Thanksgiving day, when Kmart opens. You can shop there any time until the real Black Friday is over -- it's open for 42 hours and finally closes at midnight on Saturday.
Like Kmart, a growing number of retailers are starting Black Friday a day early. This year, Radio Shack (RSH) joins the list with an 8 a.m. opening, though most -- the likes of Macy's (M), Best Buy (BBY), Target (TGT), Kohl's (KSS), Toys R Us, J.C. Penney (JCP) and Sears (SHLD) -- still wait until after dinner is served.
Walmart (WMT), the nation's largest retailer, will keep most locations open around the clock -- as usual -- but begins the Black Friday sale specials at 6 p.m. on Thursday. (And the store is not apologizing for it.)
Related: Ultimate guide for shopping on Thanksgiving
And then there are the Thanksgiving purists who refuse to open on turkey day. Among them are Costco (COST) (which said its workers "deserve" Thanksgiving off), Neiman Marcus and Nordstrom (JWN). (There are also a few states and cities that outlaw Thanksgiving openings.)
We're also discovering we don't need to leave home -- or even the dinner table -- to get deals. Many retailers launched their first holiday discounts several days ago across their sites and mobile apps. That could means Cyber Monday isn't the one-day event it once was.
If you do visit a store, expect to will find an increasingly mobile-friendly experience. Shoppers can whip out their smart phones to check out on deals, availability of items and store maps at the mall.
Related: How the 0.01% do Thanksgiving
Outside, you may find protesters upset that workers couldn't spend their Thanksgiving at home. You don't even have to visit a store to see that -- there are dozens of petitions on sites like Change.org calling for retailers to take a different approach. (Of course, there are plenty of workers who actually enjoy spending turkey day on the clock.)
How much will we spend?
$616.9 billion, according to the National Retail Federation. That's 4.1% more than last year.
Our online spending is expected to grow even more. Estimates range from 8% to 15%. It's best to shop early -- last year, the number of online orders was too much for UPS (UPS) and Amazon (AMZN) to handle, so some didn't get their presents by Christmas.
Retailers bank on Black Friday to kick off their most profitable ("black" in the ledger) season.
Stores are betting that opening earlier and earlier will help them scoop up our cash. But maybe the joke's on them: a CNNMoney analysis found Thanksgiving openings did little to boost sales.