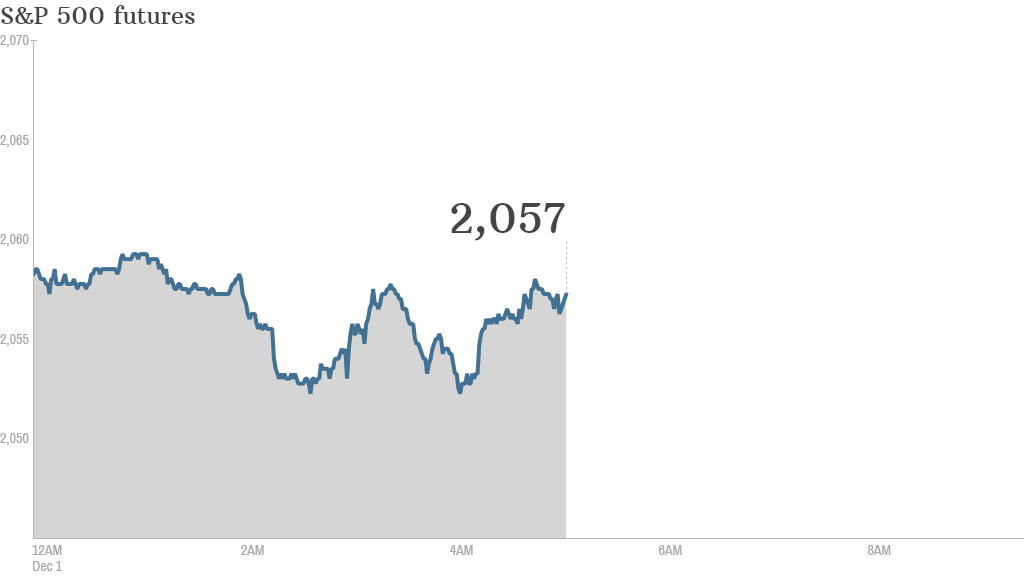 Another big shopping day is here, but it looks like stocks may be left on the shelf.
Here are six things you need to know before the opening bell rings in New York:
1. Japan downgraded: Moody's cut its credit rating on Japan by one notch, citing concern about the government's ability to revive the economy and control its borrowing at the same time.
2. Commodity calamity: Gold prices are on the ropes after Swiss voters rejected a proposal to force the country's central bank to sharply increase the proportion of its reserves held in the metal.
Oil is tumbling again in the wake of OPEC's decision last week not to cut production to soak up a supply glut created by weaker world demand, strong U.S. output and quota-busting by some of the cartel's members.
3. Ruble rout: Russia's ruble plunged more than 4% against the dollar to a new record low. Oil and gas revenues make up about half of Russian government revenue. The weaker currency helps Moscow absorb some of the pain of lower oil prices by propping up revenues in ruble.
4. Stock market movers -- Oil companies: ConocoPhillips (COP), Chesapeake Energy (CHK), Schlumberger (SLB) and Hess (HES) were among a roll call of oil producers and service companies under pressure again in premarket trading.
5. Seeing red: Most major Asian markets ended with clear losses, except the Nikkei which was boosted by a weaker yen.
European indexes were also lower in early trading, taking a knock from new data that showed manufacturing activity slowed in November in Germany, France and Italy -- the eurozone's top three economies.
U.S. stock futures were weaker. The ISM manufacturing index will come out at 10 a.m.
Related: Cyber Monday deals: Where to find them
6. Market recap: U.S. stocks closed mixed after Black Friday's short trading session. The Dow barely budged, the S&P 500 was down 0.3% and the Nasdaq closed 0.1% higher.
But the Dow and S&P 500 both ended up for the month of November.