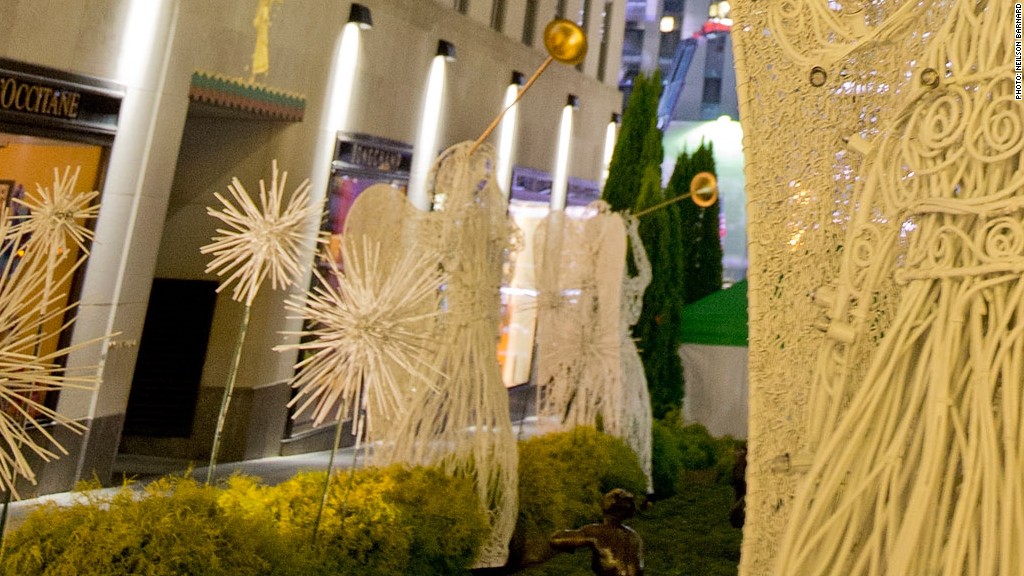 Layaway angels continue to spread joy across the country this holiday season.
Stories of anonymous, deep-pocketed patrons paying for customers' layaway items at major retailers are becoming more common as Christmas nears.
On Monday, an unknown male customer at a Walmart (WMT) in Mechanicsburg, Pa., paid $50,000 for people's layaway items. The generous act covered 100 accounts, mostly for toys and electronics.
The so-called "layaway angel," arrived just in time. Monday marked the deadline for Walmart's customers to pay for their layaway items.
Related: Toys 'R' Us 'layaway angels' pay thousands for others' gifts
Mechanicsburg store manager Steve Myers and his staff had the pleasure of calling customers to tell them their items were ready for pick up, all paid off.
"These aren't gifts that are expected," Myers said. "It's just overwhelming to them that their layaway was paid off. Some of them burst into tears."
One of those layaway accounts belonged to Marilyn Garcia of Harrisburg, Pa.
Garcia, who works two jobs, has struggled financially this holiday season. She had no plans to even buy a Christmas tree because she's downsizing and moving homes soon.
Garcia just wanted to buy the Hello Kitty car for her 4-year-old granddaughter. She knew she was not going to make the layaway deadline, so she called Monday to ask for an extension.
A Walmart employee told Garcia no extension was necessary: she could pick up her granddaughter's present. It was all paid for.
It was great news for Garcia, who graduated from Harrisburg Area Community College on Sunday.
"I am still in shock. I'm humbled by it. I'm grateful. I am blessed," Garcia, 36, told CNNMoney. "If I could see that person, I would give them a hug and thank them and pray for them and pray it is returned to them many, many more."
Related: Use this app to get the lowest prices on your holiday shopping
The layaway angel in Mechanicsburg was not alone Monday.
One Walmart in Lake City, Fla., received a $59,000 check from a donor that covered about 300 accounts. Another Walmart nearby in Chiefland, Fla., had its layaway account cleared with a $51,000 check, according to a Walmart spokesperson. The donors in Florida were not identified and it was not known if they might actually be the same person.
Paying for layaway items is popular this holiday season. Two people in Massachusetts paid for all the layaway items at separate Toys 'R' Us stores last week. ABC's Good Morning America aired a "Layaway Live," segment recently too.