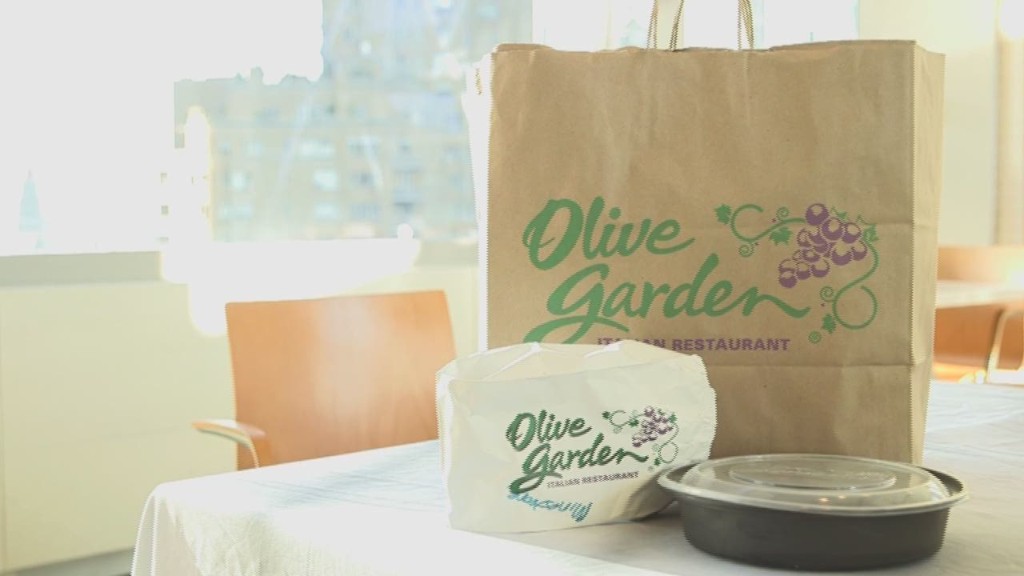 Darden Restaurants, the parent company of Olive Garden, is hotter than a pot of boiling (and salted) pasta water.
Shares of Darden (DRI) are up more than 15% since activist hedge fund Starboard Value won control of the company's board of directors at Darden's shareholder meeting in mid-October.
Starboard is the group that bashed Olive Garden for what it thought was sub-par food and service.
Darden reported its latest quarterly results after the closing bell Tuesday. And it appears that Starboard is already having a positive impact on the financials.
The company reported a profit of 28 cents a share. That was up sharply from a year ago and better than analysts' forecasts of 27 cents.
Sales were $1.56 billion. That also topped estimates. Excluding revenue from Red Lobster, which Darden sold earlier this year to a private equity firm, sales were up 5% from a year ago. The stock rose nearly 2% in after hours trading on the news.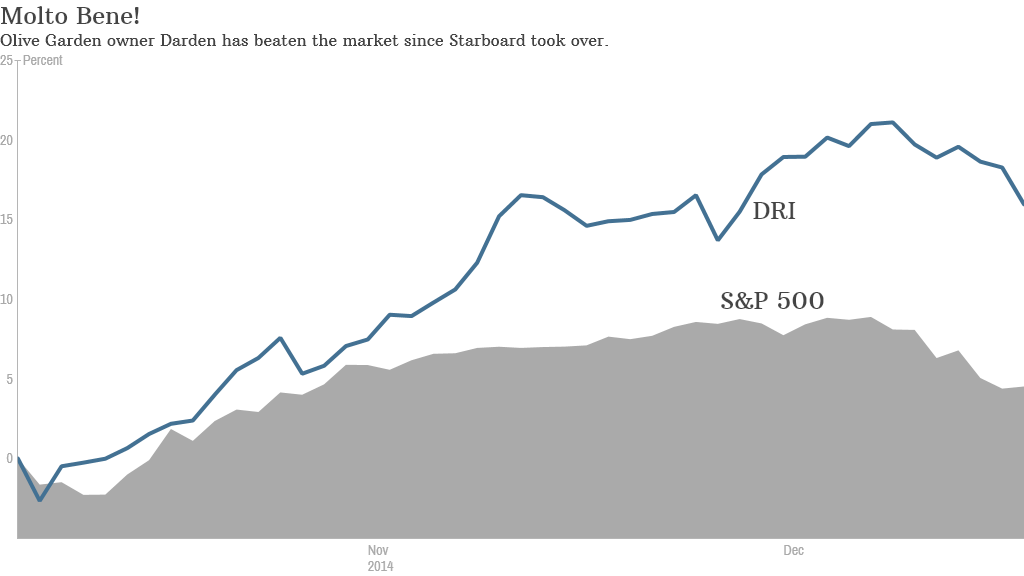 Now the focus is mostly on Olive Garden. (Darden also owns LongHorn Steakhouse, Bahama Breeze and several other smaller restaurant chains.)
Never ending corporate shakeup? Starboard had been pushing Darden to make some big changes.
Starboard put out a blistering, 294-slide presentation earlier this year detailing what it thought were major culinary problems at the Olive Garden, including failure to salt pasta water, pouring excessive amounts of gloopy sauce on its food and too many breadsticks.
This is the first quarter with the new regime in control. So it will be interesting to see if the company decides to shy away from some of the big promotions that made it famous, such as never ending pasta bowls. Starboard was very critical of practices that it thought were wasteful and hurt profits.
Related: Olive Garden flunks CNNMoney's taste test
Former CEO Clarence Otis, who had already announced plans to step down at the end of the year back in July, decided to leave earlier than that after Starboard took over the board. His interim replacement is COO Gene Lee.
Other Darden executives have been kicked out of the corporate kitchen too. The CFO and senior vice president for government and community affairs said last month that they will be leaving the company.
Last month Darden also announced plans to improve efficiency at Olive Garden and LongHorn restaurants. Lee said the goal was for the company to be "limiting the number of distractions that divert our attention from what matters most -- continually working to improve the food and service we offer our guests."
And in another sign that Starboard was not happy with how the company was doing, Darden said last month that it was eliminating the use of corporate jets for company leaders. Darden said it will "cease flight operations immediately and expects to sell its aircraft in due course."
Starboard on the war path. The Darden victory caps a busy year for Starboard.
The hedge fund also took a stake in Yahoo (YHOO) earlier this year and wrote a letter to CEO Marissa Mayer urging her to merge the company with AOL (AOL). (Starboard actually fought and lost a battle for control of AOL back in 2012).
Starboard acquired a stake in packaging giant MeadWestvaco (MWV) this year as well and is pushing for changes at that company.
Most recently, Starboard acquired a stake in office supplies retailer Staples (SPLS). It already has a position in Staples rival Office Depot (ODP). Both stocks surged on the news as investors speculated that Starboard might want to push Staples and Office Depot to merge.
But Darden is Starboard's signature investment.
Wall Street will be watching closely to see if Starboard can boost the company's sales and profits. And diners will be eager to see if Olive Garden's food tastes any different.
They may also want to count their breadsticks.