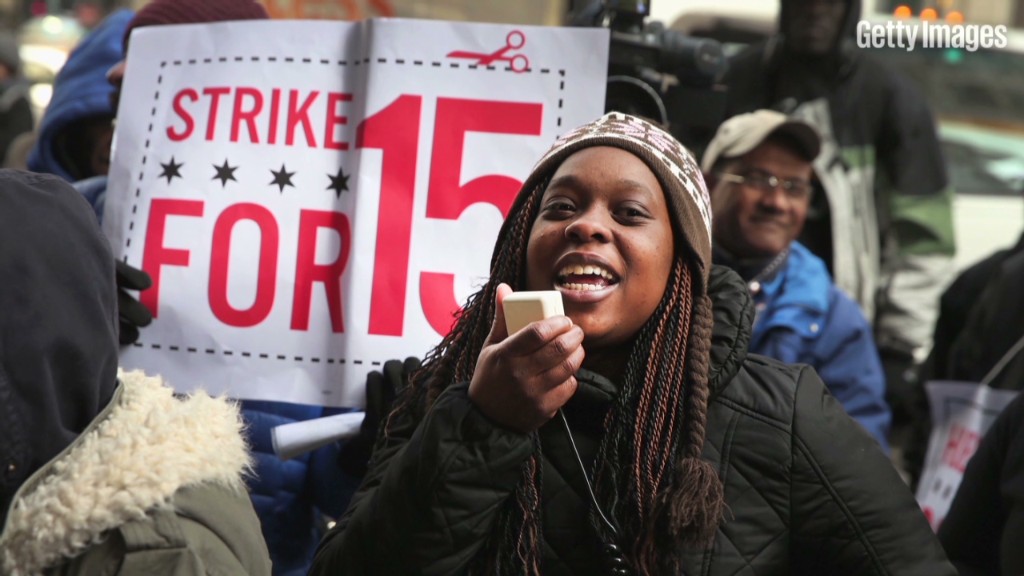 A government labor watchdog has accused McDonald's and some franchise owners of violating workers rights by retaliating against them for taking part in fast food protests.
The National Labor Relations Board said in several complaints filed Friday that McDonald's (MCD) and franchise owners subjected workers to "discriminatory discipline" for participating in nationwide protests aimed at raising pay in the fast food industry.
According to the NLRB's general counsel, the restaurant owners reduced hours and discharged some workers who took part in the movement. The employers also engaged in other "coercive conduct" against its employees, including surveillance, interrogations and restricting worker's ability to communicate with union representatives.
The grassroots movement of fast food workers over the past three years, demanding higher wages and better treatment has been a key driver behind several states and cities this year raising their minimum wages, some as high as $15.
Related: Fast food workers stage nationwide strike
By naming McDonald's along with its franchise owners as violators, the government agency also hits at the heart of the company's franchise model. The vast majority of 14,000 McDonald's restaurants in the United States are owned by franchisees. This has allowed the company to dodge responsibility for low wages and workplace violations at its restaurants.
But all that stands to change, if the agency is able to prove otherwise.
"The complaints issued today underscores what most everyone understands as common sense: That the company is responsible for the workers at its restaurants," said Kendall Fells, an organizer with Fast-Food Fight for $15, one of the groups leading the protest movement.
Related: Fast food strikes go global
Friday's complaints stem from 291 labor violations charges filed since November 2012, when the fast food protests began. The labor agency's general counsel found merit in 86 of those cases, which were filed in dozens of cities around the country, including New York, Los Angeles, Atlanta, Chicago and Philadelphia, among others.
The complaints are a preliminary step in what is expected to be a lengthy legal battle.
At issue is whether McDonald's can be considered a "joint employer" with its franchise owners. The NLRB's general counsel will make that case to an administrative law judge who will determine if McDonald's can be held liable under the National Labor Relations Act.
That trial will begin in March and will set the stage for the NLRB to issue a ruling that can be used in court.
Related: 24 hours with a fast food worker
Worker advocates say the complaints filed Friday suggest that the NLRB general counsel has seen evidence that McDonald's meets the legal definition of a joint employer.
"Today's news makes it clear that the NLRB finds merit in the claim that McDonald's is a joint employer because it exerts substantial power over franchisees," said Mary Joyce Carlson, an attorney for Fast-Food Fight for $15.
However, activists acknowledged that they are in for an uphill battle against the deep-pocketed and litigious fast food giant.
Related: 10 big overtime pay violators
McDonald's said in a statement that it will contest the allegations. The company also said that the government agency "improperly and dramatically strike at the heart of the franchise system -- a system that creates economic opportunity, jobs and income for thousands of business owners and their employees across the country."