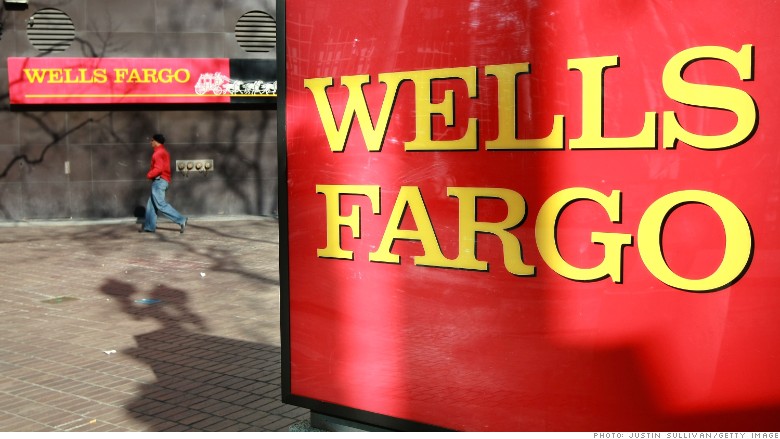 Federal and state authorities have ordered Wells Fargo and JPMorgan Chase to pay a combined $35.7 million for taking part in a mortgage kickback scheme.
The Consumer Financial Protection Bureau and the Maryland Attorney General said Thursday that loan officers at both banks took cash payments from a now-defunct title company in exchange for business referrals.
Regulators said more than 100 loan officers at Wells Fargo (WFC) locations in Maryland and Virginia steered thousands of loans to Genuine Title, which went out of business last year, in exchange for cash.
Related: Bank's 'repeated failures' led to 2,000 foreclosures, feds say
Todd Cohen, a former Wells Fargo banker, allegedly had Genuine Title make "substantial cash payments" to his girlfriend at the time in order to avoid detection. The bureau has ordered Cohen and his now-wife, Elaine Cohen, to pay a $30,000 penalty.
Regulators said Wells Fargo failed to halt the scheme even though it was facing a federal lawsuit over the illegal activity.
"We have fully cooperated with the CFPB in this matter and have taken strong corrective action, including terminating team members," Wells Fargo said in a statement.
The wrongdoing was less extensive at JPMorgan Chase (JPM). The bureau said at least six loan officers at Chase locations in Maryland, Virginia and New York helped steer 200 loans to Genuine Title. The bank has agreed to pay a total of $900,000 in penalties and compensation.
Related: U.S. Bank refunding $48 million to customers
"We are fully committed to ensuring that our mortgage bankers comply with all legal and regulatory requirements," Chase said in a statement. "These former employees clearly violated our policies, procedures and training."
The CFPB said a third bank also took kickbacks from Genuine Title. But the bureau said it did not bring an enforcement action against that bank because it "self-identified" and took steps to correct the illegal action.
"These banks allowed their loan officers to focus on their own illegal financial gain rather than on treating consumers fairly," said CFPB Director Richard Cordray.