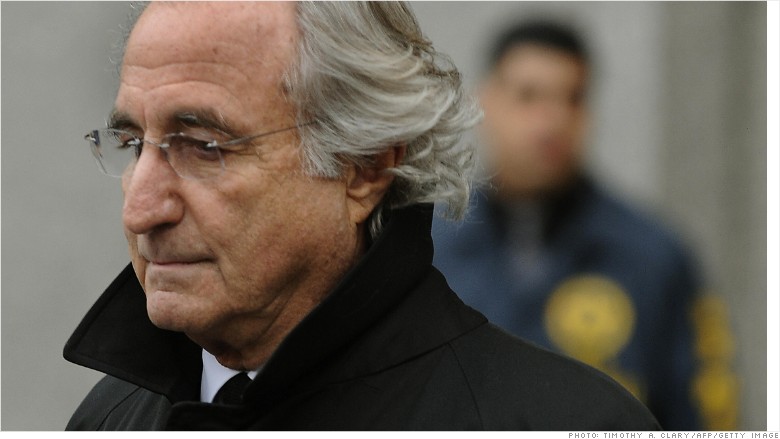 Bernard Madoff defended the innocence of his dead sons in an email to NBC.
"As difficult as it is more me to live with the pain I have inflicted on so many, there is nothing to compare with the degree of pain I endure with the loss of my son's [sic] Mark and Andy," Madoff wrote, according to NBC.
One son Mark committed suicide in 2010, on the second anniversary of his father's arrest, while his second son Andrew died of cancer last year.
The imprisoned Ponzi mastermind took the opportunity to attack the integrity of the news media and Irving Picard, the court-appointed trustee charged with recovering $17 billion of assets that were lost to his scheme.
"Although neither of my son's [sic] were ever charged with anything. They were subjected to the completely false and slanderous claims and remarks of the Trustee and the media," Madoff wrote.
The trustee was not immediately available for comment.
Related: Madoff ruined thousands, including his son
Madoff once again asserted that his sons were never involved in his massive, long-running Ponzi scheme, a claim that he has made since his arrest in Dec. 11, 2008.
He pleaded guilty to 11 criminal counts in federal court and was sentenced to 150 years in prison. He is currently incarcerated in a federal prison in North Carolina.
Madoff claimed from the beginning that he acted alone. But his brother and former colleague Peter is serving a 10-year sentence after pleading guilty to misleading financial regulators. Also, five of his former employees were recently sentenced to prison on a slew of charges related to the Ponzi scheme.
A spokesman for the federal prison system could not confirm to CNNMoney the authenticity of the NBC email.
But the tone of the email is consistent with statements that Madoff made to CNNMoney in a series of telephone interviews in 2013.
Related: Madoff's prison exclusive with CNNMoney
Madoff told CNNMoney that he "was responsible for my son Mark's death and that's very, very difficult. I live with that."
He also said that he lives "with the remorse, the pain I caused everybody, certainly my family, and the victims."
He eventually called CNNMoney after the interview was published, angrily demanding a retraction and disputing some of the details that he had told the reporter about the timing of his Ponzi scheme.