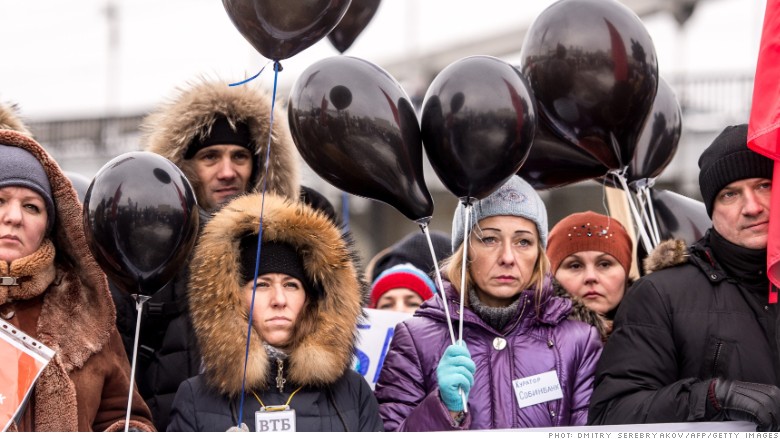 Russia is digging deep to find more money to save its cash-starved banks.
The government said Wednesday it would pour 250 billion rubles ($3.7 billion) from a national infrastructure fund into the country's banks, on top of the one trillion rubles ($15 billion) it has already promised to bail out the sector.
In addition, Russia is injecting another 300 billion rubles ($4.4 billion) from the same fund into the state development bank to boost lending.
Russia's banks are being hit by a double whammy -- the country's slide into recession, and sanctions that have prevented some of the biggest lenders from raising funds in Europe and the U.S.
The central bank has been forced to jack up interest rates to 17% to defend the ruble. That is hurting borrowers and raising the risk of default for lenders.
Related: Russia throws lifeline to companies starved for cash
The bank rescue package is part of a 2.4 trillion ruble ($35 billion) plan to revive Russia's struggling economy, announced by Prime Minister Dmitry Medvedev.
The 60-point plan also includes billions in new support for Russian pensioners to help them cope with soaring inflation.
The scale of the revival plan could balloon -- many of the initiatives were published without an estimate of cost.
One option being considered is the creation of a "bad bank" funded by the government to take on troubled assets from the rest of the banking system.
Russia's economy is set to contract by between 2.5% and 5% this year, due to low oil prices and sanctions. President Vladimir Putin has already announced deep cuts throughout the Russian budget -- with defense and social spending being the only exceptions.