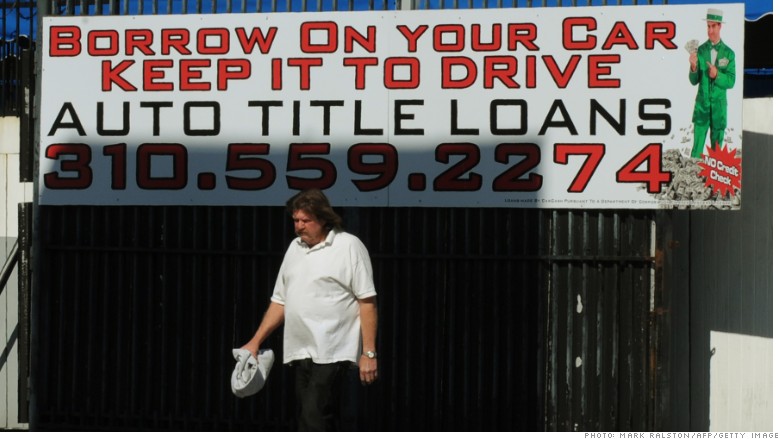 Federal regulators are cracking down on smarmy companies that promise to lend people cash with zero interest, without disclosing important details that often cost vulnerable borrowers big bucks.
These loans are made by using the title of the borrower's car as collateral.
Similar to pay day loans, car title loans are aimed at consumers who need to raise cash in a hurry. But what appears to be a short-term loan can often turn into costly debts that stay with a borrower for months.
The Federal Trade Commission said Friday that it reached settlements with two companies that make car title loans in Georgia and Alabama. It was the first time the FTC took action against such lenders.
First American Title Lending of Georgia and Fast Cash Title Pawn advertised title loans with zero percent interest for 30 days. But the ads didn't say that borrowers would need to meet a host of conditions to receive that rate.
Related: Subprime car lending is up
Under the proposed settlement, the FTC said First American Title Lending and Finance Select, the parent company of Fast Cash Title Pawn, have agreed to stop using misleading advertisements.
"This type of loan is risky for consumers because if they fail to pay, they could lose their car -- an asset many of them can't live without," said Jessica Rich, director of FTC's consumer protection bureau.
The companies did not immediately respond to requests for comment.
According to the FTC, borrowers were not told that they would have to repay the loan in 30 days and that payment had to be made using certified funds, as opposed to cash or a personal check, in order to receive that rate.
Borrowers who didn't meet these conditions would not qualify for zero percent interest and would be charged an additional fee. The advertisements also didn't disclose how much the interest rate would be if a borrower didn't qualify for the no-interest offer.
The annual percentage rate for a car title loan can be over 300%, according to the FTC. Consumers often end up paying hundreds or thousands of dollars in fees. In some cases, they can lose their car.
The average borrower who takes out a car title loan pays $2,142 in interest for just $951 of credit, according to a 2013 report by the Center for Responsible Lending.
Related: Kelley Blue Book's Best Resale Value Cars
Overall, car title loans cost borrowers $3.6 billion in interest each year, more than twice the $1.6 billion in credit borrowed, the CRL report found.