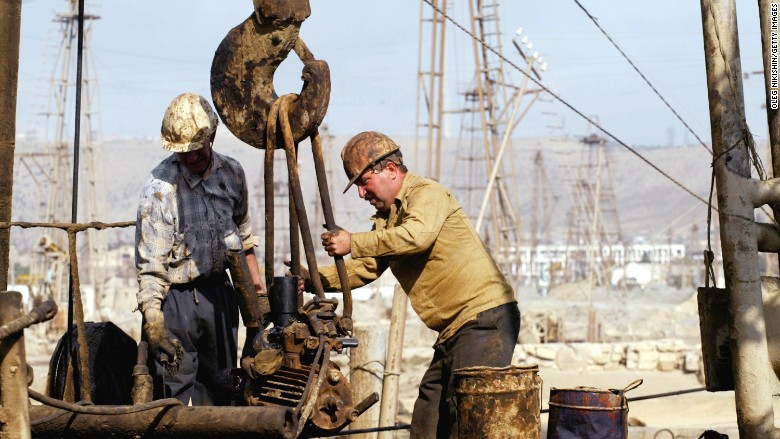 Halliburton became the latest oil company to feel the sting of falling oil prices.
The Houston-based oil field services company said Tuesday it plans to cut between 5,200 to 6,400 jobs as oil and gas production slows down. The cuts translate to between 6.5% and 8% of the company's 80,000 global workforce.
"We value every employee we have, but unfortunately we are faced with the difficult reality that reductions are necessary to work through this challenging market environment," said Halliburton (HAL) spokeswoman Emily Mir.
The cuts will be across all areas of Halliburton's operations, she added.
Halliburton announced plans to cut 1,000 jobs last month, which are included in the range announced Tuesday. Mir said the cuts are not related to Halliburton's $34.6 billion acquisition of rival Baker Hughes (BHI).
While oil prices have rebounded in recent days, prices are still deeply depressed. Crude is currently trading at about $50 a barrel. To put that in context, oil averaged about $93 last year.
The collapse in oil prices comes as supplies are overflowing and there's not enough demand from a weak global economy.
Related: Oil at $55 per barrel is here to stay
A string of other energy companies have already announced plans to cut investments and jobs due to the slump in oil prices.
Chevron (CVX) said last month it plans to cut capital investments by 13% to $35 billion this year. Royal Dutch Shell (RDSA) plans to reduce spending by $15 billion over the next three years.
BHP Billiton (BBL) announced last month it was cutting its U.S. onshore rig operations by about 40% this year. Schlumberger (SLB) recently announced plans to lay off 9,000 workers.
British oil giant BP (BP) and French oil company Total (TOT) have also cut back.