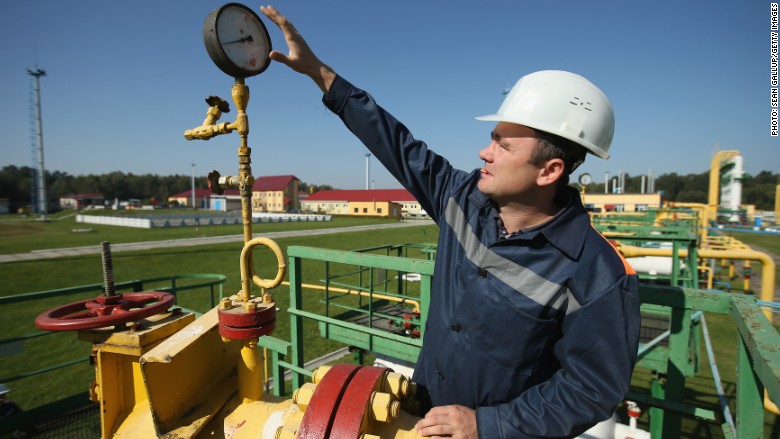 The Minsk ceasefire is the first good news Ukraine has had in a while, but the simultaneous announcement of a $40 billion lifeline for the country is equally important as a statement of intent.
The West's willingness to extend financial support to Ukraine has become a crucial test of strength in relations with Russia. Although the Ukrainian and Russian economies are likely to shrink by a similar margin in 2015, Ukraine doesn't have the large reserves available to Russia, and can't survive long without external help.
Whatever problems President Vladimir Putin faces as the result of plummeting energy prices and sanctions, he reasons that the West's resolve will crack first when the full cost of supporting Ukraine becomes apparent. Mixed signals from Western leaders about their appetite to see the crisis through only encourage him to play for time.
The West's strategy is supposed to be about stabilizing Ukraine and raising the price Russia pays for aggression. Yet in one case at least, Western policy is having the opposite effect.
Flawed gas deal
Last October, Europe brokered a deal to restore Russian gas supplies to Ukraine. By forcing Ukraine to pay historic debt of $3 billion on a politically inflated gas bill, and pay in advance for further supplies at well above the market rate, the agreement acts as an indirect subsidy from Western taxpayers to Russia. The overpayment comes from Ukraine's budget, which is being financed by the International Monetary Fund, U.S. and European Union.
The deal might have been justified had there been no other way for Ukraine to meet its winter energy needs, but that isn't the case. Energy prices are tumbling and there is no shortage of gas in Europe.
All of Ukraine's import requirements could be met if supply flows were reversed and more gas was piped from west to east. The technical means to do this exist. Pipelines between Slovakia and Ukraine have the capacity to carry 100 billion cubic meters of gas annually in either direction, more than twice Ukraine's total consumption last year.
The problem is that Russia's Gazprom (GZPFY) has reserved 80% of that capacity even though it is only currently using 50%-55% to supply gas to the EU. The remainder is sitting idle in defiance of new EU anti-monopoly rules that are supposed to force pipeline operators to make spare capacity available to alternative suppliers.
Hollow threat
Europe appears unwilling to stand up to Gazprom: It even suspended a wider anti-trust investigation into the company last year. It is nervous of Putin's reaction and the possibility that he will act on a threat to reduce supplies to countries that allow gas to flow back to Ukraine.
Yet the integrated European energy market makes it impossible to cut supplies to individual countries, and Russia can't afford to cut off the EU as a whole, so the threat is a hollow one. Europe has an unprecedented opportunity to change the balance of energy relations with Russia and is failing to take it.
The immediate impact is to add to Ukraine's acute financial difficulties. The price of gas from Russia was set at $387 per thousand cubic metres (tcm) under the terms of the October agreement. That has dropped to $329, but is still much higher than the European spot market rate of $254 per tcm.
Gazprom says its rate is discounted because it is lower than the figure specified in a 2009 contract with Ukraine, now the subject of a case before the Stockholm court of arbitration. It is threatening to end this "discount" and raise prices again from the beginning of April just as gas prices in the rest of Europe are set to fall even further.
Moreover, Russia is likely to demand another payment of the disputed debt -- as much as $2.4 billion.
Ukraine, and the West, pays
A significant proportion of Ukraine' new $17.5 billion IMF loan package, and additional EU and U.S. support announced in the last month, could end up supporting Russia instead. No wonder Putin sees Europe as weak. It is apparently willing to give Gazprom an opt-out from EU law, waste scarce resources and deny European energy companies the opportunity to supply Ukraine, all in order to avoid upsetting Russia.
Instead of keeping Ukraine at arms length, the EU should be pressing ahead with its integration into the wider European energy market by enforcing its own competition rules. Ukraine can make an important contribution to European energy security in return.
It has the largest spare storage capacity in the continent, which could be used to build up a strategic gas reserve, and can provide transit routes to countries like Bulgaria and Romania that still depend heavily on Russia. Unfortunately, Putin seems to have a better appreciation of what is at stake than his European counterparts.
David Clark is chair of the Russia Foundation and a senior research associate at the Foreign Policy Centre. The opinions expressed in this commentary are solely his.