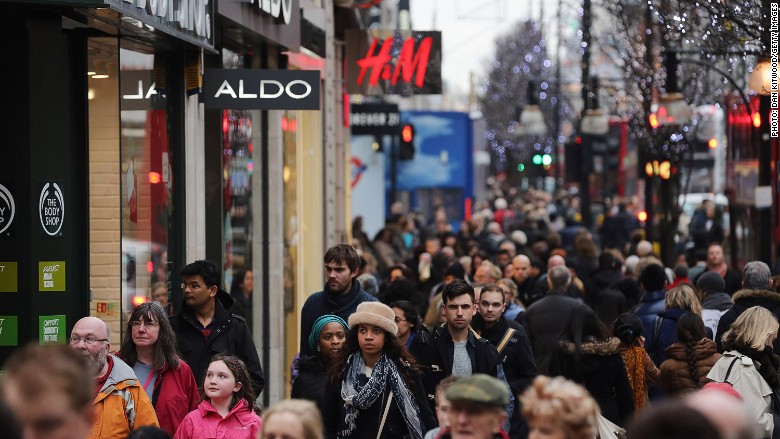 Holiday shopping or soccer? Plans to host a winter World Cup in 2022 could make life difficult for one unsuspecting group: Retailers.
Soccer's world governing body FIFA has recommended the Qatar 2022 World Cup be played in November and December. The scheduling is designed to avoid the stifling summer heat the Gulf state experiences during the traditional June and July slot.
The World Cup is the most popular single sporting event in the world. FIFA said 3.2 billion people watched the 2010 tournament held in South Africa. Once all the numbers are counted, it expects even more tuned in for Brazil 2014.
So if nearly half the global population is glued to their screens, who will be out holiday shopping?
Related: Qatar 2022: No Christmas Day final
Retailers rely heavily on sales linked to year-end holidays such as Thanksgiving, Christmas and Hanukkah to make them profitable. The U.K. Centre for Retail Research said many retailers make more than half of their sales and profits in the three months before Dec. 25.
FIFA have ruled out a final on Dec. 24 or Dec. 25. But the month-long tournament could keep shoppers at home and damage sales during the crucial season.
Euromonitor research manager Daniel Latev said moving the event to the end of the year would hurt impulse sales and last minute shopping.
"A big proportion of consumers -- especially men -- shop closer to the holiday and this group is going to be most impacted by the timing of the World Cup," he said.
Other experts are less concerned. Sophie Albizua, co-founder of digital retail consultancy eNova, said men -- who make up the most of the World Cup audience -- would squeeze their holiday shopping in around matches. Even if that means a more frantic spree than usual at the last minute.
"A study by [shopping channel] QVC found one in four men do all their Christmas shopping within an hour," Albizua said. "It's something they have to do and the World Cup won't stop that."
Related: Mayweather vs Pacquiao: Biggest payday in sport
It could even create upside for some retailers. Shopping from the sofa could help Internet outlets gain even more ground over brick-and-mortar stores.
Latev said the opportunity for product placement during live TV broadcasts could help offset the drop in retail foot traffic.
And for those countries that impress on the pitch? Well, that could be good news for retailers too.
"If the mood is particularly cheerful because England or Scotland has done well at the World Cup, then that may impact Christmas sales positively," said Albizua.