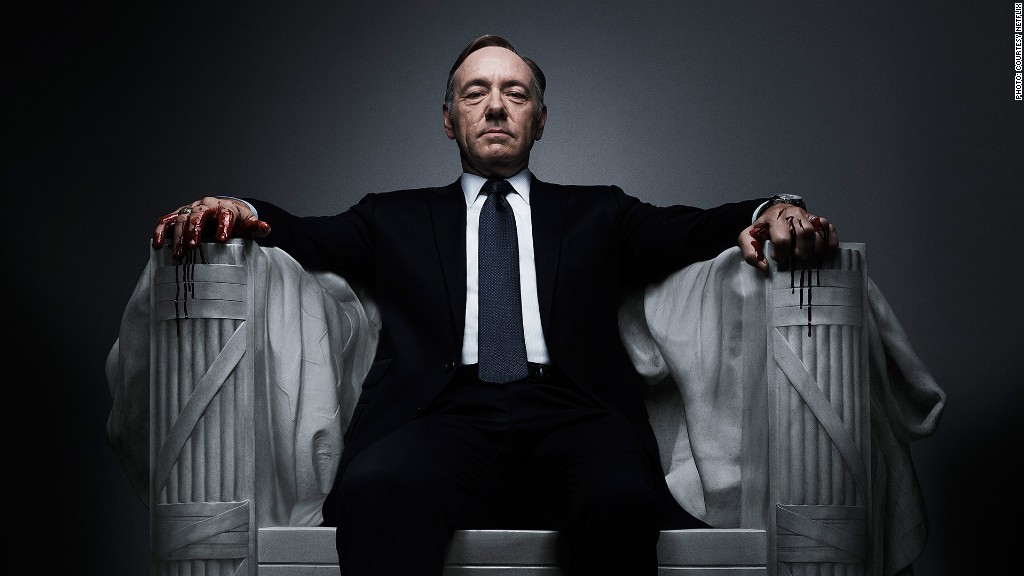 Frank Underwood -- the antihero of "House of Cards" -- is wrong about there being only two kinds of pain.
There is a third: It's the suffering that Netflix short sellers are feeling.
Shares of Netflix (NFLX) are up 40% this year and are approaching an all-time high. Betting against Netflix stock has been as dangerous as getting in the way of the former House Majority Whip.
But can Netflix really keep the momentum going?
Yes, the company has posted amazing levels of subscriber and revenue growth. It could wind up being one of the big winners from the rule changes regarding net neutrality.
It's already won the Twitter PR war with this tweet.
Related: What does net neutrality mean for you?
And "House of Cards" is an addictive show that is generating more and more buzz. A brief leak of the new season earlier this month got fans even more excited.
Heck, even "Sesame Street" did a recent "House of Bricks" parody of it with a Frank Underwolf (southern drawl and all) huffing and puffing his way into the Three Little Pigs' White Brick House.
Dot-com mania all over again? Still, the stock is now trading at more than 140 times 2015 earnings estimates. That should bring back unpleasant reminders of the Internet stock bubble from 2000.
And what's this? The Nasdaq is once again approaching the 5,000 mark for the first time in 15 years.
Netflix has done a phenomenal job of transforming itself from a DVD by mail service to a streaming video giant. But the company continues to face some challenges as it expands.
Increased overseas investments and on content could hurt profits. Wall Street analysts are currently predicting that Netflix's profits will decline this year ... but, to be fair, they're also expecting earnings to soar from 2016 through 2019.
But Netflix must continue to invest aggressively to stay on top. There is a lot of competition.
Related: Woody Allen to create first TV series for Amazon
Amazon is bulking up its streaming offerings to become a more viable competitor. Media titans Disney (DIS), 21st Century Fox (FOXA) and Comcast's (CMCSA) NBCUniversal own Hulu.
There are more on-demand and over-the-top services from big cable and satellite providers in addition to standalone offerings from individual networks like HBO. (Time Warner (TWX) owns HBO and CNNMoney.)
Where are Iron Man, Gru and Shrek? For all that's great about Netflix, there are holes in its programming lineup.
I just had a week-and-a-half staycation and was surprised to see how many times I couldn't find something I wanted to watch on Netflix, particularly movies.
The first "Avengers" flick used to be on Netflix. But it's not there anymore. Hoping to get your fix of the Minions before that movie comes out this summer? You won't find either "Despicable Me" movie on Netflix.
And for all the talk about the great content for kids that Netflix has with partner DreamWorks Animation (DWA)? That's great if you want to watch offshoots and spinoffs of some of the popular movies. But good luck finding any of the original "Shrek," "Kung Fu Panda" or "How To Train Your Dragon" films.
Now don't get me wrong. I wouldn't dream of dropping my Netflix service anytime soon. It's great for TV shows ... both its own as well as catching up on things like "Breaking Bad."
Still, I can't help but wonder if the subscriber growth won't start to cool off a bit if Netflix is unable to create even more hit shows.
Related: Emmy rules change hurts 'Orange is the New Black'
You can argue that "House of Cards" and "Orange is the New Black" are the only two programs to become unqualified successes for Netflix.
Won't Netflix need more than those programs to justify its lofty stock price? "Now you might very well think that, but of course, I couldn't possibly comment," is what Underwood would probably say.
For now, Wall Street is not concerned. But Netflix has had a volatile history. And it still has a lot to prove.
The stock is priced for perfection.
If there are any hiccups in the future, investors probably won't see them coming until it's too late. Just like (spoiler alert!) poor Zoe Barnes on that Metro platform. Knock knock.