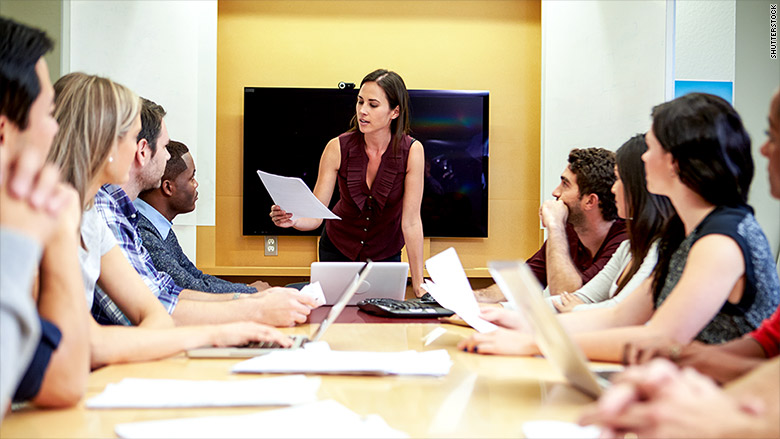 Germany has just made a radical move to promote gender equality in the boardroom.
The German parliament passed a new law Friday requiring the country's biggest companies to appoint women to 30% of the seats on their non-executive boards from 2016. The plan is to increase the quota to 50% from 2018.
The new rules apply to about 100 of Germany's biggest listed companies, where shareholder and employee representatives make up the supervisory board.
A number of big German companies, including Adidas (ADDYY) and financial services firm Allianz (AZSEY), already meet the 30% quota. However, many others lag behind, including Volkswagen (VLKAY), which only has 15% female representation on its board.
Thousands more smaller German companies are also required to set binding targets this year for increasing the number of women on their supervisory boards and executive committees.
The new quotas will also apply to senior leadership positions in the public sector.
Related: Best and worst countries for women on corporate boards
Catalyst, a group that lobbies for women in business, says research shows that companies with diverse boards attract more talented employees, are more innovative, and have greater financial success than companies where men dominate.
However, many people are opposed to fixing binding quotas for women, arguing that unqualified people may be given positions in order to satisfy the rules.
Other critics argue that the German law doesn't do enough to tackle the gender imbalance on top management teams, where the real power lies. A supervisory board provides general oversight and appoints top executives, but is not involved in setting strategy or daily corporate affairs.
Currently, Norway has the best record for women on boards, according to Catalyst. In 2003, the country passed a law requiring at least 40% of corporate board members to be female. At present, nearly 36% of board members are women.
The situation is very different in Japan, which is known for having a low rate of female participation in the workforce. Women in Japan hold about 3% of all board seats at major companies.
--CNNMoney's Mark Thompson contributed to this report.