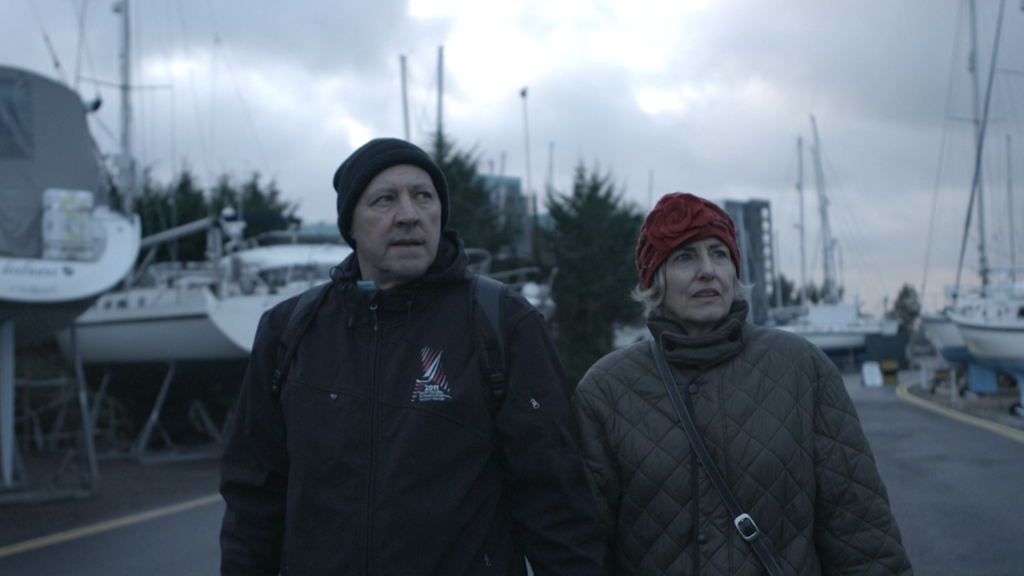 Last summer, Max Fletcher and Lynnie Bruce set sail on their dream retirement.
Their new home: A 40-foot sailboat, currently docked in Ipswich, England, about an hour north of London.
Over the past year, they've used the boat as a base to visit several different countries, such as Germany, France, Iceland and India. This summer, they'll move the boat further North to Norway to explore the countries in that region.
The couple saved up for decades to make this nautical life a reality.
"We lived below our means, paid off credit card debt. Only (got into) debt for mortgages," said Fletcher. "This has been a long-term goal -- to make enough to do this kind of thing."
Fletcher, 59, retired last year from a longtime career as chief financial officer for several small industrial gas suppliers throughout New England. Bruce, 61, retired seven years ago from her career in advertising. More recently, she worked part-time at a local YMCA but left last spring.
The couple had tested out the boating life in the past. From 2001 to 2004, they took three years off to sail from the United States to the Mediterranean and back, visiting Cuba, Belize, Mexico, Portugal, Spain, Italy, Greece and Turkey.
Related: Saved $1 million and living my dream retirement
These sails only reaffirmed their commitment to the sea. So they kept saving and started plotting a return.
They socked anywhere between 5% and 21% of their salaries in their employer-sponsored 401(k)s and fully funded their IRAs. Each year, they put away even more into their savings accounts.
Fletcher was also well-versed in investing. In the early 1990s, he started managing his own investments, and started investing in smaller publicly-traded companies called microcaps. One of his big investing wins at the time was a company called Isonics -- a manufacturer of silicon for computer chips, that saw its stock price rise to $4 apiece from 15 cents in the span of two years. Isonics later ran into financial trouble and the stock was delisted in 2008.
Fletcher said he did well investing in microcaps, but realized they could be a risky bet.
Around 2005, he drastically changed his investing practices after reading "The Single Best Investment," by investment manager Lowell Miller, and started investing in companies with dividend growth. Some of the companies he said he has invested in include Johnson & Johnson (JNJ), Procter & Gamble (PG), Realty Income (O) and Ventas (VTR).
"If you invest for income growth, you don't care about what the market is doing," Fletcher said. "The goal is to accumulate an income stream that you can live on, without ever touching the principal."
Too young for Medicare, the couple's biggest expense now is health insurance -- for which they write a hefty check of $1,300 each month.
Related: Volunteering, living abroad: 6 retirees share their stories
They've kept their home in Maine by arranging for house sitters who pay enough to cover the cost of maintaining their home, to which they will eventually return.
In the meantime, life aboard the boat can be quite cheap. Fletcher said the live aboard lifestyle can cost around $1,500 to $3,000 a month, and they fall in the middle of that range.
They cook most of their meals using the boat's tiny three-burner propane stove and oven.
"One of the beauties of living on the boat is finding how simply you can live, how few material possessions you really need, and how freeing it can be to live simply and be able to focus on the things that are most meaningful to us," Fletcher said.
How long will they live this way? It depends.
Good health will play a big role in their decision to continue on. Sailing can be physically grueling, with lots of climbing and pulling on heavy ropes to control the sails, among other things.
"It's such a physically demanding lifestyle; we decided to do it sooner rather than later," Fletcher said. "Life is short."
Are you living your dream retirement? On track to get there? Tell us what dream retirement means to you and what you did to get there and you could be featured in an upcoming CNNMoney story.