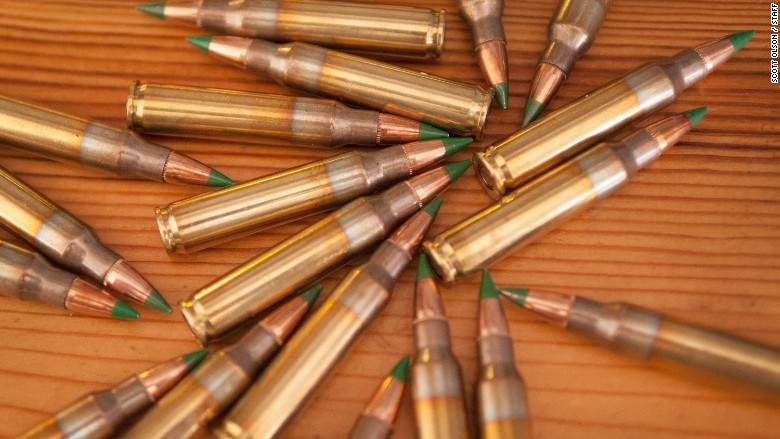 Two House Democrats have proposed a ban on armor-piercing bullets, just days after the ATF backed away.
The legislation would require the attorney general to modify the definition of armor-piercing ammo to make it illegal in the U.S.
The bill applies specifically to M855, a type of ammunition used in assault rifles, which are referred to as modern sporting rifles by the gun industry because they can be used in hunting. President Ronald Reagan exempted them, in 1986, from a ban on armor piercing ammo that has been in effect since 1968.
That exemption was based largely on the fact that the M855 ammo couldn't be used in handguns. But since the exemption went into effect nearly 30 years ago, handguns using this type of bullet have been introduced.
Related: NYPD introduces gun shot detectors
In February, the Bureau of Alcohol, Tobacco, Firearms and Explosives announced a proposal to lift the exemption on M855, by folding it back into the long-standing ban on armor piercing ammo.
But when the ATF opened up the proposal to public comment, the bureau got 80,000 responses, most of them negative. The ATF backed away from the proposal on March 10.
The bill, introduced Monday, is called the Modernize Law Enforcement Protection Act. It was co-sponsored by Steve Israel of New York and Jackie Speier of California.
"The ATF's decision to cave to the gun lobby and allow life threatening armor piercing bullets to remain on the streets is not only reckless, but cowardly," Israel said in a statement on Monday. "This legislation is an important step to protect law enforcement from ammunition that may penetrate body armor."
Related: Snoop Dogg wants you to unload your gun stocks
The proposal faces an uphill battle getting passed. President Obama failed to get a bill through Congress in 2013 that would have placed further restrictions on assault rifles and expanded background checks on gun sales. He introduced the bill just months after the massacre at Sandy Hook Elementary.
Many gun advocates tend to oppose all forms of gun restrictions, viewing them as incremental steps toward even more stringent restrictions.