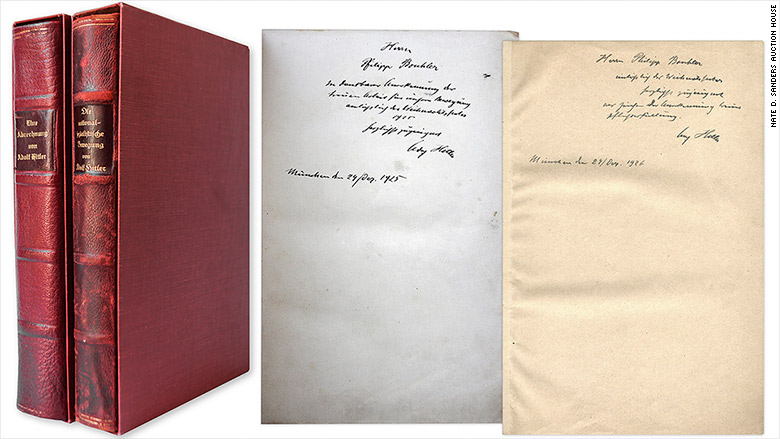 A first edition set of "Mein Kampf," signed by its author Adolf Hitler and given to one of the earliest members of the Nazi Party, is going up for auction.
Each book in this two-volume set of hate literature is autographed by the Nazi führer and addressed to Philipp Bouhler, the 12th person to join the Nazi Party.
Hilter's blueprint for German domination will be auctioned off by the Nate D. Sanders auction house in Los Angeles on March 26, with a starting bid of $35,000. Participants can bid online.
Bouhler was involved in the Beer Hall Putsch of 1923, which was Hitler's initial failed attempt to overthrow the German government, a decade before seizing power through elections.
Hitler wrote "Mein Kampf" while doing time in prison after the Putsch. The rambling racist tract is rife with caustic references to Jews, who he blames for all of Germany's woes. It also outlines his vision for Nazi Germany.
The auction house said that Hitler gave the volumes to Bouhler as Christmas presents after Hitler got out of prison. The first volume was presented in 1925, and the second in 1926.
The books contain handwritten messages from Hilter to Bouhler, "in grateful recognition of your loyal work for our movement" and "as a sign of recognition of your performance of duties."
Related: Two guns a minute sold in $1 million auction
Bouhler became a senior Nazi official and oversaw the extermination of 70,000 disabled children and adults, even though they were considered Aryan and therefore members of Hitler's so-called master race.
The program was meant to eliminate people who were considered a burden to society. But it was controversial, especially when rumors surfaced that German soldiers who had suffered brain damage were being euthanized. It is one of the few instances where the German public successfully resisted the Nazi government, shutting down the program and calling into question the notion that the German people were powerless to stop the Holocaust.
Hitler, "who did not want to be publicly identified with the project," chose Bouhler to lead it because he was "considered absolutely loyal" to the Führer, according to Robert Lifton, author of "The Nazi Doctors."
In addition to the books, the lot includes a propaganda pamphlet that Bouhler wrote in 1938.
Sanders says that another pair of Hitler-signed "Mein Kampf" volumes, which were given to SS officer Josef Bauer, sold at auction for $64,850 last year.