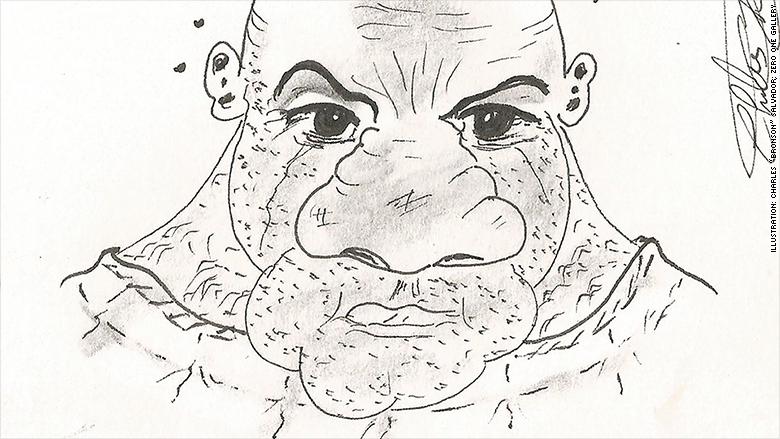 Artwork by Bronson -- one of the U.K.'s most violent prisoners -- will soon be on display at a London art gallery.
If you haven't heard of Bronson, then you're probably not British. He's been dubbed, by tabloids and the public, as one of the most notorious convicts in the U.K. prison system.
So imagine the surprise of Gabrielle du Plooy, owner of the Zebra One Gallery in London, when she discovered a stack of his art beneath a pile of papers and canvases.
The collection of 10 postcard drawings was obtained by her father, who used to own the gallery. He acquired them from a now-closed pub called Bedlam Bar. No one knows how the art ended up at the bar, said gallery spokeswoman Katie Malcolmson.
The art now also has a chance of going up for auction. The gallery will display the art on March 27 and will hold a private auction whenever a charity agrees to partner with them. She wants to donate the proceeds to a mental health charity, but the gallery hasn't yet been able to line up a charity willing to associate with the work of Bronson.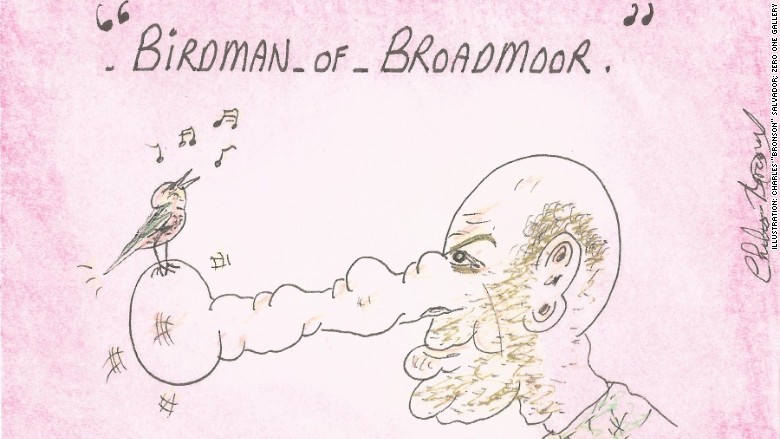 Bronson is a lifelong brawler and prisoner who nicknamed himself after the tough guy movie star Charles Bronson. He has three names -- he was born Michael Peterson and changed his name last year to Charles Salvador, after Salvador Dali.
He is a prolific artist, focusing on themes of incarceration and mental illness. Much of his art can be viewed on his web site.
He has spent most his life in the British prison system, since his original incarceration in 1974 for robbing a post office at gunpoint. He was initially sentenced to seven years. But his fights with other prisoners and guards, taking prison staffers hostage and starting riots, has extended his incarceration by decades. He has spent a good part of his 40-year prison life in solitary confinement.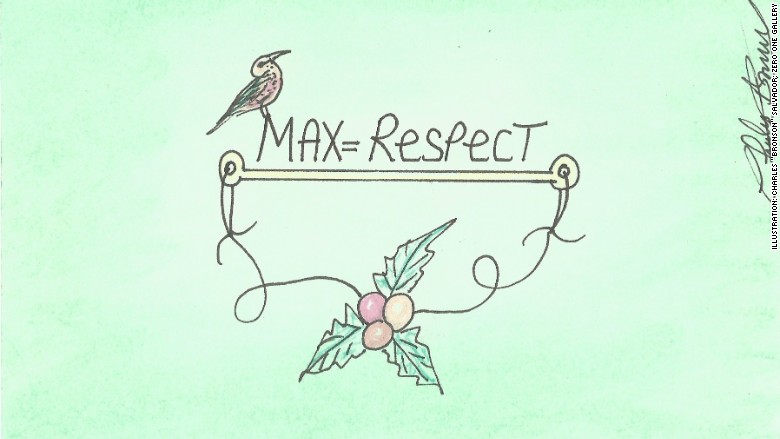 His exploits are well-known to the British public since they provide irresistible fodder for the British press, especially because of his singular appearance, with a handlebar moustache and granny glasses. His status as a glorified anti-hero has made him a controversial celebrity in the United Kingdom.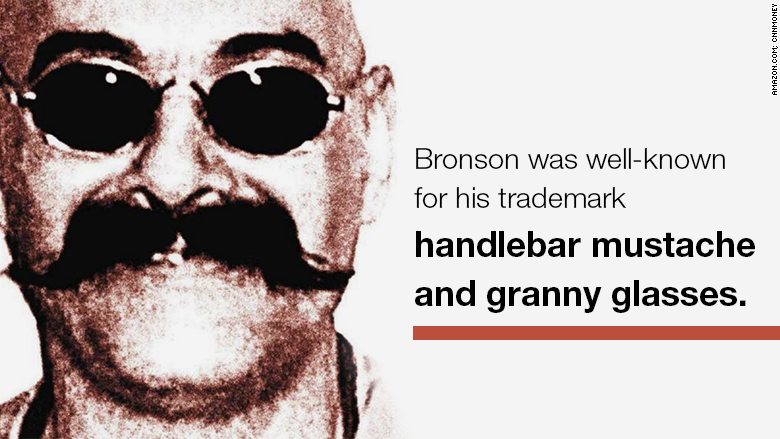 In 2008, he was the subject of a violent art house film called "Bronson." He was portrayed by actor Tom Hardy, who went on to star as the villain Bane in "The Dark Knight Rises." Hardy has also replaced Mel Gibson in the upcoming "Mad Max" installment, "Fury Road."
Related: 'Fury Road' more expensive that previous 3 'Mad Max' flicks combined
Bronson has also published books that he co-authored in prison, including an autobiography, called "Insanity: My Mad Life," and an instructional book on working out, called "Solitary Fitness," where he claims to do thousands of push-ups every day.
"If I hit you, I'll deform your looks," brags Bronson in his fitness book. "I can hit a man 20 times in four seconds!"