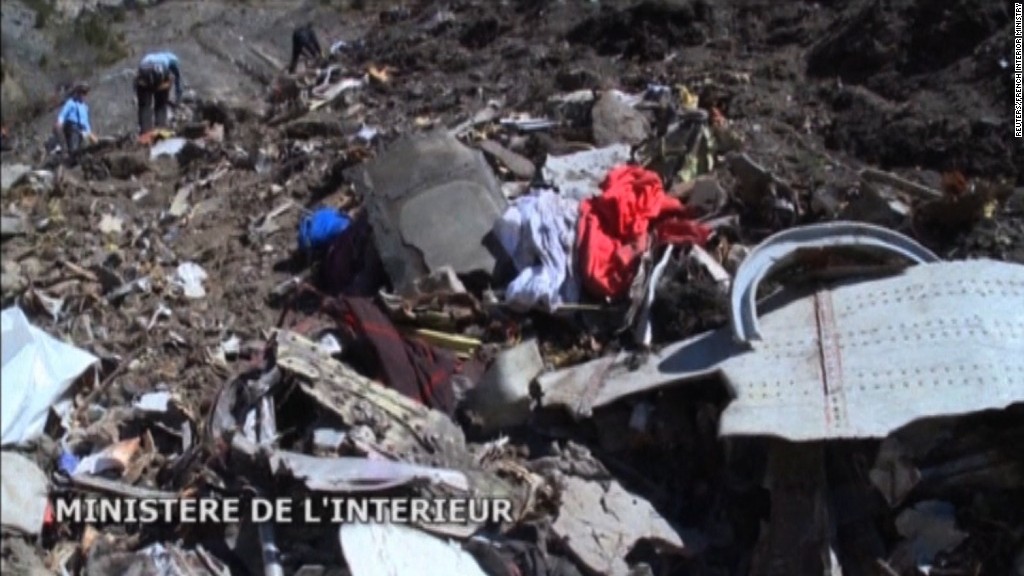 Lufthansa and its insurers have begun the grim task of working out how to compensate families of the victims of this week's Germanwings plane crash.
Lufthansa's main insurer Allianz (AZSEY), together with co-insurers, will be responsible for a variety of payments. Among them: costs associated with the recovery of the bodies and debris, as well as compensation for the victims' families.
It's still early days and many questions remain about the disaster that claimed 150 lives, but one aviation lawyer estimates the total bill for the crash of Germanwings flight 9525 could top $1 billion. And costs could climb further if criminal charges are brought against the airline.
Here's what to expect:
A long wait for the families
James Healy-Pratt, a partner and head of aviation at Stewarts Law in London, told CNNMoney he expects the insurers will set aside roughly $350 million to compensate families.
The vast majority of claims are likely to be settled out of court, but it could still take over a year for the families to reach agreements with the insurers.
In the meantime, Lufthansa (DLAKY) is providing initial financial support, which Healy-Pratt estimates could be worth about $50,000 per victim.
Final payouts will vary widely depending on the victim's nationality, age and employment status. Some families are expected to receive less than $100,000, while others will receive millions.
Payment levels are ultimately determined by the legal systems in each country, explains U.S. aviation attorney Mike Danko.
And since this crash happened in Europe, involving mostly European victims on a European airline, there's little opportunity for families to file lawsuits in the U.S., where payouts tend to be much more generous.
Had this crash occurred on U.S. soil, the compensation bill for the insurers would have been two or three times larger, estimates Healy-Pratt.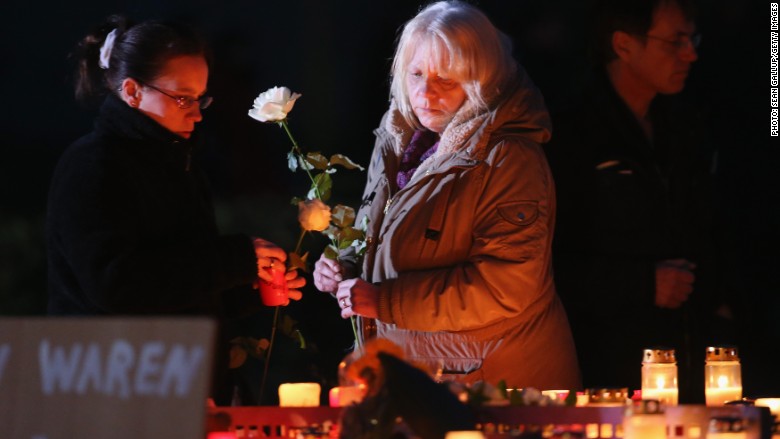 Aren't there rules on compensation?
The 1999 Montreal Convention outlines rules on airline liability and compensation for international aviation disasters. It will apply in this case.
It states that in any case of accidental death, regardless of liability, airlines must pay up to $156,0000 per victim. If the airline is proven to be somehow responsible for the crash, it may have to pay more than $156,000.
"I would be shocked if the [airline] is not responsible for all damages," said Brian Alexander, partner at aviation law firm Kreindler & Kreindler.
But the final payout depends on how courts interpret the damages suffered by each family. For example, some courts place a lower value on a victim without income or dependents, and that could mean payouts below the threshold.
Germans will get the least, Americans the most
Germans are the single biggest group of victims in this case. Their families are likely to receive the smallest payments.
The German legal system discourages litigation and is very stringent when putting a value on loss of life, according to experts.
"German law is very poor for compensation, especially where the deceased was single and was not earning," said Healy-Pratt.
This has big implications for the families of the German students that died. They're unlikely to receive more than $100,000 per victim, he said.
On the other hand, the relatives of a German breadwinner with a lucrative job and many dependents could receive over $1 million.
Spanish victims were the second largest group. Their families are likely to be treated slightly more generously, with payouts starting around $250,000.
Related: See a list of the 10 safest European airlines
The families of the three British citizens who died can expect average compensation around $1 million to $2 million, said Healy-Pratt. But American claimants will receive the biggest settlements.
Three Americans died in the Germanwings crash, according to the U.S. State Department.
Healy-Pratt estimates that payouts for Americans in past aviation disasters have averaged about $4.5 million per victim. Insurers tend to offer American families bigger settlements to avoid the risk of a costly lawsuit in the U.S.
Allianz declined to provide details about its compensation plans, but said: "We are ready to support our client as fully and quickly as possible, working in conjunction with our co-insurers."
Related: Lufthansa will now keep two crew members in cockpits
Criminal charges?
Costs for the airline could mount rapidly if French authorities pursue a criminal case against Lufthansa.
French prosecutors said the Airbus (EADSF) A320 was crashed deliberately by the co-pilot. They are considering a charge of manslaughter.
If Lufthansa is found guilty of a crime, this would open the door for additional compensation for victim's families.
Again, the compensation would vary by country, but Healy-Pratt estimates families could each receive an extra $500,000, on average.
But they would be waiting five to 10 years for the case to work through the system.