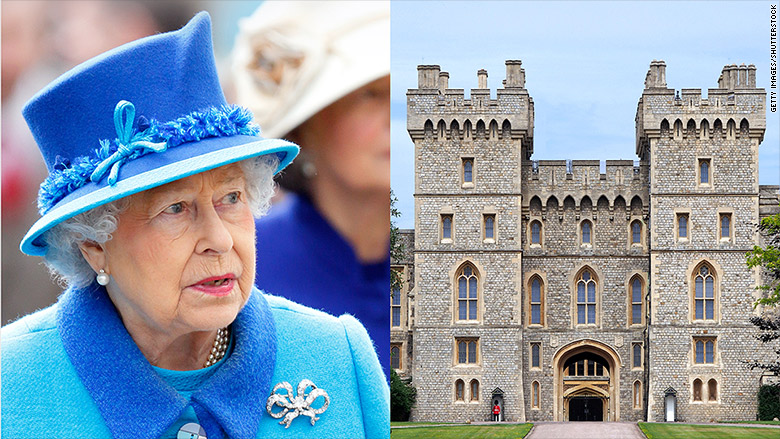 A revolt is brewing at Windsor Castle.
Well, not that kind of revolt. A small group of workers at the Queen's residence are unhappy about what they say are low wages and unpaid duties.
The 45 workers, who are in charge of greeting visitors and distributing audio guides, are starting to vote Tuesday on whether to take "industrial action," which would see them refuse to offer tours of Windsor Castle.
If the vote passes, this would mark the first time the royal household has ever faced formal labor action, according to the workers' union.
These "wardens" are employed by the Royal Collection Trust, a charitable organization charged with the upkeep of royal residences, property and art collections. Their work helped the castle bring in roughly £20 million last year from nearly 1.3 million visitors.
"The wardens are expected to carry out extra unpaid duties, including giving tours of the castle -- even though visitors are charged for these," explained the Public and Commercial Services Union, which is representing the workers.
A union spokesperson said staffers want to be paid for the extra work, which also includes first aid and translation services for tourists.
The union has been negotiating for weeks to get a better deal, arguing that the workers are making less than a living wage. Some staff have starting salaries of £14,400 ($21,300) per year.
However, the Royal Collection Trust argues the workers are paid above the market median for the region, based on living wage data.
The organization also notes that the additional work is not compulsory, and any potential labor action should not interrupt the tour schedule.
"Warden staff are offered voluntary opportunities to receive training and develop skills to lead guided tours for visitors as part of their working day and to administer first aid, as well as to use their language skills," said a spokesperson from the charity. "It is the choice of the individual whether they wish to take part."
An adult ticket to visit Windsor Castle costs £19.20 ($28.40). Guided tours cost about £6 to £8 ($8.90 to $11.90) more.