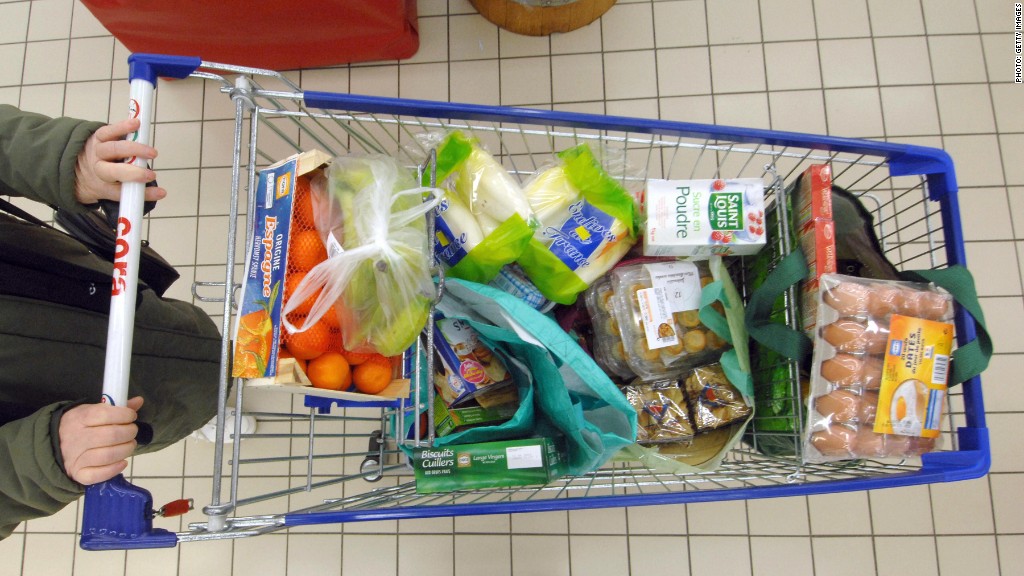 Spas. Fortune tellers. Tattoo parlors. Movies.
These are on the long list of things that welfare recipients in Kansas will be unable to buy using public funds under a recently approved bill in the state.
It affects the taxpayer-funded Temporary Assistance for Needy Families program, which provides cash payments of up to $497 per month for a family of four.
The program is designed to provide temporary financial assistance to poor families who don't have enough income to pay their bills. The benefits can be used to pay rent, buy food, put gas in their cars and cover other basic necessities.
But state lawmakers say there should be limitations on where recipients can spend the money and what they can buy.
Michael O'Donnell, the Republican state senator who introduced the bill, told CNNMoney the goal is to "codify in law" existing policies put in place under Governor Sam Brownback.
Brownback, a Republican, is expected to sign the bill, which passed both houses of the Republican-controlled legislature last week.
Related: The Rand Paul economy
O'Donnell argues that the aim is to make it harder for people to game the system, as opposed to punishing families that have fallen on hard times.
"I feel that 99% of the people who use TANF benefits, do it within boundaries that are set up," said O'Donnell. "But there are bad actors."
Kansas expects to have lost $2.2 million last year to fraud in the program, down from more than $7 million in 2013, according to O'Donnell.
However, critics say the bill assumes that most residents on public assistance are bad actors.
The bill "vilifies and mischaracterizes the typical TANF family," said Shannon Cotsoradis, CEO of advocacy group Kansas Action for Children.
Cotsoradis said most families that receive the benefit are made up of a single parent raising two children. On average, they receive $400 a month, which she says is not enough to meet their needs. The amount of cash assistance available in Kansas hasn't been increased since 1996, she added.
Related: 1 million expected to lose food stamps as economy improves
"I don't think anyone would disagree with laundry list of places you shouldn't be able to spend TANF dollars," said Cotsoradis. "But it kind of misses the big picture."
The new law would limit the amount of money recipients can withdraw from the ATM using their benefits card to $25 per day.
Critics say limiting the amount of cash recipients can withdraw could make it hard for families that do not have bank accounts to pay certain bills, including rent.
But O'Donnell says families will still be able to obtain money orders and use the card to make debit purchases at Wal-Mart (WMT) or any other major retailer.
It's also unclear how the state will enforce the new restrictions on cash spending.
O'Donnell acknowledged that it will be difficult, if not impossible, to police how people spend the cash they are able to withdraw.
He said there is "absolutely evidence" that residents have used TANF cash to pay for psychics, tattoos and other unauthorized purchases, though he acknowledged that it amounted to a "very, very small amount."
"We're really trying to use this as a tool to make sure people get back into workforce," said O'Donnell. He said the program is showing results, noting that more than 6,000 residents stopped taking TANF benefits last year.
Related: More food banks serve hungry college students
The bill imposes a host of other restrictions and requirements on how state benefits can be used.
It would reduce the total number of months residents can be on public assistance to 36 from 48. Recipients will be required to take part in certain job training programs. It also bars residents who have been convicted of drug-related felonies, and those who have committed fraud.
Kansas isn't the only state putting new limits on how welfare funds are used. Lawmakers in Missouri are considering a bill that would prevent food stamp recipients from buying steak, seafood, cookies, chips and energy drinks.
In Kansas, here's a list of what would be off limits:
Alcoholic beverages
Casinos
Gaming establishments
Jewelry stores
Tattoo parlors
Massage parlors
Body piercing parlors
Spas
Nail salons
Lingerie shops
Tobacco paraphernalia stores
Vapor cigarette stores
Psychic or fortune telling businesses
Bail bond companies
Video arcades
Movie theaters
Swimming pools
Cruise ships
Theme parks
Dog or horse racing facilities
Parimutuel facilities (off-track betting)
Cigarettes and tobacco products
Lottery tickets
Concert tickets
Tickets for professional or collegiate sporting events
Tickets for other entertainment events intended for the general public
Sexually-oriented businesses
Strip clubs
Any business or retail establishment where minors under age 18 are not permitted.