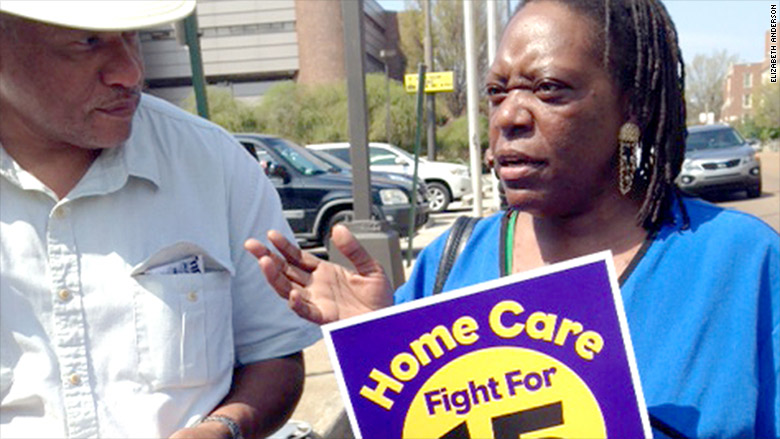 Jaimey Walker struggles to support his 2 year-old son on $7.25 an hour at his Burger King job.
Walker is one of the tens of thousands of low-wage workers that are expected to go on strike Wednesday in what labor activists are calling the biggest push yet to demand wages of at least $15 an hour.
The movement is expected to take place in dozens of cities across the country and involve workers from a broad range of industries, from fast food and retail to home care and higher education, according to the labor group organizing the event, Fight for $15. The strikes are supported by a range of community and faith-based groups and labor unions such as Service Employees International Union.
Here are snapshots of some the workers who plan to take part in tomorrow's demonstration.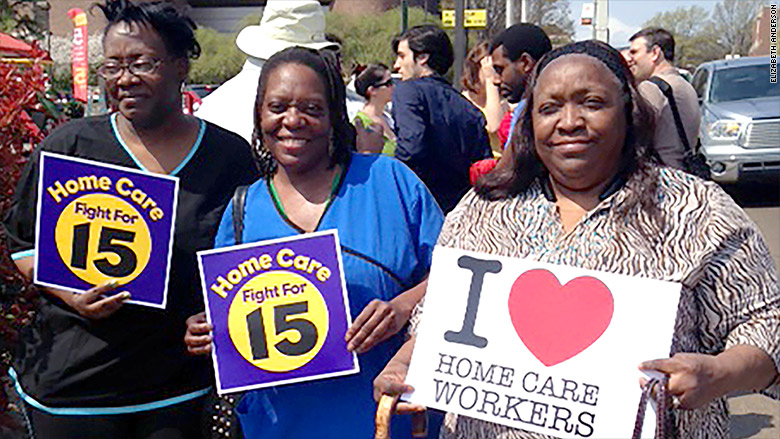 Elizabeth Anderson, a home care aide, plans to take part in a rally Wednesday at the University of Memphis.
Anderson, 44, works long hours attending to the basic needs of her elderly and disabled clients in Memphis. But she says she can barely survive on the $10 an hour that she earns and often struggles to pay for necessities like gas and groceries.
For Anderson, earning $15 an hour would enable her "to live a happy life instead of just worrying how I'm going to make it from here to there."
Home care workers, who have only recently been guaranteed basic labor protections, are notoriously underpaid. At the same time, as America's population ages, home care workers are in high demand. It's one of the fastest growing professions in the country.
Anderson's client, Nikita Bishop, 51, supports the push for higher pay for home care aides employed by private companies. She hopes to take part in the rally even though she was recently released from the hospital.
"I can't walk in the rally but I would like to roll in my wheelchair to support Elizabeth and all the health care workers," said Bishop.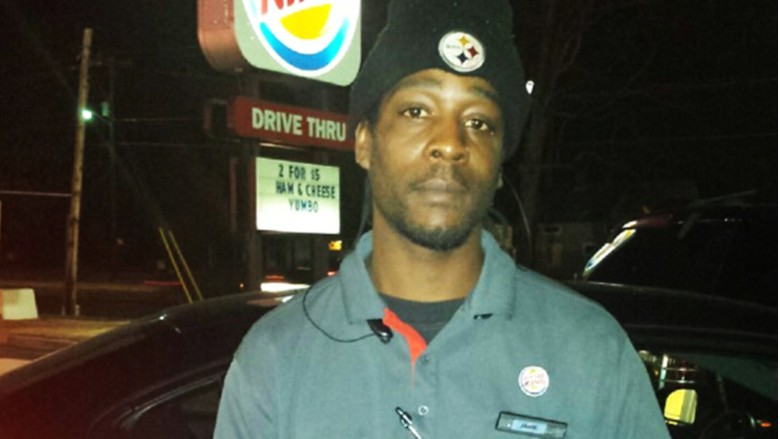 Jaimey Walker (pictured here) earns $7.25 an hour at Burger King in Greensboro, North Carolina.
He plans to protest with fellow workers outside various fast food restaurants "to tell them how we feel and why we deserve $15 an hour."
Fast food workers were among the first to begin agitating for $15 an hour more than two years ago. But labor activists are trying to expand the push to include low-wage workers in various industries from retail and construction to health care and academia.
"This movement is so much bigger than fast food right now," said Walker. "I feel like we're taking a stand with the rest of the world."
Organizers with Fight for $15 say low-wage workers in Italy and other European countries will also take part in protests Wednesday.
Walker, 30, said he wants a better life for his family.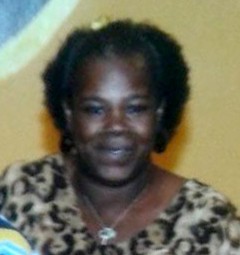 Demetra Atkins (pictured here) is a child care professional in Tampa, Fla. She has more than 20 years of experience and is certified in early childhood education. She earns $9 an hour, but she believes it's an unfair wage.
"We're coming together with the union to fight for what's right," she said.
Atkins says she is often left with just $10 or $20 after paying her rent and various other bills each month.
"It doesn't leave much, especially if a family emergency comes up," she said.
Atkins said that having a so-called living wage would give her "peace of mind" she needs to focus on being the best child care worker she can be.