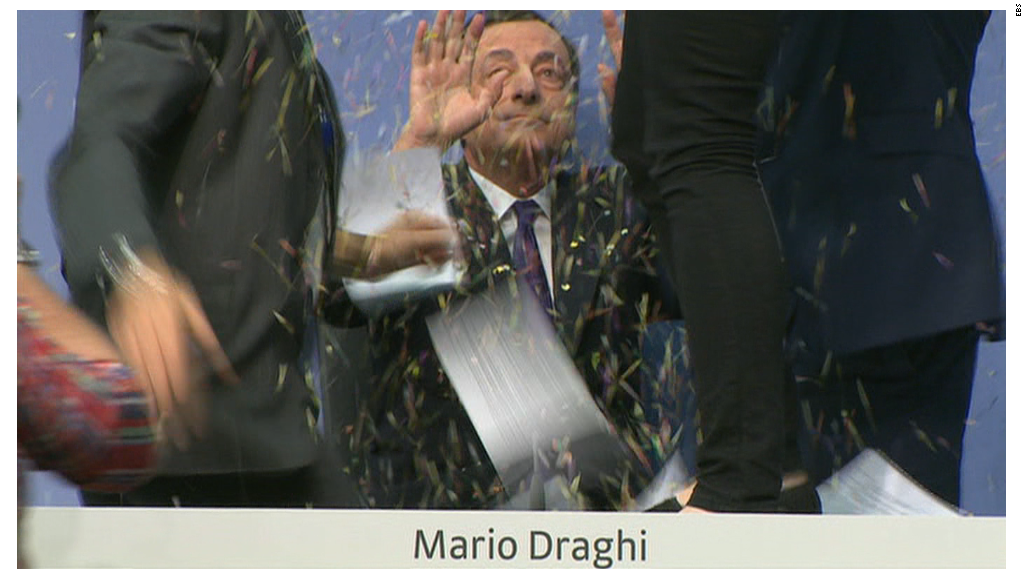 European Central Bank President Mario Draghi was attacked by a protester Wednesday during a briefing for journalists in Frankfurt.
Just minutes into his opening remarks, a women jumped onto his desk shouting "end ECB dictatorship!" She was carried out of the room by security guards, but not before showering the startled Draghi with confetti.
Draghi had just begun explaining how well the ECB's new program of money printing was working when the attack happened. He was unhurt and the news conference resumed after a short break.
Radical feminist group Femen claimed responsibility on Twitter for the protest.
The ECB said initial findings of its investigation suggested the activist registered as a journalist for a news organization she did not represent. Her identity was checked on entering the building.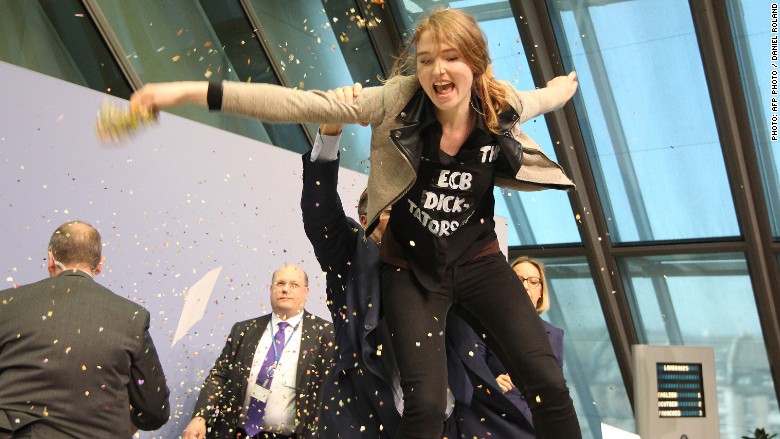 It's the second public protest against the central bank in a month.
Riots erupted outside the ECB's new $1.3 billion headquarters in March after thousands of protesters gathered to rage against an institution they blame for ruining the lives of millions in the eurozone.
Draghi has been credited with taking bold steps to save Europe from financial disaster: First in 2012 with his famous promise to do "whatever it takes" to prevent the euro from falling apart, and again early this year by launching a $1.3 trillion stimulus program to get the economy moving.
But the ECB is also a high-profile symbol of the austerity that has caused hardship for millions across the region. Together with the International Monetary Fund and European Commission, it formed the so-called "troika" to police bailouts that kept countries such as Greece, Ireland and Portugal afloat.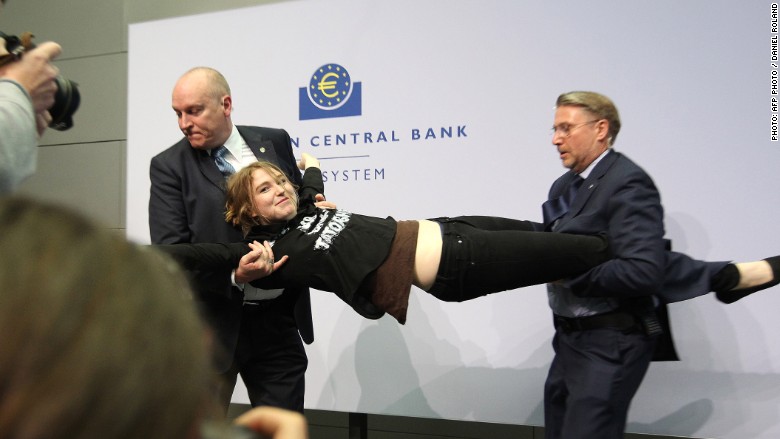 The rescue loans were provided in exchange for commitments by governments to get borrowing under control -- by slashing spending and raising taxes -- and to overhaul their economies to make them more competitive.
Nearly seven years on from the start of the financial crisis, economic hardship remains a reality for many in Europe. Unemployment in the eurozone is falling, but is still around 11%. Growth is recovering but from a very low base, and the rate of joblessness among young people is much higher in Spain and Greece.
Draghi has acknowledged that the central bank may have become a "focal point for those frustrated with this situation."
"This may not be a fair charge. Our action has been aimed precisely at cushioning the shocks suffered by the economy," he said at the opening of the new HQ last month.
-- Virginia Harrison and Ivana Kottasova contributed to this article.