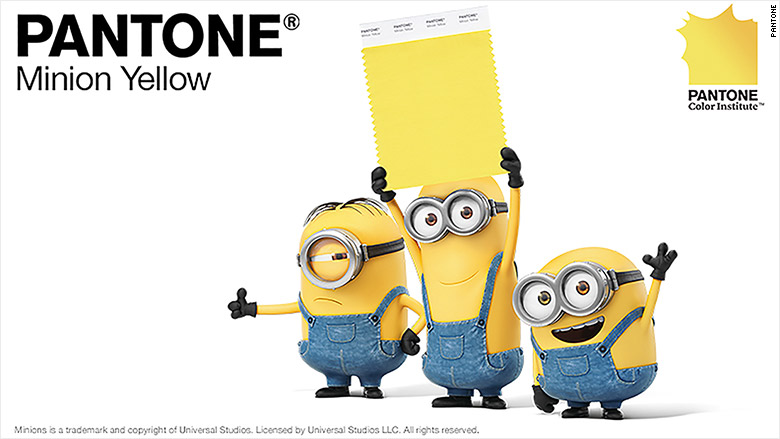 Hollywood is so powerful it's now creating new colors.
"Minion Yellow" is the latest shade designated by global color authority Pantone, and the first based on a movie character.
The Minions shot to fame in the blockbuster film franchise "Despicable Me." The cheeky yellow creatures have their own spinoff, "Minions," due out this summer.
Related: Why neon is taking over the world
Pantone said the idea for the new hue came from musician Pharrell Williams, who helped create the soundtrack for "Despicable Me."
It wanted to add an "energizing" shade to its spectrum, so it partnered with the filmmakers and mixed up Minion Yellow.
"This is the color of hope, joy and optimism," said Leatrice Eiseman, executive director of the Pantone Color Institute.
The New Jersey-based firm provides color standards for the design and creative industries, and gives advice on color trends.
It lists tens of thousands of shades. The new yellow will be added to the Fashion, Home + Interiors palette.
Pantone canvasses the opinions of fashionistas, creative types and other insiders to nominate a color of the year. That then tends to pop up on products everywhere, from coffee makers to evening gowns.
Its 2015 pick? Marsala. An earthy red wine hue said to exude confidence and stability.