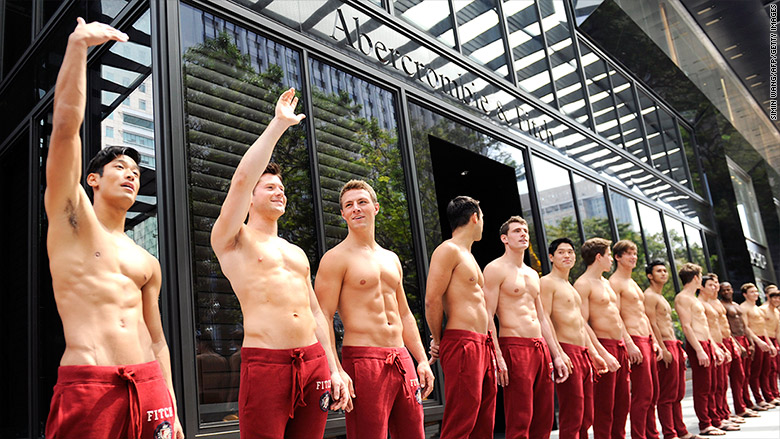 Sorry stud, Abercrombie & Fitch wants you to put your shirt back on.
The teen-focused clothing brand said Friday that it will no longer hire store employees based on their body type or physical attractiveness.
The change is part of an overhaul of store policies designed to put more emphasis on customers and less on the way employees look. It comes as the company tries to remake its image following the departure of long-time CEO Michael Jeffries late last year.
Jeffries was a polarizing figure that arguably hurt the company's image more than he helped it over the past few years. He was criticized for comments he made about only wanting "cool, good-looking people" to wear his company's clothes.
Related: Is Abercrombie & Fitch the next retailer to die?
The shift in strategy comes as Abercrombie is struggling to turn around a steep slump in sales. The company reported a 10% drop in U.S. sales last year.
"We are focused on the future not the past, and there is complete alignment that these are the right changes," said A&F brand president Christos Angelides.
Related: Abercrombie struggling to bring sexy back
Here are some of the changes planned for the stores:
Employee appearance: Abercrombie (ANF) is changing its hiring and dress code policies to be "more inclusive and diverse."
In addition to no longer hiring workers based on their looks, Abercrombie will stop requiring store employees to wear Abercrombie clothes exclusively. It's also softening its dress code to allow employees to be "more individualistic."
Under Jeffries, store employees were known as "models," but the new policy says they will be called "brand representatives."
Related: 5 endangered teen retailers
Store experience: Abercrombie wants to create a more subtle atmosphere in its stores. Previously, it went from being a dance club environment with loud music to moody lighting with a strong smell of cologne with a few trees thrown in to add a woodland vibe.
Now, the company said it will adjust the scent, lighting, music and trees in its stores in order to create a "more pleasurable shopping experience."
Sexualized marketing: The next time Abercrombie opens a store, it will celebrate with fully clothed models.
The company said it no longer feature shirtless models, known as lifeguards at Hollister, at store openings and other events.
Abercrombie is famous for using scantily-clad models in advertising, from giant posters in stores to suggestive images on shopping bags.
As of July, the company will stop featuring "sexualized marketing" on gift-cards, shopping bags and in-store advertising. However, the shirtless models will continue to appear on the packaging for A&F's signature cologne, "Fierce."