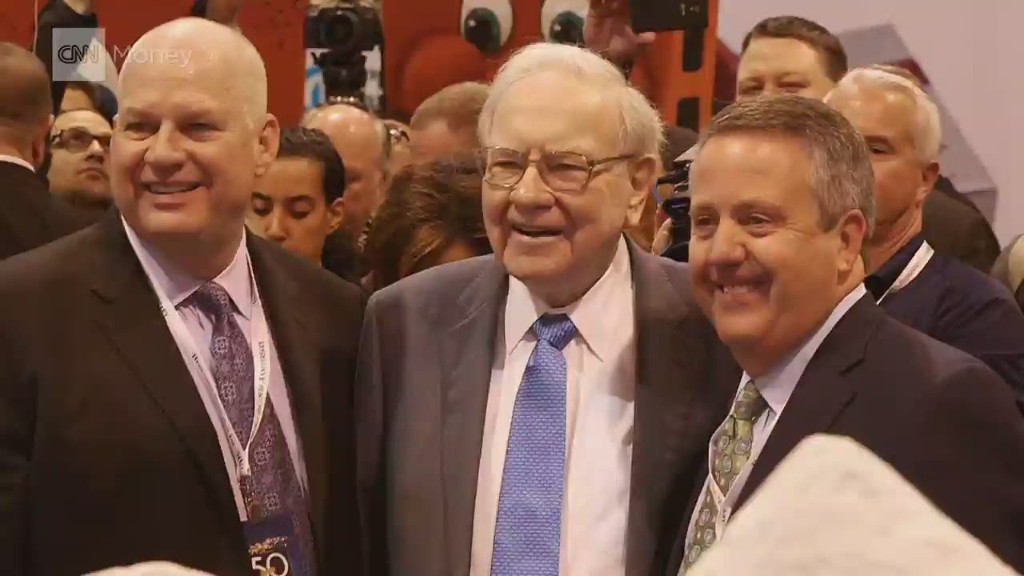 A share of Warren Buffett's company Berkshire Hathaway costs about $145. It's worth buying one just so you can attend the company's annual shareholder meeting in Omaha.
Known as "Woodstock for Capitalists," the event is a spectacle every investor should experience at least once.
But if you couldn't make it to the 50th Berkshire (BRKB) meeting this weekend, here are the top takeaways:
1. Wells Fargo, Coke, IBM were big winners: The companies that Buffett loves partied in style. Wells Fargo (WFC) CEO John Stumpf arrived at the meeting in one of the company's trademark stagecoaches.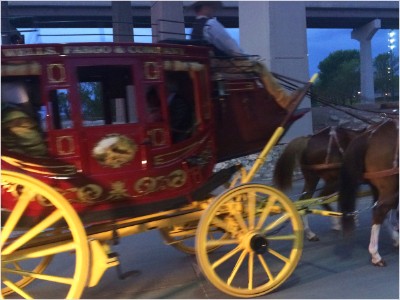 Coca-Cola (KO) had a huge booth on the exhibit floor and couldn't have asked for better marketing than when Buffett joked that he is one-quarter Coke. IBM (IBM) trotted out its best toy --Watson -- for an exhibit that was also very popular.
These are three of Berkshire's Big Four stocks. American Express (AXP) is the other.
Bloomberg's Noah Buhayar made this astute observation on Twitter.
Related: Buffett's top stocks off to a tough start in 2015
"Buffett's "big three"? AmEx doesn't appear to have a booth at the Berkshire meeting. Coke, IBM, Wells Fargo do."
2. Buffett bought more IBM stock: Berkshire vice chairman Charlie Munger was asked if he tried to convince Buffett not to buy IBM. The two are famous for not owning many tech stocks -- even though Buffett and Microsoft (MSFT) founder Bill Gates are good friends.
But Munger said he's a fan of the stock and is confident it will get sales growth back on track. Buffett told CNBC's Becky Quick later at the meeting that Berkshire bought even more IBM in the first quarter.
3. Buffett only pays $100 a year for Internet: Buffett said he loves the Internet. It's great for research ... and playing bridge online. He added he'd rather give up his airplane than the Internet, especially since the Internet only cost him $100 a year.
Related: Warren Buffett is my boss
$100 for the Internet a year? Really? You have to wonder if Buffett still uses dial-up. He can certainly afford broadband. Did I mention the choice was between the Internet and a freaking private plane?
4. Munger hates activist investors. When a shareholder asked about the rise of activist investing, Buffett said that companies under attack should come to him instead to get bought.
"We'd love to have them!" he said.
But Munger's response was classic Charlie. He said there are no activists that he'd want to have marry into his family. So much for any future Munger-Icahns, Munger-Loebs or Munger-Ackmans.
Related: Buffett grilled over predatory lending, layoffs and obesity
5. Europe's big mistake: One shareholder wanted to know if Buffett and Munger thought France should leave the euro.
Buffett didn't think so. But he said that the eurozone "lowered its standards" by letting some members into the monetary union.
That was polite compared to Munger. He said that "you can't form a business partnership with your frivolous, drunken brother-in-law and expect it to work out."
6. Someone at Berkshire likes Classic rock. The Joe Cocker cover of The Beatles' "With a Little Help from My Friends" played just before Buffett and Munger took the stage.
And after the meeting ended? We heard the familiar sound of clinking cash. Pink Floyd's "Money." Nice.
7. Mayweather-Pacquiao: Playing both sides? Berkshire always kicks off the meeting with a fun movie that's a mix of ads for Berkshire businesses and comedic sketches.
The movie ended with a mock boxing match between Buffett and Floyd Mayweather -- a nod to the "Fight of the Century" with Manny Pacquiao that was set to take place later that night.
Related: Move over, Manny. Buffett wants to fight Mayweather
Pacquiao was not mentioned in the clip. You might presume that the patriotic Buffett was probably rooting for Mayweather -- even though he's been arrested for domestic violence.
But one of Berkshire's most famous subsidiaries was actually a Pacquiao sponsor. Pacquiao trainer Freddie Roach was wearing a Geico headband!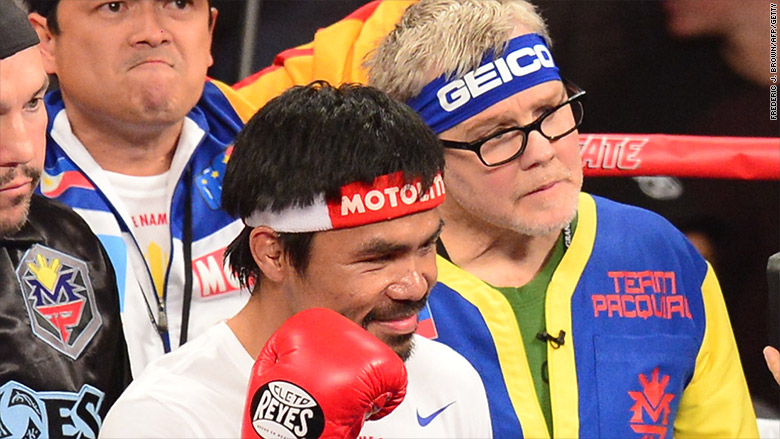 I guess Buffett is wise enough to know that it's one thing to personally root for Mayweather. But he's not an ideal celebrity spokesman.