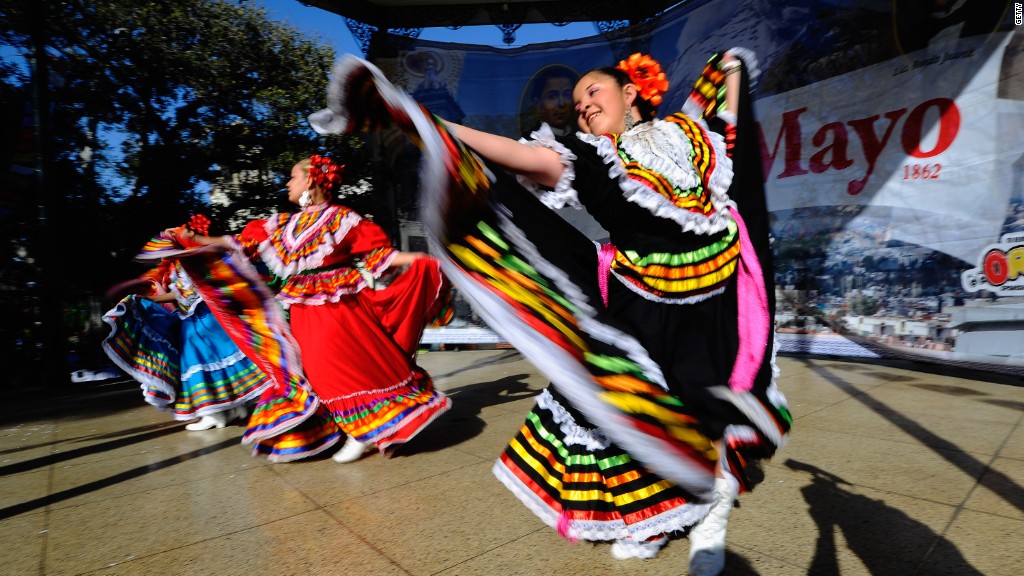 Here we are again, about to celebrate that all-American "holiday" called Cinco De Mayo.
But what are we -- the Americans -- celebrating exactly? Is it just big-mustachio'd, sombrero-wearing, tequila-chugging, racist Mexican-American stereotypes?
This year's "in-bad-taste" fashion show has already claimed its first victim: Nylon, a millennium-centric fashion company which last month unveiled a line of stereotypical clothing.
The very hip Latino millennials at Remezcla.com, (a demographic Nylon seeks to sell to) were not impressed. Remezcla issued a #facepalm alert about the clothes. After being contacted by CNNMoney, Nylon's CEO Paul Greenberg said he's decided to no longer sell the merchandise.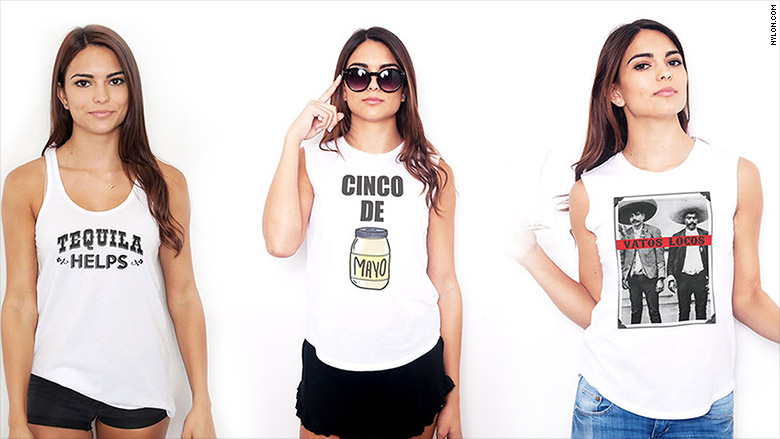 "We are very sorry and regret that we misjudged how these items would be perceived," Greenberg said in a statement. "This is a first for us, as we have never received this kind of reaction before to any of our products. We will no longer sell these items," he said.
Related: #RaceTogether haters didn't hurt Starbucks
And it's not just fashionistas making these faux pas. Every year seems to bring epic fails on TV around Cinco de Mayo.
Last year was a doozie.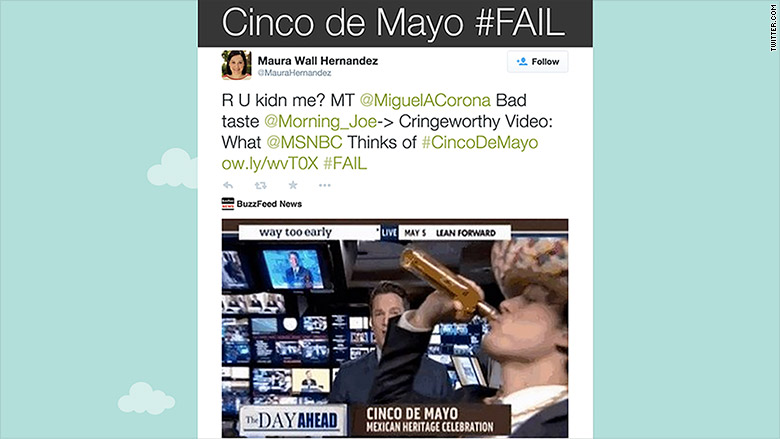 The anchors at MSNBC's "Way Too Early" guzzled tequila while wearing sombreros and ponchos as the screen graphics read "Cinco de Mayo Mexican American Heritage Celebration" on live TV. They apologized for their boneheaded antics.
The network said last week that it has taken steps to improve its inclusion of Latinos. For example, Jose Diaz-Balart joined the daily MSNBC lineup last year, something that had been in the works long before the Cinco de Mayo fiasco.
"MSNBC took last year's Cinco de Mayo incident extremely seriously," a network spokesperson told CNNMoney. "Our network has since taken continuous steps to apologize to members of the Latino community and increase diversity across all of our platforms."
There were Cinco de Mayo #fails at other networks, too.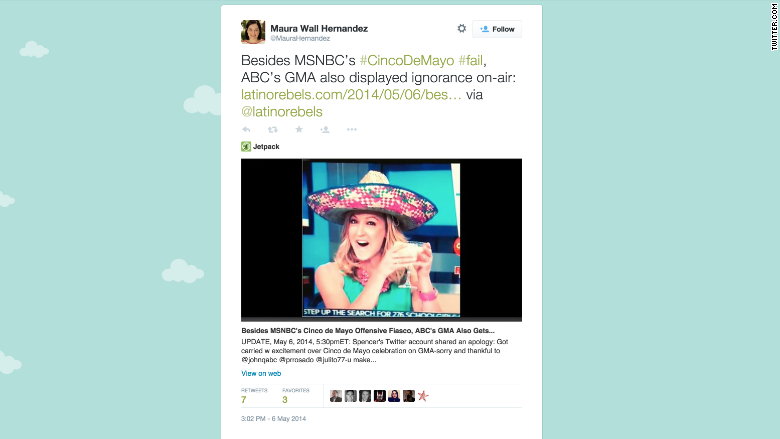 "Good Morning America" host Lara Spencer tweeted an apology after she was skewered for a segment last year. ABC did not respond to a request for comment.
Poking fun at stereotypes is risky.
"It depends on the platform," says Hugo Balta, ESPN's senior director for multicultural content. "If it's something that's traditionally used for parody like the Daily Show -- and it's not just done on this occasion -- then yes it can be OK, although there are limits." But Balta, who is the former president of the National Association of Hispanic Journalists, said there's no place for stereotyping at serious news networks -- ever. (Disclosure: The author of this article is an officer of the New York chapter of NAHJ.)
U.S. mainstream newspaper newsrooms are only 4% Latino, according to the latest figures from the American Society of News Editors. Non-Spanish language TV newsrooms are about 5% Hispanic, according to the Radio Television Digital News Association. Hispanics are 17% of the U.S. population according to the latest U.S. Census figures.
So, how is Cinco de Mayo celebrated in Mexico?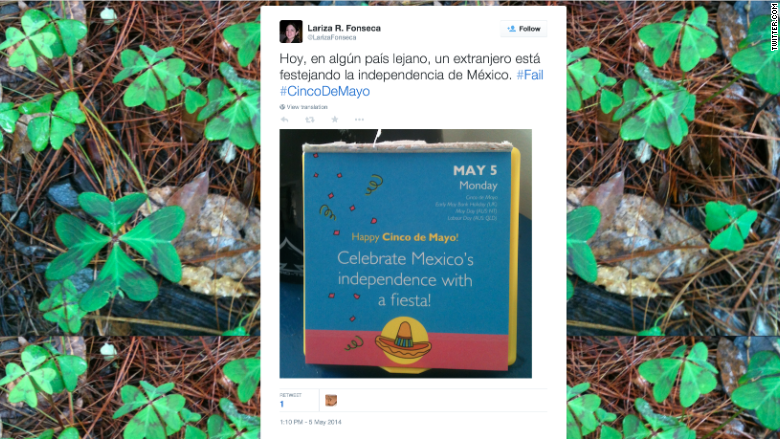 No, it's not Mexico's Independence Day, which happens on September 16. And "Feliz Navidad" is not the traditional greeting on this day, as some people may believe.
It's actually a pretty solemn holiday mainly celebrated in the State of Puebla. Think of it like how Texans "celebrate" the Alamo.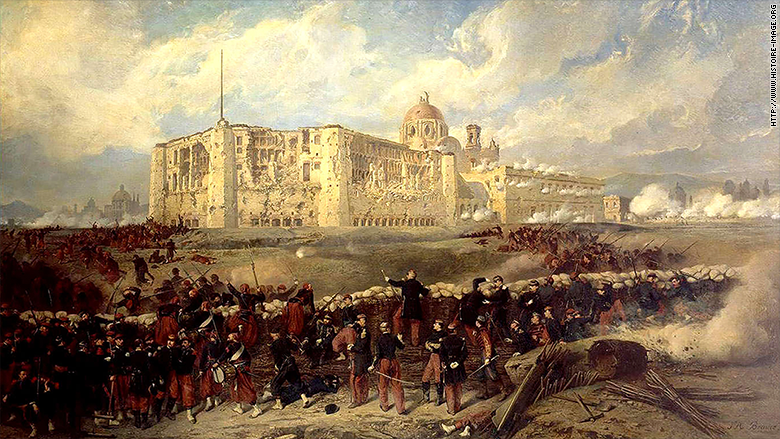 It commemorates the battle of Puebla, where outnumbered Mexican forces defeated the invading French army.
According to Margaret Chowning, professor of Latin American History at the University of California, Berkeley, "the invasion was sparked in 1861 when the Mexican President, Benito Juárez, suspended interest payments to its foreign creditors, who included the English and Spanish as well as the French."
"France, however, ruled by the territorially-aggressive Napoleon III (who still regretted France's loss of the Louisiana Territory in 1803), was the only creditor nation that decided to invade," she said in an email.
So, just how did we get to celebrate Cinco de Mayo in America? Corona Beer, an authentically Mexican brand, gets the credit.
"Culturally, it blew up and other brands followed suit," said Chiqui Cartagena, vice president in the Political and Advocacy Group for Univision Communications.
"Where brands get into trouble is when they don't know the nuance and their campaign backfires because Latinos reject the inauthenticity," Cartagena added.
Related: Bud Light's #UpForWhatever slogan causes social media uproar
Corona started to market itself heavily in the United States in the late 1980s and early 1990s. Today the company says it has worked hard to become strongly identified with Cinco de Mayo.
"We've been honored to have Corona play a part of the increasing popularity of this holiday over the years and we look forward to playing a key role in consumers' Cinco celebrations for many years to come," said Michael McGrew, senior director of communications for Constellation Brands (STZ), owner of Corona.
Constellation Brands is bullish on its Mexican portfolio of products. It says it recently acquired tequila brand, Casa Noble, and is moving ahead on its biggest media investment ever for Modelo Especial, now the No. 2 imported beer in the U.S.
Key members of the company will ring the closing bell at the NYSE on Tuesday. Now that's how to celebrate Cinco de Mayo.