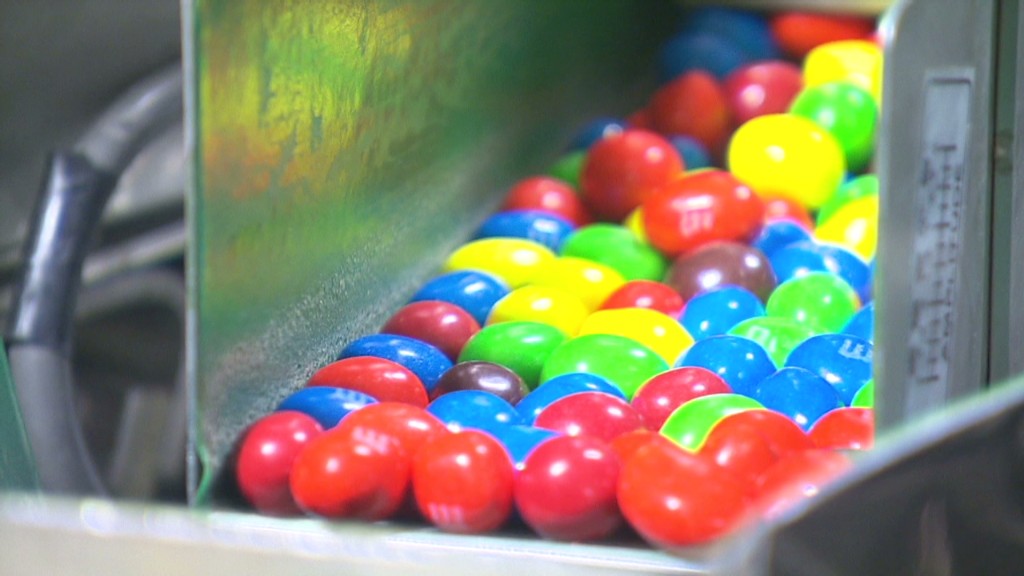 One of the biggest candy companies in the world wants you to lay off the sugar.
Mars, which makes M&Ms, Snickers and Twix, said Friday that it supports government recommendations to limit sugar intake and label sweets with the amount of added sugar they contain.
It's surprising, coming from a candy maker.
But lately, food companies have been falling over each other in trying to show who is better by either getting rid of artificial ingredients or offering more natural foods.
Nestle (NSRGF) said in February that it was the first major candy maker to eliminate all artificial color and flavors from its chocolates. Kraft Foods (KRFT) announced plans last month to remove artificial preservatives and synthetic colors from its macaroni and cheese.
Fast food chains, including Panera Bread (PNRA) and Chipotle (CMG), have also recently made high-profile changes in their ingredients, getting rid of hard-to-pronounce chemicals and genetically-modified foods.
For its part, Mars says it wants to address the "health and nutritional challenges facing our society."
Related: Whole Foods to launch low-end store
"Supporting global public health efforts to limit society's consumption of added sugars and labeling our products transparently are steps in the right direction for us and will benefit everyone who enjoys Mars products," the company said in a statement.
Mars said it endorses recommendations by global health authorities to limit the amount of sugar consumers eat to no more than 10% of their daily calorie intake. In addition, the company said it supports a U.S. government proposal to include "added sugars" to nutrition labels on packaged foods.
Unlike natural sugar, added sugars and syrups are used to make foods sweeter and give them a longer shelf-life.
Related: Panera joins healthy food trend
The company made its support official in a letter to the heads of the U.S. Department of Health and Human Services and Department of Agriculture. It said changes are in line with recommendations by the World Health Organization, U.S. US Dietary Guidelines Advisory Committee, and the UK Scientific Advisory Committee on Nutrition.
"We want people to enjoy Mars brands as part of a well-balanced diet," said Dave Crean, head of research & development at Mars.