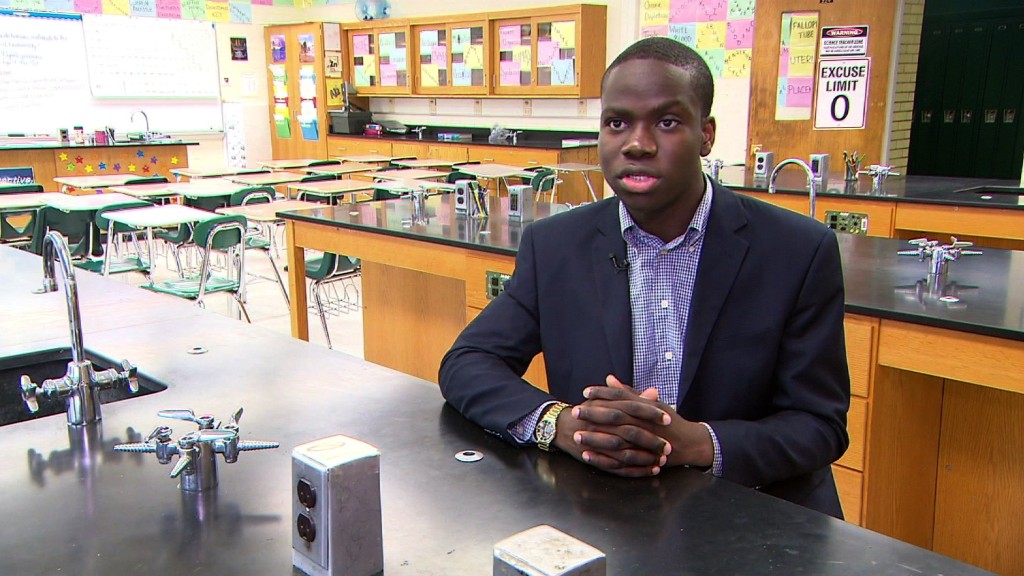 The New York high school senior who was accepted to all eight Ivy League colleges has made his decision. He's heading to Yale.
Harold Ekeh actually got into all 13 schools he applied to, including MIT and Johns Hopkins.
He announced his decision to become a bulldog on Facebook Friday: "Officially Committed! Yale Class of 2019!!!!!"
In a statement, Ekeh added: "I look forward to the next phase of life, the life-long friends I will make, and all the new opportunities that await me at Yale University."
Ekeh was born in Nigeria and came to the United States when he was eight. He wrote his main college essay about the struggle to adjust, including being clueless in U.S. history classes at school.
His parents had told him they moved to America for things like the educational opportunities, Ekeh told CNNMoney last month after he found out he was accepted to all the Ivies.
Even then, Ekeh was leaning towards Yale, where he competed for Model UN. Some of the students there became his friends and mentors and offered him advice on the admissions process.
"Ultimately, through my experiences with Yale University, I realized that Yale would truly become my home away from home for the next four years," he said in the statement.
He will graduate this spring from Elmont Memorial High School on Long Island as salutatorian. He wants to major in neurobiology or chemistry in college and later become a doctor -- a neurosurgeon, specifically.
"Thank God and everyone who has helped me along the way to receive this amazing opportunity," Ekeh said on Facebook.
"It has been both an incredibly exciting and humbling experience and I look forward to the opportunities that lie ahead!"
CNNMoney's Heather Long contributed reporting for this story.