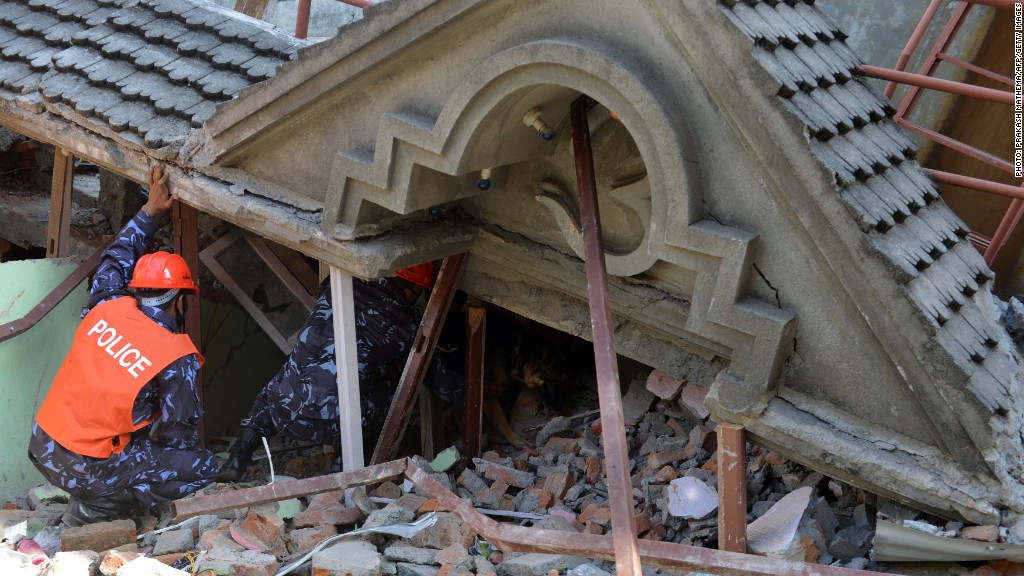 Nepal has been hit by a second powerful earthquake in three weeks, piling on the pain for its people and shattered economy.
Tuesday's magnitude 7.3 earthquake has already left dozens dead and more than 1,000 injured, and triggered the collapse of buildings damaged in the much bigger quake on April 25. More than 8,000 died in that disaster.
Early estimates suggest the second shock could add $1 billion to cost of rebuilding the country.
"Based on early reports of additional damage caused by this quake, the reconstruction costs from this second major quake could add an additional $1 billion to the total costs of reconstruction in Nepal," said Rajiv Biswas, Asia-Pacific chief economist for IHS.
That would push the total cost of repairs to more than $6 billion, equivalent to about 30% of Nepal's annual economic output, Biswas said.
Even before one of the country's major fault lines rumbled to life last month, Nepal was beset by challenges: An extremely weak economy, rampant corruption and a series of climbing accidents on Mount Everest, its signature tourist attraction.
Related: How to donate to Nepal (and avoid spam)
The standard of housing construction in Nepal is extremely low, which is why the damage near last month's epicenter was particularly devastating. Tuesday's quake took place about 45 miles (75 kilometers) east of Kathmandu, the Nepali capital, where residents said more buildings collapsed.
Nestled high in the mountains between India and China, Nepal's economy generates only $20 billion in activity per year, making it one of the smallest in the world. With annual per capita GDP of around $1,000, many families live in poverty, and some rely on funding from relatives who live abroad.
Nepal has very limited capacity to recover. Insurance firm Aon Benfield estimates a mere fraction of the estimated $5 billion-plus losses from the first earthquake would have been insured.
That means the country will depend on international disaster relief, as well as long-term financial and technical assistance to rebuild the economy.
Related: Nepal quake: I'm helping jobless Sherpas find work
Nepal has struggled in recent years to emerge from a civil war, which ended in 2006. The country's Hindu monarchy has been abolished, but political paralysis remains the norm. Nepal is ranked 126 out of 175 countries on Transparency International's Corruption Perceptions Index.
Before disaster struck last month, tourism had been a lone bright spot. According to the Ministry of Culture, Tourism and Civil Aviation, one job is generated by every six tourist visits, and 138,000 people are employed in the sector. Most tourists come from India and China, and many are attracted to Nepal's temples. In 2013, nearly 800,000 people visited from abroad.
Still, Himalayan peaks were the troubled crown jewel of the tourism industry.
Foreign climbers pay tour companies up to $100,000 for a chance to climb Everest. Some of their fees go to the government, while other funds are pumped into hotels. Mountain guides can also get a slice, but labor disputes have broken out in recent years between the master climbers and management.
In 2014, the climbing season ended after a piece of glacial ice fell on Everest, unleashing an avalanche that killed 16 Nepalis.
Last month's earthquake also set off avalanches that left large numbers of climbers dead, missing, injured or trapped on Everest. Tuesday's quake shook the area around Everest again -- people in Lukla, which serves as a gateway to the region, rushed to the relative safety of the airport's open ground.
Despite its reputation as a mountain paradise, roughly 70% of the population earns a living from farming, and the industry makes up just over one-third of the economy.