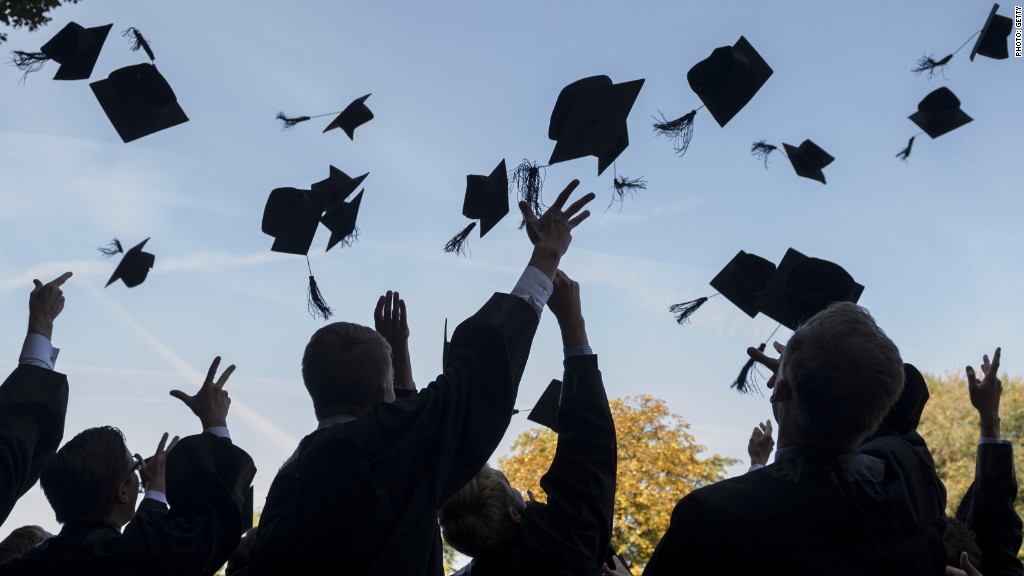 Since the recession, tuition has skyrocketed at public universities across the country, but schools in some states raised their costs more than others.
Out of all 50 states, average tuition at four-year public colleges and universities increased the most in Arizona between 2008 and 2015, according to a new report from the Center on Budget and Policy Priorities.
The report found that tuition in Arizona has risen by 83.6% since 2008, or $4,734 per student, after adjusting for inflation.
Arizona is followed by Hawaii (70% increase), Georgia (69.5%), Louisiana (67.2%), Florida (64.2%) and California (62.2%).
Overall, since the 2007-8 school year, average annual tuition has increased 29%, or $2,068, nationally.
Related: Top 10 highest-paying college majors
The silver lining is that while the post-recession years have not been kind to college students, tuition increases have slowed over the last year. The average tuition increase was $107 over the 2014-15 school year, or 1.2%.
The sharp rise in tuition is a result of deep cuts in state funding to public colleges and universities after the recession hit. The vast majority of state funding for these schools has yet to recover. States provide about 53% of the revenue used to support public schools, according to the report. Without the funding, many schools are forced to make up the difference with higher tuition.
As a result, 47 states are spending less per student this school year than they did pre-recession, with only Alaska, North Dakota and Wyoming excluded.
The average state is spending 20% less, or $1,805, per student in 2015 than they did in 2008.
Related: I got into my dream school, but I couldn't afford to go
States that have slashed higher education funding the most since 2008 are Arizona (47%), Louisiana (42%), South Carolina (37.9%), Alabama (36.6%) and Pennsylvania (35.8%).
The state cuts and subsequent tuition increases have led to more students taking on student loans, and the amount of loans are getting larger as well, the report showed.
Read the full list of state tuition increases and funding below.