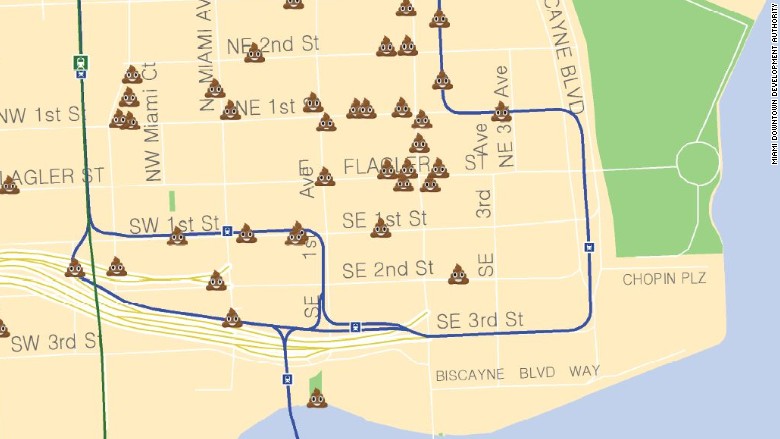 A fight over Miami's homeless population and public restrooms has resulted in a taxpayer-funded poop map.
Yes, each one of those smiling, steaming emojis represents a real squat spot.
Like any major city, Miami has a sizable population of homeless people -- some of whom relieve themselves on the street. But a dispute has erupted between two publicly-funded groups over how to address the problem.
To pressure the local homeless agency to create more beds, the city's semi-independent Downtown Development Authority recently spent eight hours touring the city, documenting every discovery of human urine or feces.
On Thursday, the agency in charge of reviving Miami's downtown unveiled a detailed map to the city's commissioners, the Miami Herald reported.
Other cities have done this kind of thing, but not with such a humorous flair. For example, someone used government data from San Francisco -- always the techie city -- to create a map called (Human) Waste. But that map used blurry, brown patches.
This Miami map makes use of the increasingly popular poop emoji you can find on your smartphone.
Sadly, this isn't an regularly updated, interactive poop map. It's a one-time snapshot meant to grab the attention of Miami's lawmakers.
So, in all seriousness, why does Miami have a poop problem? Because people are there to notice. An estimated 600 homeless people have remained in the area for years. But Miami's previously desolate urban core has experienced a condo boom since the recession, and the number of people living there has doubled to 90,000 or so.
"We invest money to keep downtown clean and safe. But we have a crisis now," said Jose Goyanes, who owns a barbershop, two beauty supply stores, and two buildings in the area.
Goyanes helped put together the map. He and a friend drove around downtown Miami in a pickup truck, stopping every 100 feet to snap pictures. His friend, who previously lived homeless in the area, showed him the preferred human waste hotspots.
Goyanes later uploaded a poop-themed music video to raise awareness about the issue.
How does he know the feces was actually... human?
"The size of some of them!" he explained. "It would have to be a Sasquatch to do that. Unless we have six foot tall dogs, I find it difficult to think it was bears or cats rummaging in a metropolitan area of downtown Miami."
Meanwhile, the head of the Miami-Dade County Homeless Trust said he doesn't find this funny at all.
"I don't think much of their poop map," said Ron Book, who chairs the Homeless Trust. "These folks think I'm supposed to divert scarce resources and be on poop patrol and clean up after homeless folks. My priority is homes and getting people off the streets, not providing poop stations."