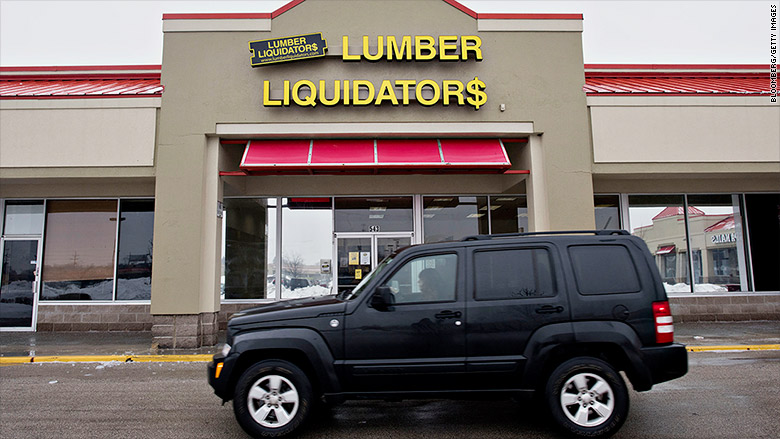 Lumber Liquidators CEO Robert Lynch unexpectedly resigned Thursday amid ongoing investigations into the company.
Shares of Lumber Liquidators (LL) plunged 15% in early trading.
Thomas Sullivan, who founded the building materials company 20 years ago, will serve as interim CEO until a permanent replacement is found, the company said in a brief statement. Lynch's resignation is effective immediately.
The news follows allegations that some of Lumber Liquidator's wood flooring may contain toxic chemicals. The company has halted sales of the controversial laminate flooring from China.
Lumber Liquidators disclosed earlier this month that it is facing the possibility of criminal charges from the Justice Department over imports of the flooring. The Consumer Product Safety Commission had previously disclosed its own probe into the possible health effects of the flooring.
The concerns about whether the flooring had dangerous levels of the cancer-causing chemical formaldehyde first surfaced in a report on 60 Minutes by CNN anchor Anderson Cooper.
Related: Lumber Liquidators draws senator's ire
Even as it was announcing the suspension of the flooring sale, Lumber Liquidators released results of air tests that it says showed 97% of more than 2,600 homes with the flooring were within safety levels set by the World Health Organization. It said it would work with the 3% of homeowners whose flooring failed the tests.
Meanwhile, more than 100 class action lawsuits over floors made in China have been filed against Lumber Liquidators since March, according to a recent regulatory filing.
The company reported last month that sales plunged 18% in March compared to a year earlier following the 60 Minutes report, after being up the first two months of the year. The sales hit was a key reason the company posted a net loss of $7.8 million in the first three months of the year, compared to a $13.7 million profit a year earlier.
The management shakeup was announced as Lumber Liquidators holds its annual shareholder meeting Thursday and Friday. A spokesperson for the company did not immediately respond to a request for comment.