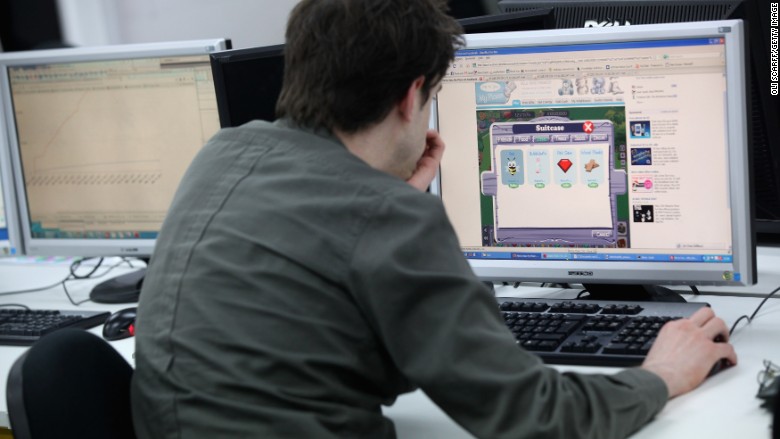 Tim Cook recently quipped that "sitting is the new cancer."
New research finding that standing up at work may add years to your life suggests the Apple CEO is on to something.
A report published this week in the British Journal of Sports Medicine recommends that desk-bound office workers stand up for at least 2 hours every day. Ideally, they should spend 4 hours a day on their feet.
It may seem strange that a panel of international experts needs to issue specific guidelines for sitting versus standing at work. But health officials in the United Kingdom commissioned the study in response to growing concerns about the ill effects of prolonged sitting.
There's an emerging body of research that suggests sitting down all day at work, then sitting in front of the TV at home, can heighten the risk of serious illness, such as cardiovascular disease, cancer and other ailments, and premature death.
Physical inactivity has been identified as the fourth-leading risk factor for death for people all around the world, according to the World Health Organization.
The report says office workers spend up to 75% of their time in a chair. Overall, it says people are sedentary 60% of the time they are awake.
Related: How iPhone apps could impact your insurance
To change this behavior, the report says workers should stand at regular intervals throughout the day and maybe even take a walk. But it adds that standing for too long in a static position is just as bad as over sitting.
Encouraging workers to stand might be the best way to encourage them to make other healthy lifestyle changes, as opposed to promoting strenuous exercise. The report says companies should adopt so-called standing desks and adjustable workstations.
"The evidence is clearly emerging that a first 'behavioural' step could be simply to get people standing and moving more frequently as part of their working day," the report states.
The authors acknowledge that it may take some time for desk-bound workers to adjust to being on their feet. It notes that they might experience "musculoskeletal pain and fatigue" at first.
Related: Under Armour bets big on fitness apps
Still, the long-term health benefits outweigh the short-term aches and pains. The report recommends that employers warn their staff about the dangers of too much sitting, just as they encourage them to eat better and cut back on unhealthy habits like smoking.
So there may be something to Cook's remark, which he made while promoting a feature of Apple's (AAPL) iWatch that reminds desk jockeys to stand up periodically.