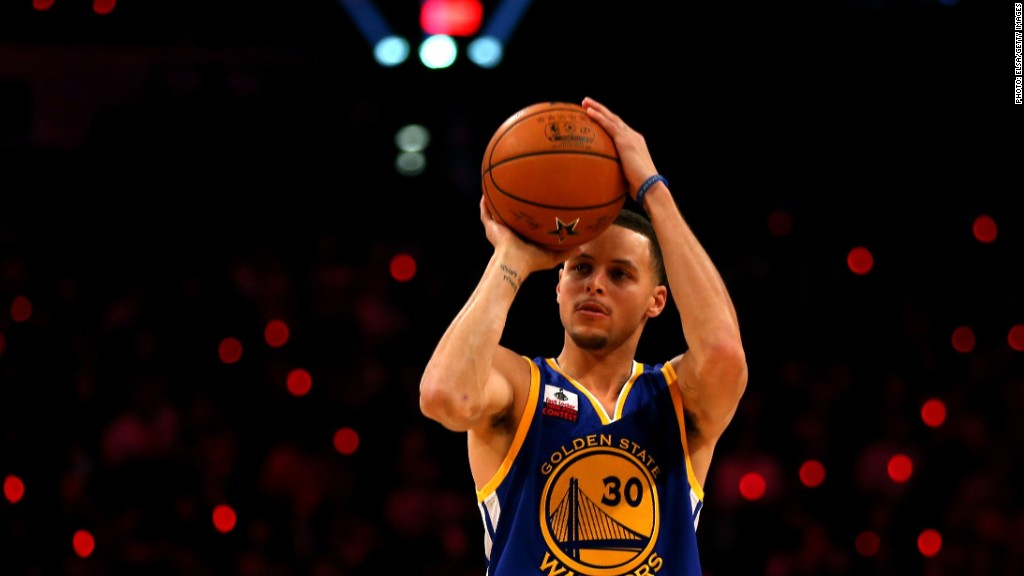 Michael Jordan. Peyton Manning. Derek Jeter. LeBron James.
These sports superstars have two things in common: They are endorsement kings ... and they all won championships.
Stephen Curry, the reigning NBA MVP, may soon join this club. Curry's Golden State Warriors are playing LeBron and the rest of the Cleveland Cavaliers for the NBA title. Game 1 is Thursday night in Oakland.
If the Warriors win the trophy -- Golden State is favored -- Curry's sponsorship potential could explode.
Jeff Austin, Curry's agent and the head of the basketball division at Octagon Sports, said in an interview with CNNMoney that he has been fielding many calls from potential sponsors as the season progressed.
Curry got the most votes for the NBA All-Star game in February and he won the Three-Point shooting contest during All-Star weekend. His jersey is the second-highest seller according to the NBA -- trailing only King James.
"We've got a lot of things coming at us," Austin said. "I've told him we'll sit down after the season is over and talk about current partners and possible future partners."
Curry's current sponsors. The most well-known partner for Curry is athletic apparel upstart Under Armour (UA), which released the Curry One shoe earlier this year.
Related: Curry One shoe debuts
He has also done ads for State Farm, clothing company Express (EXPR), health plan provider Kaiser Permanente, Unilever's (UN) Degree deodorant and Muscle Milk, the energy drink company that SPAM maker Hormel (HRL) bought last year.
Curry just signed a deal with JBL, the speaker and headphone maker owned by Harman (HAR). And he has a relationship with 2K Sports, a unit of video game company Take-Two Interactive (TTWO).
So Curry is already doing pretty well as an endorser. But his numbers aren't MVP caliber. Winning a title could change that.
According to estimates from Forbes, Curry had about $5.5 million in deals this year. LeBron had nearly $45 million -- with a big chunk coming from Nike (NKE).
Related: Michael Jordan is now a billionaire
But Austin said the plan is to take advantage of Curry's growing popularity to attract even higher marquee names.
"Stephen may have fewer deals this coming year. They will be bigger and more significant. But that makes it challenging," he said. "Stephen is pleased with current partners and probably can't continue with all of them."
Silicon Steph. Could a big tech company be in Curry's future? He does play in Silicon Valley -- home to the likes of Apple (AAPL), Google (GOOGL), Facebook (FB) and Intel (INTC). And Oracle's (ORCL) name is on the arena that the Warriors call home.
Austin said some tech companies are interested in Curry as a spokesman. But he reiterated that no decisions have been made about future deals.
But Austin said one thing is definitely not in the cards -- featuring Curry's adorable young daughter Riley in any ads.
The two-year-old Riley instantly became a social media phenom after she appeared with her dad during some post-game press conferences.
"We have had companies wanting to send us products for Riley but this is not a direction Stephen wants to pursue," Austin said.
Related: Cavs ticket prices soared after LeBron came home
Curry's wife is pregnant with their second child, another reason why Austin doesn't want his client spending his entire offseason shooting commercials.
So Curry will probably be pretty choosy when it comes to picking new sponsors. Austin said any deal has to be the right fit.
"Stephen has State Farm insurance. He has worn Express clothing over the years. He is not affiliating with anything that he wouldn't feel good about." Austin said. "It has to be authentic. He is not doing it just to get paid."
Bigger than Lebron? But make no mistake. An agent's job is to make money for his client.
Defeating LeBron in the NBA Finals will make many companies clamor to have Curry as their new spokesman.
It could be like the passing of the torch from LeBron -- who won two titles with the Miami Heat in 2012 and 2013 -- to Curry. Austin admitted that he wants Curry's marketing clout to rival LeBron's.
"It's been a magical year for Stephen. We have high expectations," he said. "The Finals are a big obstacle to overcome. But Stephen was the best player this year."
It also doesn't hurt that Curry, who is listed at "only" 6 foot 3 inches and 190 pounds, does not have the typical basketball player physique.
Fans respect the hard work Curry puts in to be able to drain one 3-point shot after another. It makes him seem more like an underdog. And we all know America loves an underdog.
"If you look at a lineup of guys -- based on physical appearance -- Stephen is not the guy you pick first. He's not 6'9" and 260 pounds," Austin said. "The crazy things he does almost feels like a video game."