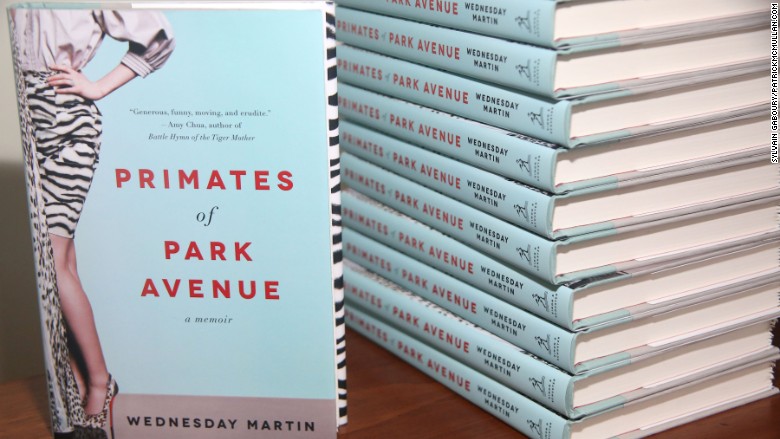 "Primates of Park Avenue," the new book about New York City's upper crust stay-at-home moms who get paid a "wife bonus," will now come with a disclaimer.
Simon & Schuster, which published the tell-all memoir, said it will add an editor's note to future editions clarifying that some details and dates were changed to hide the identities of the women in the book.
The decision follows a report in The New York Post that found inconsistencies in the account by the author, Wednesday Martin, including her claim to have spent six years "doing field work" among the rich families of the city's Upper East Side.
Related: Here's how much these moms spend to look good
The Post said property records show Martin only lived in that elite New York enclave for three years, and that certain stores and services she references didn't exist during the time she was there, raising questions about the book's other claims.
Martin told the Post that she "telescoped certain parts of the narrative in order to protect the privacy of friends, neighbors, associates and family."
The newspaper suggests that Martin may have used her experiences from other upscale Manhattan neighborhoods in her account of life on the Upper East Side.
"Primates of Park Avenue" explores the social lives and spending habits of wealthy women who give up lucrative careers to become high-powered homemakers. One of the claims Martin makes is that some of moms receive a portion of their husbands' annual bonus as compensation.
Related: Inside the world of Upper East Side Girl Scouts
Martin details how much these glamorous stay-at-home mothers, or "Glam SAHMs," spend on designer fashion and personal trainers, not to mention regular trips to the beauty salon.
All told, Martin's low-end estimate for what a glam SAHM spends on her own outward upkeep each year is about $90,000. On the high end, it can add up to $150,000.
The book is marketed as a memoir. But Martin, who studied anthropology and has a doctorate in comparative literature, infuses the narrative with the feel of an academic study.
Cary Goldstein, director of publicity at Simon & Schuster, said nothing in the book is being changed and that the publisher stands by its content.
Martin did not immediately respond to a request for comment.