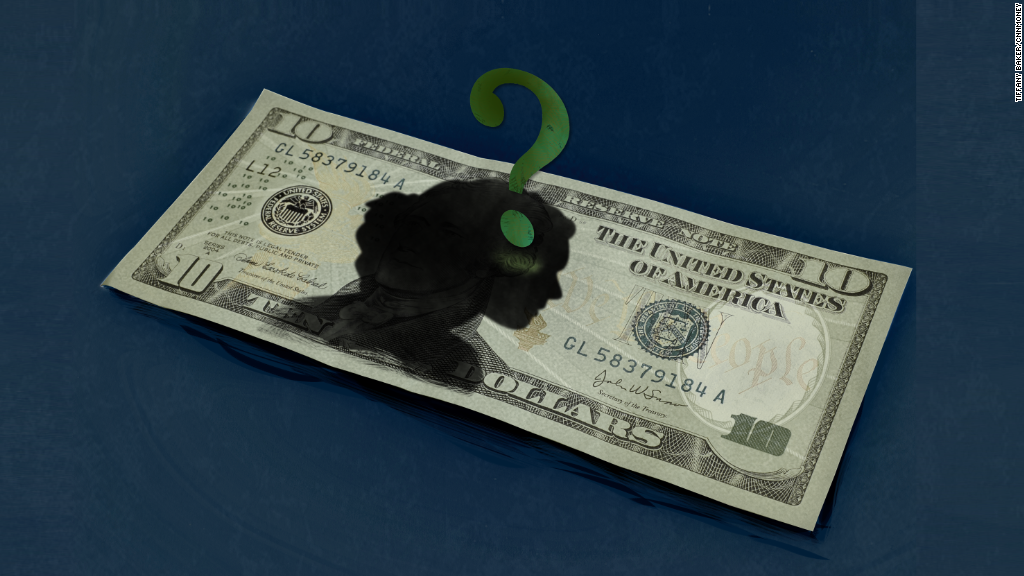 When the news broke that the redesigned $10 bill will feature a woman, CNNMoney asked readers for nominations.
Using the hashtag #CNN10s, plenty of people weighed in with suggestions that ranged passionate and thoughtful to comedic and improbable.
US Treasury Secretary Jack Lew said he will announce his pick by the end of the year -- though the design won't be unveiled until 2020 -- and he'll be looking for public feedback through the end of the summer.
There are two criteria for the selection:
1. By federal law, the bill cannot feature a living person.
2. The person should highlight the theme Lew selected, which is democracy in America.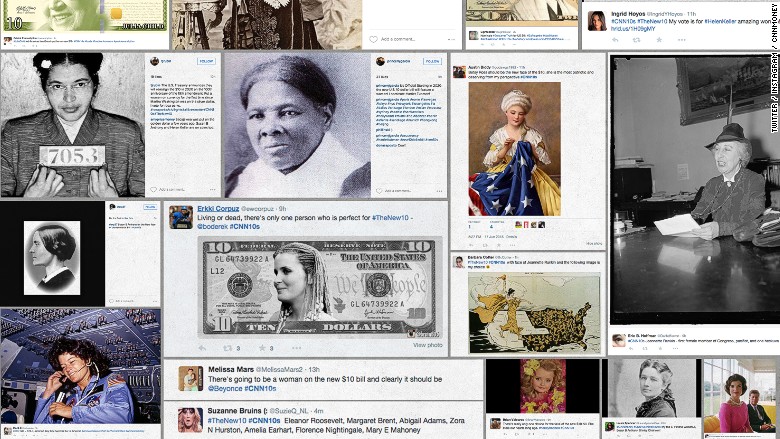 Related: Finally! Woman to be on the new $10
Here's what you said:
Harriet Tubman (1822-1913)
She won a three-round ballot put out by the Women on 20s campaign that attracted more than 600,000 voters earlier this year. The organization posted a picture of Tubman on its Facebook page Thursday morning saying:
"No, it's not the $20, but it can be a perfect $10 if it's IN OUR HANDS by 2020 to celebrate the centennial of women's right to vote."
Tubman was best known as an abolitionist and leader of the Underground Railroad, but she was also an outspoken advocate for granting women the right to vote.
Tubman is also a fan favorite on Twitter. Mentions of her name spiked around 10 p.m. last night after Lew made the announcement.
But not everyone was sold on Tubman: "Which woman should be on the 10$ bill coming in 2020? Sacagawea & Harriet Tubman are great choices, but my vote goes to Oprah. #CNN10s" -@travishampl.
Eleanor Roosevelt (1884 - 1962)
Roosevelt focused on human and civil rights issues as a First Lady, diplomat and activist. In the White House, she broke precedent by undertaking her own political missions, traveling the country and holding press conferences while her husband, Franklin, was president.
Roosevelt has been leading a Washington Post poll asking who should be on the $10, and she placed second in the Women on 20s vote.
Rosa Parks (1913 - 2005)
The civil rights activist changed history when she refused to give up her seat to a white man on a city bus one day in 1955. Congress called her "the first lady of civil rights" for the citywide boycott of the Montgomery, Alabama bus system that helped spur a nationwide movement to end segregation.
"#CNN10s Rosa Parks would be awesome on the 10 dollar bill." -@CorbinMCarp
"It has to be Rosa Parks or Eleanor Roosevelt #TheNew10 #CNN10s" - @lownawaysnyder
Susan B. Anthony (1820-1906)
Her name is synonymous with women's suffrage, and she founded multiple organizations dedicated to granting women the right to vote along with Elizabeth Cady Stanton, whose name has also been thrown in the ring.
"@CNNMoney @cnnbrk @USTreasury if it's also honoring the 100th anniversary of suffrage, it should be Susan B. Anthony! #CNN10s" -@SamanthaAnnXOXO
Honorable Mentions
Bo Derek, the actress and model who starred in the 1979 film 10, also garnered support on Twitter.
"If they are going to replace Hamilton with a women... I say Bo Derek... she was a ten.. #TheNew10" -@WyBlog.
Since Derek is still alive and well, she can't grace US currency just yet. But that didn't stop fans from posting mockups of what a Bo Derek $10 bill would look like.
Other honorable mentions include astronaut Sally Ride, a chef, flag creator Betsy Ross, first female member of Congress Jeannette Rankin and this guy's wife.
"The women on the new $10 bill should be Harriet Tubman, Susan B Anthony, or Ke$ha. #CNN10s" -@Kyle_Rose20
What about Hamilton?
As the nation's first treasury secretary, Alexander Hamilton will not be absent from the $10 bill. He has been the face of the ten since 1929, and Lew said the founding father will either share space with a woman or star in another version of the new bill.
Related: Evolution of the $10 bill
Hamilton has also attracted his own support group -- some fans would still rather see Andrew Jackson booted off the $20 bill.
"I'd rather keep Hamilton, actually. Get rid of Jackson and then maybe I'll be excited about a woman on our currency. #CNN10s" -@cmcandrus3