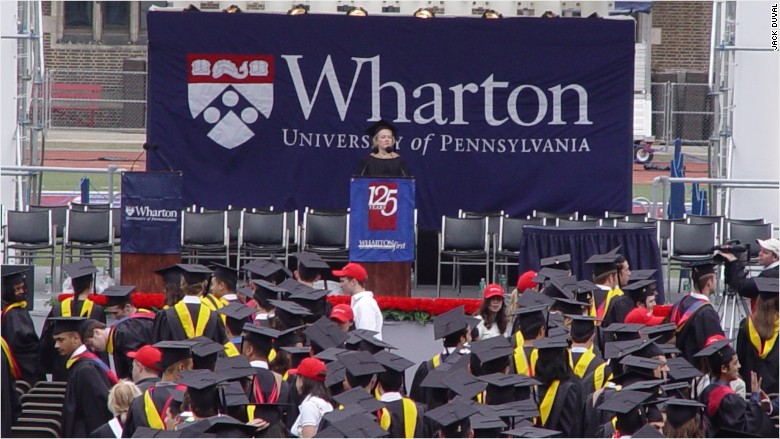 Looking to rake in the big bucks? Try getting a Master of Business Administration.
About 43% of MBA graduates and students received a base salary of at least $125,000, a big leap from the 26% of respondents who reported making that much a year earlier, according to a report from Training the Street, a corporate training provider that works for Wall Street firms and business schools.
This is the highest percentage falling into that salary range since Training The Street began surveying MBAs 6 years ago.
Another 36% of those surveyed reported making between $100,000 and $125,000.
The sharp increase is likely a result of a healthy banking sector, according to Training The Street's CEO Scott Rostan.
Related: Top employers for new grads
"We've seen these salaries rise the past few years, especially as Wall Street is more cognizant of retention issues and the quality of life concerns of their junior bankers," he said.
It's not shocking that MBAs are pretty stoked. About 54% of respondents said they were very satisfied with their employment offers, and another 38% said they were satisfied.
The allure of Wall Street held strong, as 45%, said they wanted to work in New York. San Francisco/Menlo Park trailed closest behind, with nearly 19% favoring working there.
And despite all the leaning in and talk from banks about diversity, about 76% of respondents were male.
The Training the Street survey is based on responses from 393 MBAs.
While MBAs can now rest assured that they're bound for big paychecks, they still lag behind lawyers. The average first-year associate salary at big law firms was $160,000 in 2015, according to a National Association for Law Placement survey.