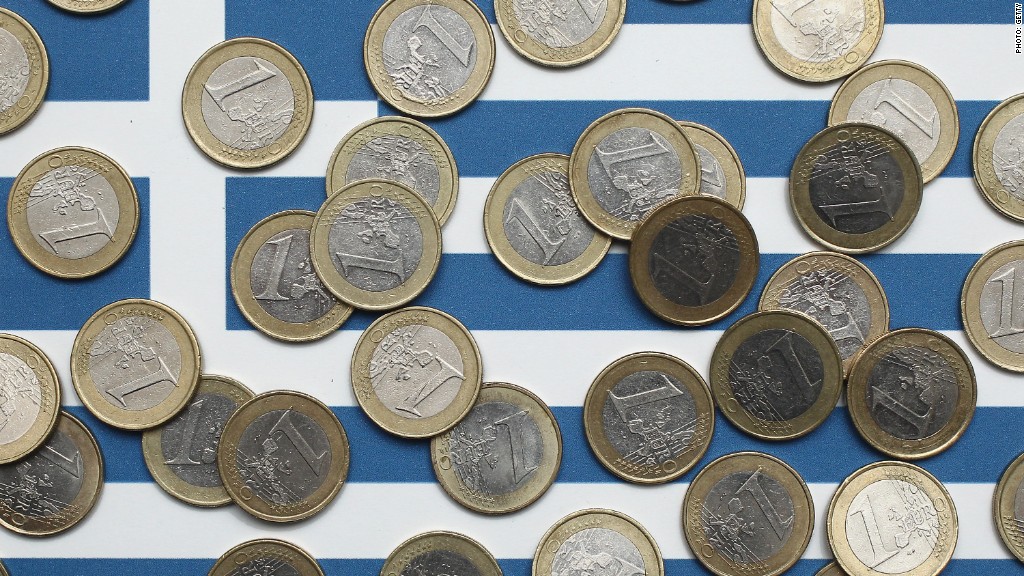 Greece only makes up 0.3% of the global economy, but it's causing a global stock market sell-off.
U.S. stocks suffered their worst plunge so far in 2015 on Monday. Investors don't like uncertainty, and Greece is the poster child for "up in the air."
The Dow shed 350 points, nearly a 2% drop. The S&P 500 fell over 2%, and the tech-heavy Nasdaq lost 2.4%. Asian and European markets were even deeper in the red. Germany's main DAX index ended the day down 3.5%.
While its debt problems are well known, investors were not expecting Greece to call for a July 5 referendum vote for people to weigh in on whether to accept the latest bailout terms from Europe and the International Monetary Fund.
"Investors don't feel comfortable playing political risk. They know how to evaluate assets and gauge when an assets is over or undervalued, but how do you gauge when a government is over or under valued?" says Steven Englander, global head of foreign exchange strategy at Citigroup (C).
UBS dubbed the vote a "significant surprise." Even if Greeks vote yes to go ahead with the deal, there are still a lot of terms to work out.
Related: Greece shuts banks in bid to prevent collapse
Rising chance of a Grexit: On top of that, the decision by the European Central Bank on Sunday to provide no new emergency support to Greek banks makes a "Grexit" seem even more likely.
On Monday, ratings agency Standard & Poor's stated that it believes there's a 50/50 chance that Greece will leave the euro. UBS puts the probability at 40%. Greece would become the first nation to do so.
S&P put a statement that accelerated the selloff, saying: "We interpret Greece's decision to hold a referendum on official creditors' loan proposals as a further indication that the Tsipras government will prioritize domestic politics over financial and economic stability, commercial debt payments, and eurozone membership. In our view, the probability of Greece exiting the eurozone is now about 50%."
All through last week, investors believed that a deal was close. There has been a last minute deal with Greece time and time again. Now there are doubts.
"The probability of a Grexit has gone up significantly," says Dave Lafferty, chief market strategist at Natixis, which has $900 billion under management. That's why we're seeing a big Monday sell-off.
Related: World markets hit as Greek crisis intensifies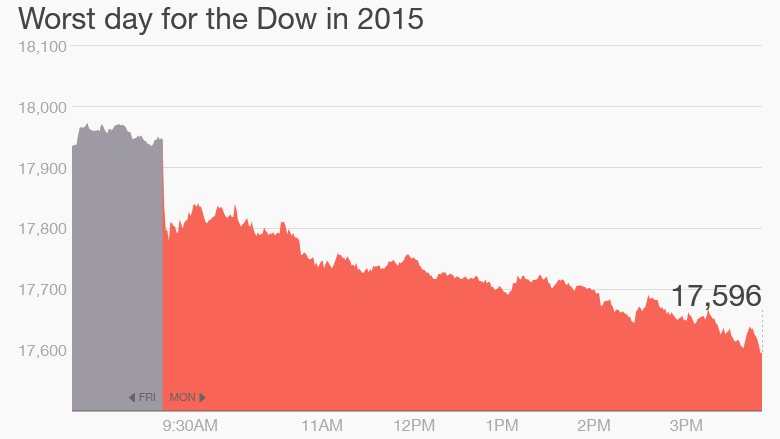 What's next? Greece faces a critical deadline on Tuesday, when it must make a loan €1.5 billion ($1.7 billlion) payment to the IMF. The country looks almost certain to default on that payment. In total, Greece owes about €330 billion ($367 billion) to creditors, mostly the IMF and other European nations. If Greece defaults, it will be the biggest country to default on its debt in history.
While stocks are sliding, U.S. bonds were winners. The 10-year bond yield fell as low as 2.32% as investors looked for safety. Yields fall as bond prices rise.
Related: Greece could be the biggest national default in history
Greece's stock market was closed Monday. The country has shut its banks to prevent money from leaving the country.
While this week is likely to be rough for markets worldwide, the longer-term impact may be limited. Goldman Sachs (GS) notes that Europe is much better prepared for a Greek crisis and default this time than in 2011-02 when Greece was last on the brink of a Grexit.
"While broader European markets are likely to show some response, we do not expect the impact to run to the systemic and existential threats to the Euro area as a whole that emerged back in 2011-12 when Greece was last center stage," Goldman wrote in a note Sunday.
A key difference this time around is that European banks are in much better shape than they were a few years ago, and Greek debt is no longer held as widely by the private sector. All of that should help contain the crisis, regardless of what happens with the default and possible exit from the euro.
"We're still positive on European equities, but we'll know more next week after the referendum," says Lafferty of Natixis.